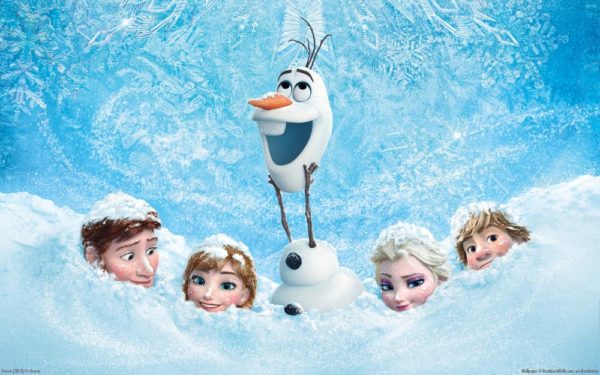 Directed by: Chris Buck (Tarzan, Surf's up) and Jennifer Lee
Written by: Jennifer Lee (Wreck it Ralph)
Principal Actors: Kristen Bell (Serious Moonlight, Couples Retreat, When in Rome), Idina Menzel (Wicked, If/Then, Glee), Jonathan Groff (Glee, Spring Awakening), Josh Gad (She wants me, Jobs)
So last year, Walt Disney, being true to what we grew up as kids loving them for; there's always a happy village, there's always a fair princess, she's in need of a kiss of true love to make everything fall into place and lots and lots of singing. This time they decided to mix things up a bit and they came up with the movie Frozen. And here are our thoughts about the movie. Enjoy.
Synopsis
Frozen loosely based on Hans Christain Andersen's "The Snow Queen" tells the story of two princesses Elsa and Anna from the kingdom of Arendelle, a mountain man Kristoff, his reindeer Sven and the summer loving snowman Olaf. I guess you are asking how are they all intertwined.
When a princess traps the whole of Arendelle in an eternal winter, Princess Anna, fearless and quite the optimist must travel up the North Mountain to convince her sister Elsa to come back to Arendelle. She must remove the kingdom from the eternal winter, which she unknowingly cast upon the kingdom. On her way, Anna teams up a thrill-seeking mountain man named Kristoff and his reindeer, Sven and they are later joined by Olaf a snowman.
Script
We all are used to the cliche fairytale movies usually with the ever so present hint of mushy love involved. This of course had it but in a much more different light. The script of the movie by far has to be one of the best I've seen from Walt Disney studios since its renaissance era, it was developed mainly by Jennifer Lee (remember the incredibly amazing Wreck-It-Ralph, yeah, she was on the team of writers behind the movie). It was cleverly and neatly written with its characters well defined. It had quite a number of lessons to teach its audience and was filled with lots and lots of songs that will have you singing along. What I loved most was the music which was penned by husband and wife, Robert Lopez and Kristen Anderson-Lopez. It had a lovely ring to it that kinda stuck. It gave me childhood memories of Mulan, Lion King and the other great animations. Also, seeing Anna's personality was developed in time and yet her character still remained the same. Then the scene depicting Elsa's transformation…breathtakingly-amazing.
This was in a nutshell a fun and witty package for me.
The Directing
Director Chris Buck is no newbie to the animated movie industry and his works span major animated works such as Tarzan, & Surf's up, he has also been responsible for developing characters in movies such as Pocahuntas and The Little Mermaid. His work here in Frozen speaks for itself.
Jennifer Lee who on the other hand is kinda new on the scene has had her hands on some very good projects such as Wreck It Ralph and this already and seems to be heading in the right direction.
The most catchy scenes were the ones with singing in them. Most especially Olaf's summer song with the witty and more interestingly unknown to the character's use of wordplay. From the first scene of the mountain men to the scene of Elsa and Anna's relationship drawing apart to the point of Elsa's transformation. Those scenes were the best of the lot.
Of course I can't not mention the full graphics put into this movie. Solid to the touch.
The Acting
One thing I've noticed about animated movies is how the voice-actors/actresses somewhat have a striking similarity to the characters they represent. It still amazes me. Epic for one got me, especially Queen who's voice was Beyonce Knowles'.
In this case however, apart from the familiar faces (and voices) of Kristen Bell and Josh Gad, a new string of acts where put together who still did quite an amazing job.
The rendition of Sisterhood by the characters Anna (the voice of Kristen Bell) and Elsa (voice for Idina Menzel) had a realistic touch to it.
Olaf who was supposedly the comedy-relief (as we have in basically all animated movies) was a tad less hilarious than I hoped for. Of course the kids in the hall laughed hard but I guess it was the sole idea of seeing a talking snowman obssessed about summer or maybe its just the fact that they are kids and probably downed a lot of popcorn and bottles of coke. *shrug*
The Verdict
I have always been a lover of cartoons and anything animated. Whoever came up with the notion that cartoons are for tiny tots alone thought the most ridiculous thing ever *folding arms*
But, this gets a Popcorn and Hotdog from me. (I am pretty sure M.Y wont be happy about it not getting more.)

I wanted more. Much more cause I was pretty excited to see it. But then it was too short a movie and I just felt they could've put more in between. But it is totally and absolutely worth your penny and time. So take the entire family out this weekend to go see it.
It would be nice to have a sequel to Frozen. Something that would give us a larger glimpse of the Snow Queen. And a lot more to Anna as well. Hidden powers maybe?  Who knows?
So, have you seen it and what do you think about the movie? Do let us know in the comments box below.
Check out the review of the Worst Movies of 2013 and Lee Daniels' Butler Movie review.
This review was brought to you by www.sodasandpopcorn.com. We Watch Movies So You (Don't) Have To.