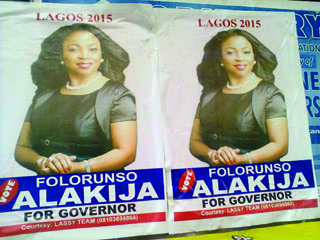 Don't expect Folorunsho Alakija to hit the streets of Lagos to campaign for the seat of the Governor.
Africa's richest woman was the centre of media buzz when posters of her in parts of Lagos were seen that she plans to succeed Governor Babatunde Raji Fashola in 2015.
On close inspection, the flier was clearly created by a "Lassy Team" publicizing their printing business as no party name was mentioned on the poster.
Presently in Nigeria, if you do not belong to a political party, you can't contest for a seat of power.
She however, released a statement to shut down the rumours.
Read;
It has come to my notice, that there are posters and fliers being circulated in Ikorodu and other parts of Lagos State announcing me as a Governorship aspirant.

This is not true and I hereby confirm that I have no such intentions. Therefore, I disassociate myself from any persons or group of persons, posters or fliers in circulation about me contesting for governorship.

I have been paying attention to my calling from God to look after widows and orphans through The Rose of Sharon Foundation and I am also in service most importantly to God's work as a Minister of his Word through His Ministry committed to us as the Rose of Sharon Glorious Ministry International. God has not called me into politics and I have never been involved in politics.

Please ignore whatever you may have read purportedly portraying me as a governorship aspirant.

Folorunsho Alakija (Mrs)