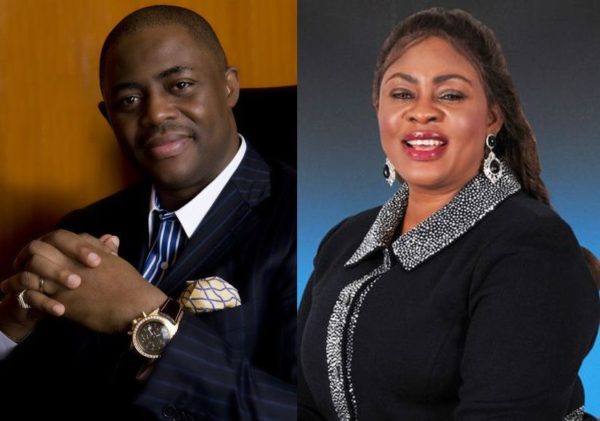 Nigeria's former Minister of Aviation Femi Fani-Kayode is known to speak out on issues concerning the Federal Republic of Nigeria.
And when the news of the present Minister of Aviation Stella Oduah Ogiemwonyi falsifying her resume was reported, it didn't take long for him to air his views. He responded via his official Facebook page.
Although calling Stella as well as President Goodluck Jonathan and the government "an utter disgrace to Nigeria", may be taken as an act of freedom of speech, Femi made a startling statement against the Igbos.
Check it out!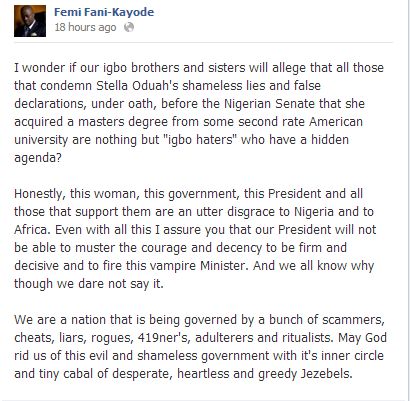 I wonder if our Igbo brothers and sisters will allege that all those that condemn Stella Oduah's shameless lies and false declarations, under oath, before the Nigerian Senate that she acquired a masters degree from some second rate American university are nothing but "igbo haters" who have a hidden agenda?

Honestly, this woman, this government, this President and all those that support them are an utter disgrace to Nigeria and to Africa. Even with all this I assure you that our President will not be able to muster the courage and decency to be firm and decisive and to fire this vampire Minister. And we all know why though we dare not say it.

We are a nation that is being governed by a bunch of scammers, cheats, liars, rogues, 419ner's, adulterers and ritualists. May God rid us of this evil and shameless government with it's inner circle and tiny cabal of desperate, heartless and greedy Jezebels.
The statement has sparked a lot of debate on Facebook as to why culture had to be brought into the mix.
Do you think Igbos should be offended?!