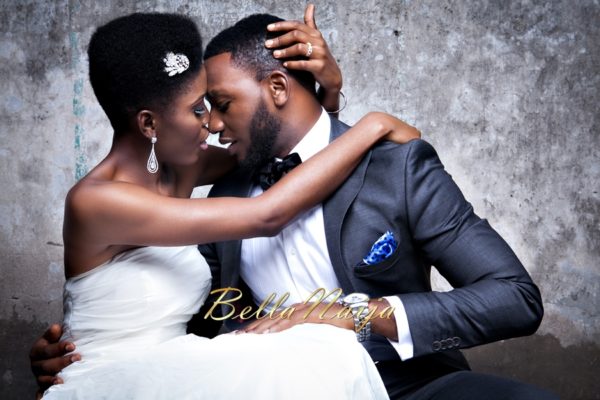 Bye bye boring wedding inspiration!
Nigerian photographers will take the art of photography to the next level in 2014 – and they're already off on a great start! This year expect more edgy and creative wedding shoots, on trend with international wedding collections released last year – the photos today bring to mind Vera Wang's leather and lace dresses – from her Spring 2014 collection, and Ines Di Santo's motorcycle jackets – Fall 2014.
Since you may not have time to capture intimate moments during your couple session on The Day, one thing to consider is a post-wedding shoot. Don your dress, he wears his suit and you snap away. Novel idea for Nigerians right? That's what two of our favourite photogs – DuduGuy and Gazmadu are proposing.
They've teamed up to bring you "A Vintage Styled Wedding Shoot", which they hope inspires you for your wedding portraits or a post-wedding shoot –
"One of the major challenges most photographers have in Nigerian weddings is time! Everyone seems to be in a hurry for almost everything … and especially the well sort after "intimate" Couple Portrait session. Emotion, passion and style are what we always try to bring out in couples when we create these moments.

The idea behind this shoot is to show our prospective clients how much fun they can have during their couple session regardless of the location. The location of the shoot should not hinder a great photog's ability to bring out the best in a couple, long as we get a clear space with no interruptions, and the couple works with and trusts their photog then the sky is the limit".

Being a vintage inspired shoot we decided to use locations and simple props that can easily be found around us. This shoot is also to encourage clients to book for post-wedding shoots, especially when they didn't get enough time for themselves during the wedding.

To all 2014 couples, please remember to have a blast during your wedding, you get the timeless pictures that will become memories from all the fun."
We LOVE this shoot! From male and female models in flat tops (a la Lupita at the SAG Awards) to stunning headpieces and a dash of rustic vintage chic, it's so retro yet Now!
Enjoy!
***
Kenny & Gaz – thanks sooo much for sharing with us!
xoxo, BNW
Photography
DuduGuy Photography – www.duduguyphotography.com
GazMadu Photography – www.gazmadu.com/blog
Photo Assistants: Ridwan Adepoju & Adewale Yusuf
Vendors
Men's Suits & Styling: Fratres Clothing & Lifestyle
Wedding Dresses: Estilomoda UK – www.estilomoda.co.uk
Fascinators: Yosola Afemikhe for Fascination (at) bespokefascination.com
Extra Clothing: Fratres clothing & Lifestyle: 08163481398 & 08087854143
Model: Gimodels www.gimodels.com
Jewelry: Queen Hadassah
Decor/Event Design: Anita of www.myweddingnigeria.com
Makeup Artist: Champagne's Fab Lane – champagnesfablane (at) gmail.com
________________________________________________________________________________
We love weddings as much as you do – get in touch for inquiries, inspiration & more!
E-mail: weddings (at) bellanaija.com | E-mail for #AsoEbiBella: asoebibella (at) gmail.com