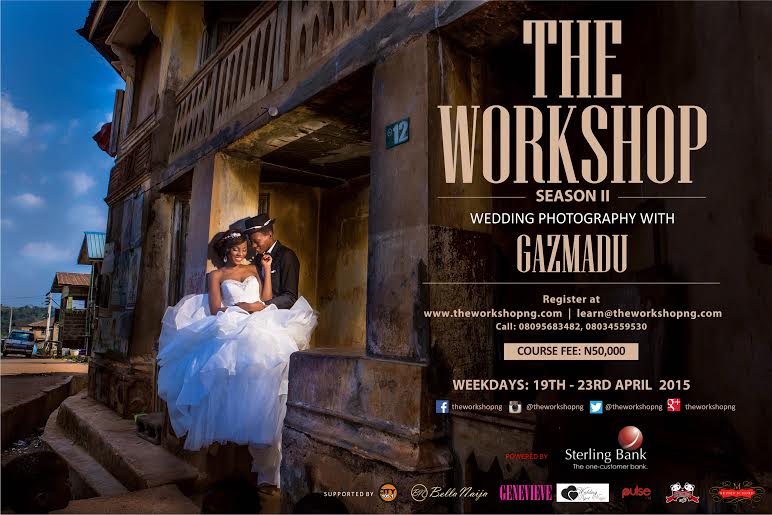 Get your lenses and notepads ready – it's season 2 of The Workshop.
This is an opportunity for all photographers, professional or amateur, to hone their photography skills by learning from some of the best in the business.
The one week intensive program will take participants through the tricks of the trade and provide in-depth, practical and hand-on photography instructions that can be used to improve everyday creative skill, as well as practical insight for those hoping to enter the business of photography.
You will learn to shoot and edit photographs for beauty, portraiture, fashion, weddings and more, and get involved in interactive exchange sessions with the instructors and other participants. And most importantly, have loads of fun!
Season 2 continues with Yagazie Madu Eguare of Gazmadu Photography. Click HERE to view Gazmadu's portfolio.
Participation
For this season of The Workshop, registration will be available for only 20 Participants for the weekday classes (no weekend classes are available). Please note that participants will be signed up strictly on a first come first serve basis.
Class Outline
– Introduction to Photography
– Engagement Session: Preparation, Lighting Techniques, Gear, Hands-on student shooting on location
– Wedding Photography Session: Gear, Lighting for Portraits, Shooting Details, Hands on student shooting
– Post-wedding workflow, Editting and Album Design
– Business of wedding photography: Pricing, Managing Clients, Contracts e.t.c
Schedule
Weekday Classes
Date: Saturday 19th – Wednesday 23rd April 2015
Time: 10AM – 11:30AM (Lecture) | 11:30AM – 12PM (Break ) | 12PM – 2PM (Practicals)
Classes
– Introduction to Photography: Sunday 19th April 2015
– Engagement Session: Monday 20th April 2015
– Wedding Photography Session: Tuesday 21st April 2015
– Post Wedding Workflow: Wednesday 22nd April 2015
– Business of Wedding Photography: Thursday 23rd April 2015
Venue: Suite 5 Amethyst Block, All Seasons Plaza , Lateef Jakande Rd, Agidingbi, Ikeja , Lagos
Contact: To find out more, please call 08095683482 | Send an e-mail to: [email protected] | Add them via BBM: C001F3A8D
Fees: N50,000
Payment
Bank Name: GTBank
Account Name: Orbit Imagery Ltd
Account Number: 0051287774
Please hold on to your teller. Payment confirmation will be sent to your email.
CLICK HERE TO REGISTER ONCE PAYMENT HAS BEEN MADE
Watch the Promotional Video below;
_______________________________________________________________________________________________
Sponsored Content