And the nominations are out.
Earlier this month, BN gave you the scoop that Nickelodeon Kids Choice Awards has introduced for the first time a "Favourite Nigerian On Air Personality" category as well as a "Favourite South African Radio DJ" category. Wait, you missed that? See it here
We have the 4 names that made the cut. They include Toolz of The Beat FM, Freeze of Cool FM, Wana Udobang -"Wana Wana" of Inspiration FM and Toke Makinwa of Rhythm FM.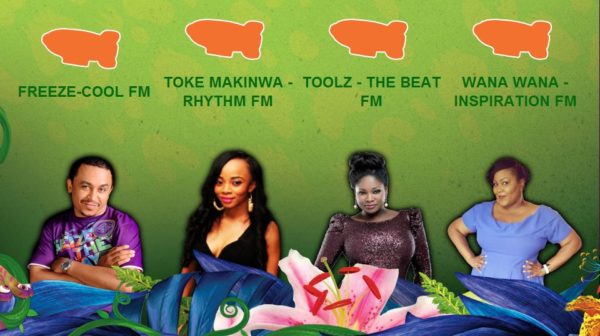 To vote for your fave, CLICK HERE or tweet @nickafrica with the hashtag #KCA followed by the voting hashtag of the OAP – #VoteFreeze, #VoteToke, #VoteWanaWana, #VoteToolz.
Nominees in  the Favourite South African Radio DJ include Anele Mdoda of Highveld Stereo, 5FM's DJ Fresh and Gareth Cliff as well as Unathi Msengana of Metro FM. You can vote HERE
Voting begins today Tuesday 25th February 2014. The 27th Annual Nickelodeon Kids Choice Awards is hosted by actor Mark Walhberg and will take place on Saturday 29th March 2014 in Los Angeles, California.
It will air on Sunday 2nd April 2014 on DStv Channel 305.
FULL list of Nominees
Favourite TV Show
The Big Bang Theory
Good Luck Charlie
Jessie
Sam & Cat
Favourite Reality Show
America's Got Talent
American Idol
The Voice
Wipeout
Favourite Cartoon
Adventure Time
Phineas and Ferb
SpongeBob SquarePants
Teenage Mutant Ninja Turtles
Favourite TV Actor
Benjamin Flores, Jr (The Haunted Hathaways)
Jack Griffo (The Thundermans)
Ross Lynch (Austin & Ally)
Jake Short (A.N.T. Farm)
Favourite TV Actress
Ariana Grande (Sam & Cat)
Jennette McCurdy (Sam & Cat)
Bridgit Mendler (Good Luck Charlie)
Debby Ryan (Jessie)
Favourite Movie
The Hunger Games: Catching Fire
Iron Man 3
Oz the Great and Powerful
The Smurfs 2
Favourite Movie Actor
Johnny Depp (The Lone Ranger)
Robert Downey, Jr (Iron Man 3)
Neil Patrick Harris (The Smurfs 2)
Adam Sandler (Grown Ups 2)
Favourite Movie Actress
Sandra Bullock (Gravity)
Mila Kunis (Oz: The Great and Powerful)
Jennifer Lawrence (The Hunger Games: Catching Fire)
Jayma Mays (The Smurfs 2)
Favourite Animated Movie
Cloudy with a Chance of Meatballs 2
Despicable Me 2
Frozen
Monsters University
Favourite Voice from an Animated Movie
Steve Carell (Despicable Me 2)
Miranda Cosgrove (Despicable Me 2)
Billy Crystal (Monsters University)
Katy Perry (The Smurfs 2)
Favourite Male Buttkicker
Johnny Depp (The Lone Ranger)
Robert Downey, Jr (Iron Man 3)
Hugh Jackman (The Wolverine)
Dwayne Johnson (Fast & Furious 6)
Favourite Female Buttkicker
Sandra Bullock (Gravity)
Jennifer Lawrence (The Hunger Games: Catching Fire)
Evangeline Lilly (The Hobbit: The Desolation of Smaug)
Jena Malone (The Hunger Games: Catching Fire)
Favourite Music Group
Maroon 5
One Direction
One Republic
Macklemore & Ryan Lewis
Favourite Male Singer
Bruno Mars
Pitbull
Justin Timberlake
Pharrell Williams
Favourite Female Singer
Lady Gaga
Selena Gomez
Katy Perry
Taylor Swift
Favourite Song
"I Knew You Were Trouble" (Taylor Swift)
"Roar" (Katy Perry)
"Story of My Life" (One Direction)
"Wrecking Ball" (Miley Cyrus)
Favourite Book
Diary of a Wimpy Kid series
Harry Potter series
The Hobbit
The Hunger Games series
Favourite Videogame
Angry Birds Star Wars
Disney Infinity
Just Dance 2014
Minecraft
Favourite App Game
Angry Birds Star Wars II
Candy Crush Saga
Despicable Me: Minion Rush
Temple Run
Favourite Funny Star
Kaley Cuoco
Kevin Hart
Andy Samberg
Sofia Vergara
Favourite Animated Animal Sidekick
Patrick Star (SpongeBob SquarePants)
Perry the Platypus (Phineas and Ferb)
Sparky (Fairly Odd Parents)
Waddles (Gravity Falls)
Most Enthusiastic Athlete
Dwight Howard
Cam Newton
David Ortiz
Richard Sherman