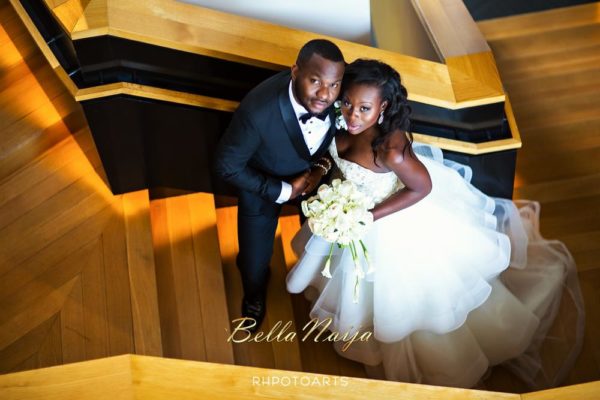 This couple's chemistry is sooo undeniable – under 'hotness' in the dictionary, this pair definitely deserves a spot!
We can't believe Beverly 'friendzoned' Tosan when she first met him! After months of getting her a job and then a friendship, it bloomed into something amazing.
They had a blazing hot private jet pre-wedding shoot that set our screens on fire last year.
Today, we're elated to share their elegant wedding captured by the same gifted photographer – Raheem of RH Photo Arts, and coordinated by top US/Nigerian planner Doyin Fashakin of Events by Doyin.
Enjoy!
***
~ Pre-Wedding Shoot: RH Photo Arts
How We Met
By the Groom, Tosan
I met Beverly in the summer of 2005. Beverly and I had mutual friends. In fact they used to call themselves Destiny's Child and Beverly was the Beyoncé of the group (lol). Our mutual friends always talked highly about Beverly, saying how pretty she is, how smart and confident she is (blah blah blah). So I was very eager to meet the Nigerian Beyoncé, at least I was one step closer to meeting the real Beyoncé, lol. Eventually one day we met, and I thought to myself, she is not even all that, but really I was crushing hard.
Months later Beverly was looking for a job. I got her a job at where I worked. Beverly and I had the same lunchtime so I would take her to lunch everyday. One night while waiting alongside with Beverly for her ride home, her Mom pulled up. Beverly introduced me to her Mother, her Mother was very sweet and kind to me, she reminded me of my mother. I told her Mom that I would be taking Beverly home from work since we get off at the same time. I started taking Beverly home everyday (I was so happy to do so lol).
With time we grew to become very good friends.  Beverly's mom invited me for dinner a couple of times, I enjoyed their company so much. Not only did I fall in love with Beverly but also her family.  One day we skipped work and watched our first movie together. That moment having Beverly around I felt so complete, and I still remember the name of the movie (The Stepford Wives). I remember the movie because that was the day I fell in love with her. I knew that she was the one for me.
Time passed by and we continued to hang out, until I mustered up enough courage and asked her out on a official date. On our first official date, I told her "I will marry you," she chuckled and said "Ya right!"  Well here we are 7 years later getting married. I guess I was right – Babe! Love You my Princess Isi!
How We Met
By the Bride, Beverly
Tosan and I first met in the summer of 2005 when a friend of mine brought him to my house to meet me. When Tosan first saw me he said "This is the Beverly you been talking about" in a disappointed voice. Luckily I was a nice girl and didn't curse him out and kick him off my property. Mind you I had no interest in him and did not even know he was coming to my house or that my friend had been talking about me to him.
After our first encounter we never really kept in touch except when we saw each other at different functions. A couple months later Tosan and I started working together, at a job that he helped me to get. I would say this was when our friendship began. In the beginning weeks of us working together Tosan would invite me to have lunch with him basically everyday we worked together. We went from lunch dates at Wendy's until Tosan finally asked me on a real date to the movies about 2 months later. I never really considered this a date though because I thought we were just friends simply hanging out. We then started hanging out more and more, he would pick me up to take me to work and take me home after work, passing his apartment each time.
Tosan was the first male friend I invited into my home and he clicked with my mother and grandmother instantly. They would always invite him to eat dinner with my family after we got off from work. Being naive I still thought he was just being my friend. It never once clicked to me that dude liked me…lol. To be honest I don't really remember us declaring when we officially started dating. I just remember I loved spending all day with Tosan, we were literally inseparable.
I always say that I literally fell in love with Tosan because he was not in my plans, he always told me that he would marry me and I always told him not me. But I guess God and him had other plans…
The Proposal!
He proposed in City Centre Houston, Texas, our favorite hang out spot. We had dinner at Trulucks Resturant after a long work day for me. After dinner he took me to the courtyard and in the middle of everyone he got on his knee to asked for my hands in marriage. I said "Yes!" to the sound of people gasping and a round of applause. It was amazing, and I totally forgot about how tired I was.
Advice from Bev & Tosan
When your wedding day finally comes to let go of everything because everything will not be perfect and just enjoy your day. I can truly say that my wedding day was the most fun my hubby and I have ever had together. It was totally our style and you could see the joy on our face and our guest had a blast.
The bride was gracious to walk us through her wedding choices. Look out for her words throughout the post – they just might inspire you for your big day!
BellaNaija Weddings wishes Beverly and Tosan a home filled with love and joy.
***
~ Wedding Photography: RH Photo Arts | Assisted by: Oyemi Photography
The bridesmaids dresses were one shoulder blush fit and flare dresses. For my bridesmaids I was going for something that was different from the typical bridesmaids dress. My maid of honor wore a sequins belt to make her stand out.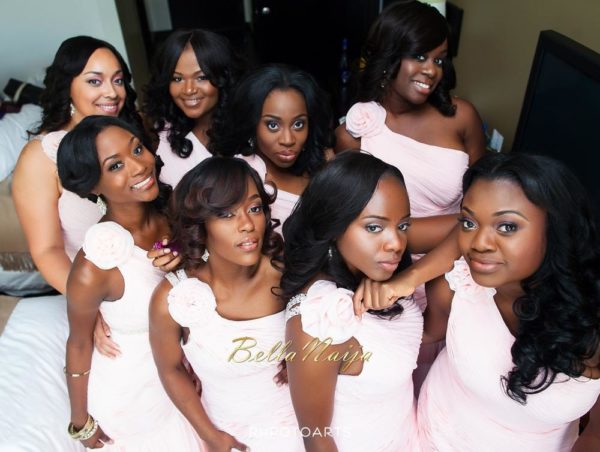 My first dress was by Jim Hjelm – a layered tulle dress with sequins bodice and a sweetheart neckline.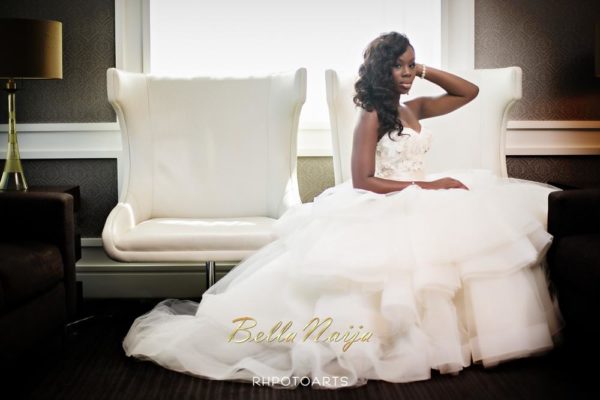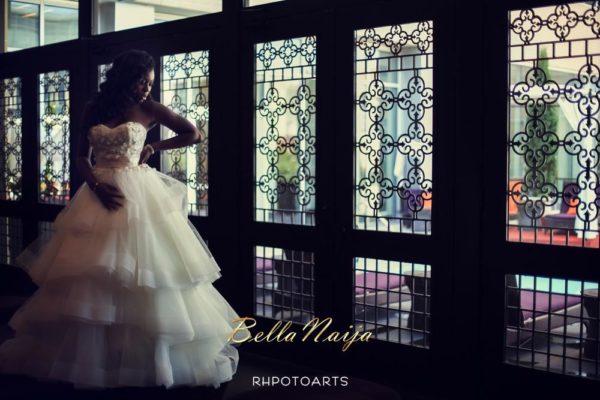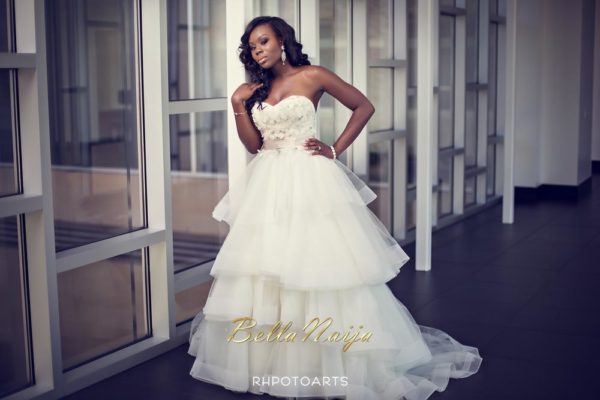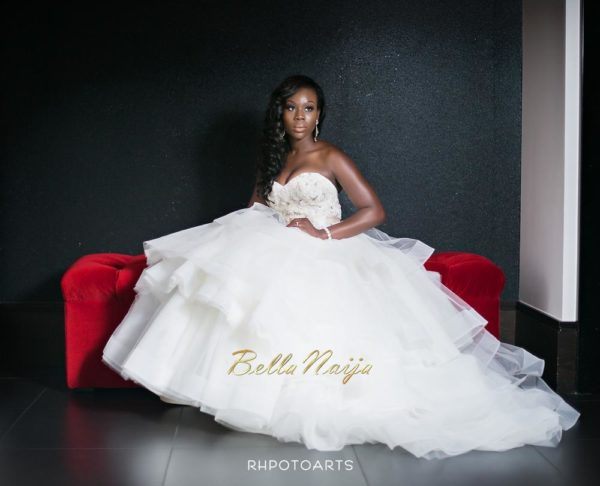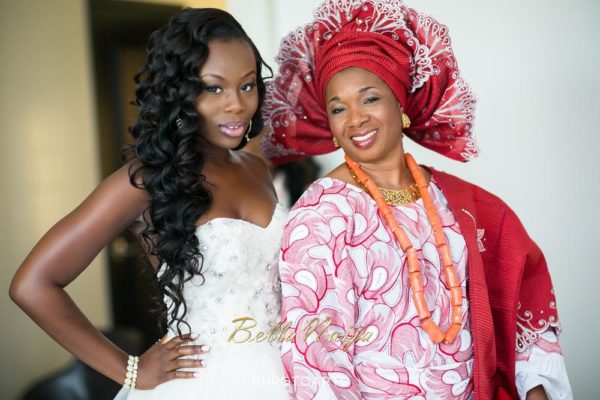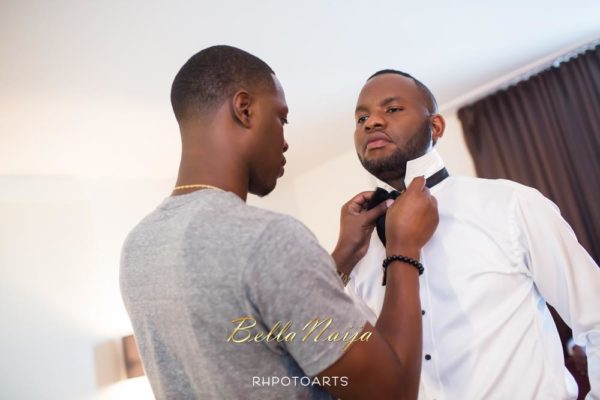 My groom wore a custom classic black tuxedo styled by @JPRstyling. He had B & T stitched on the inside to mark our special day 🙂
The groomsmen wore fitted all classic black custom suits from Milano Exchange in Houston, TX, their socks were blush pink to add some color and fun to there attire and to also match the beautiful bridesmaids.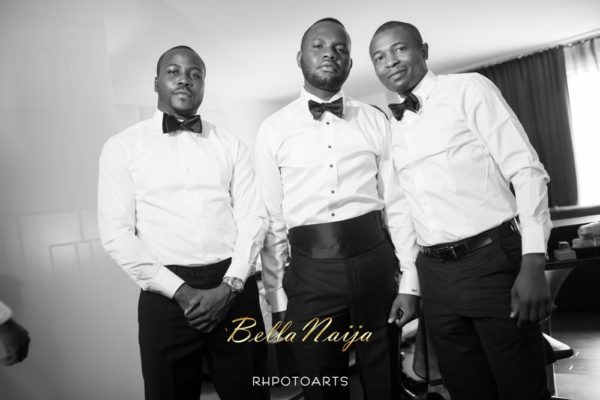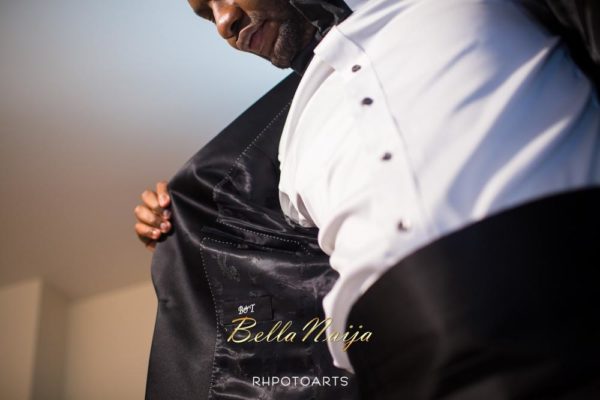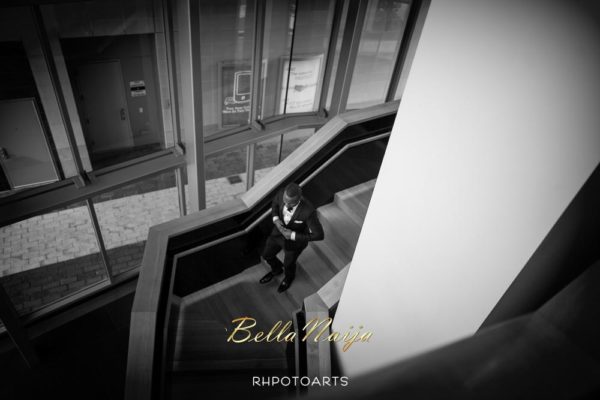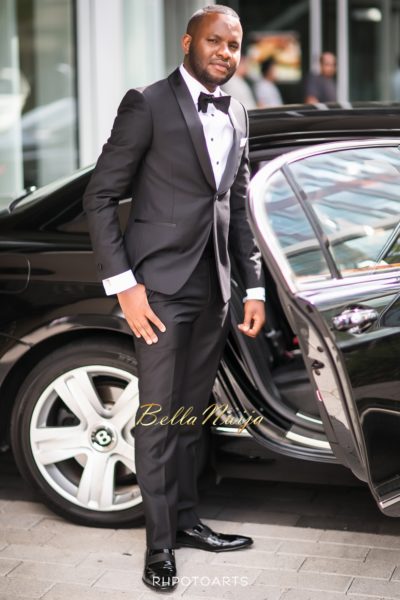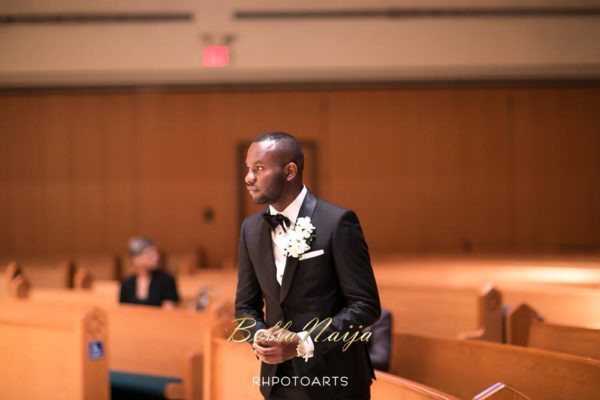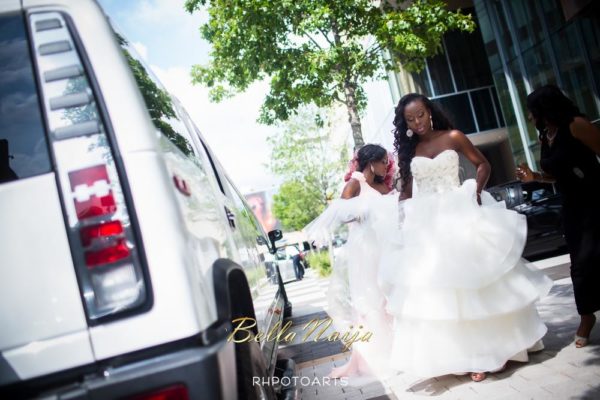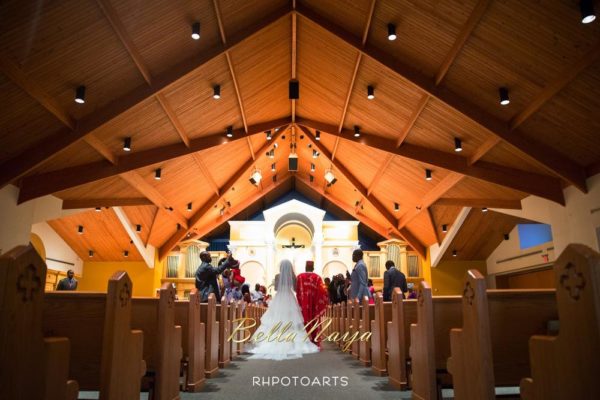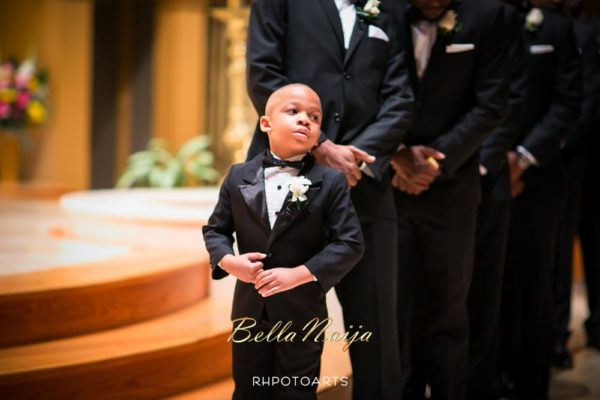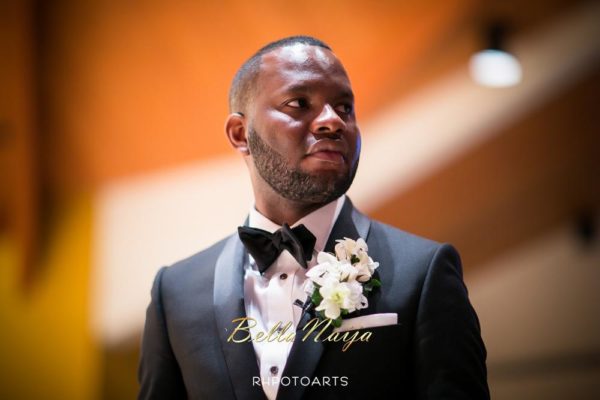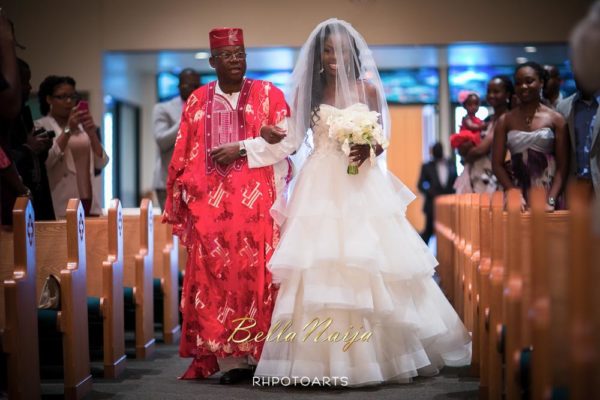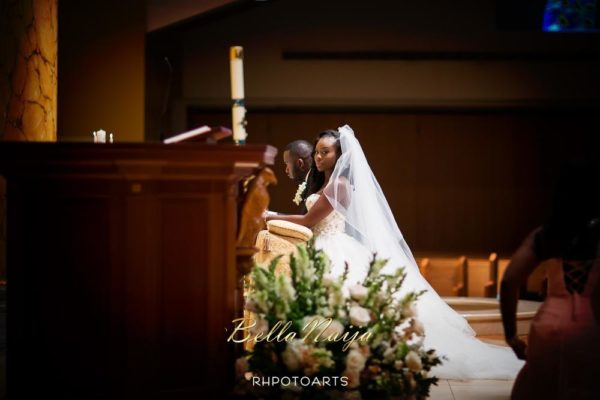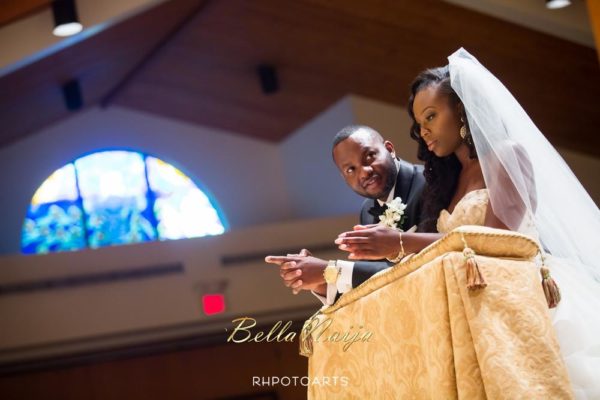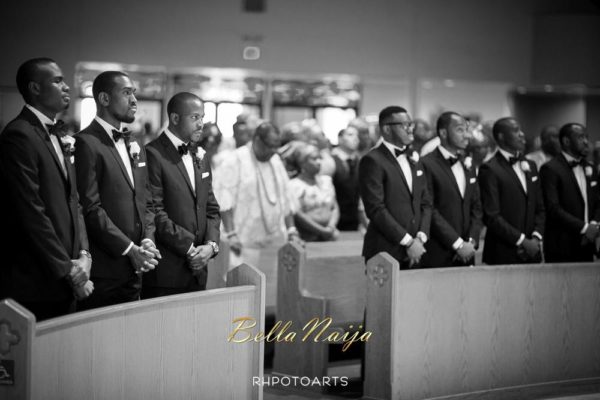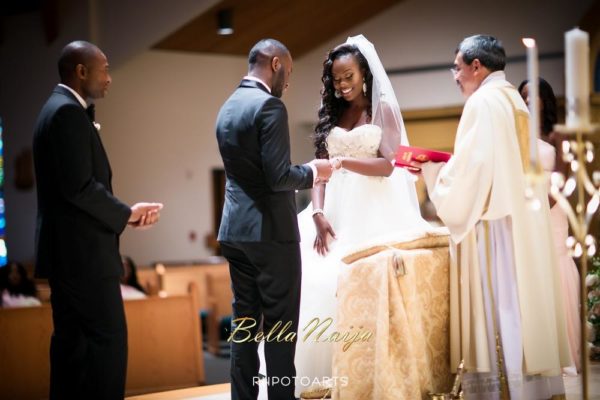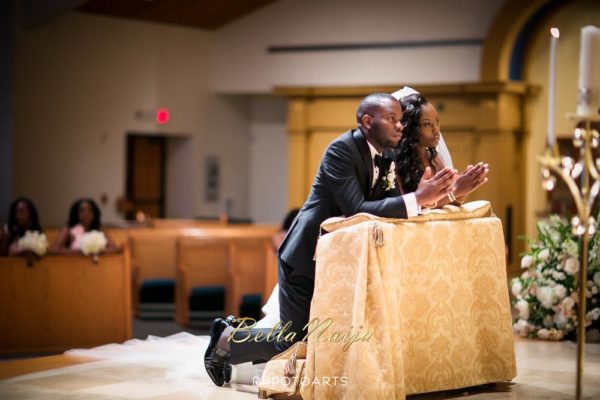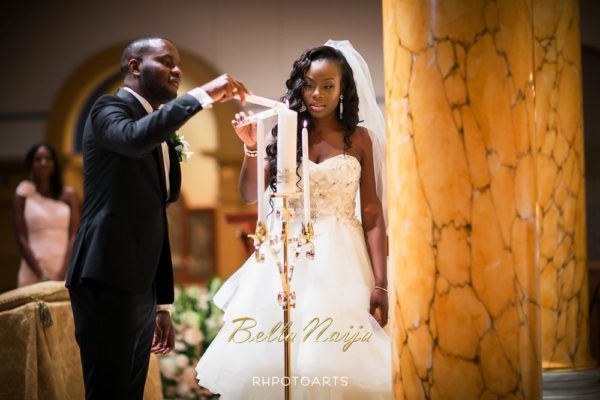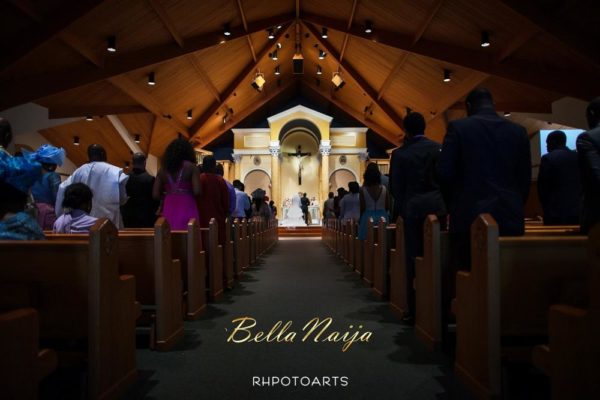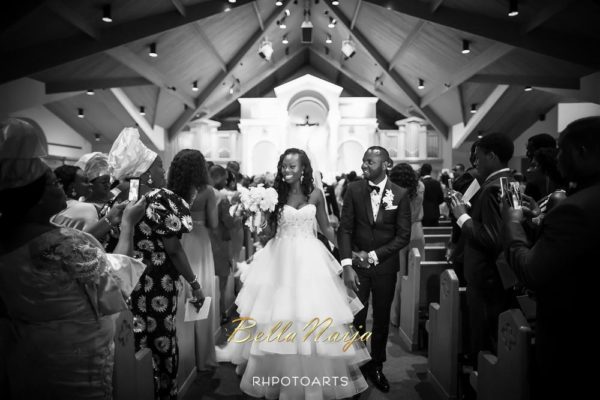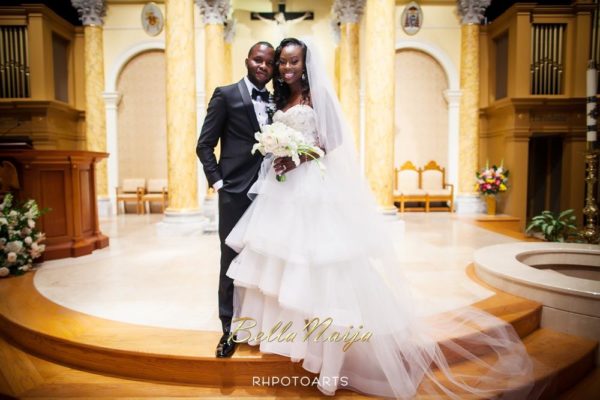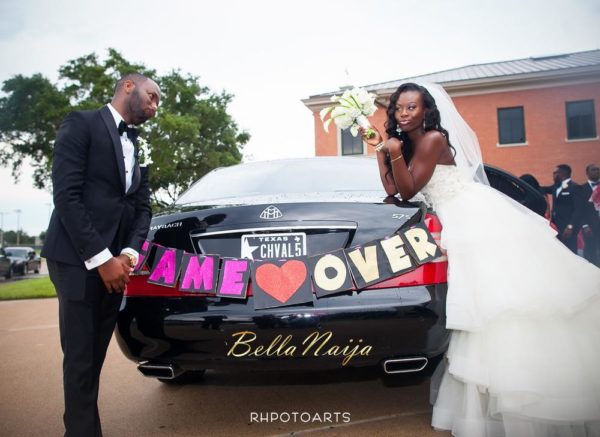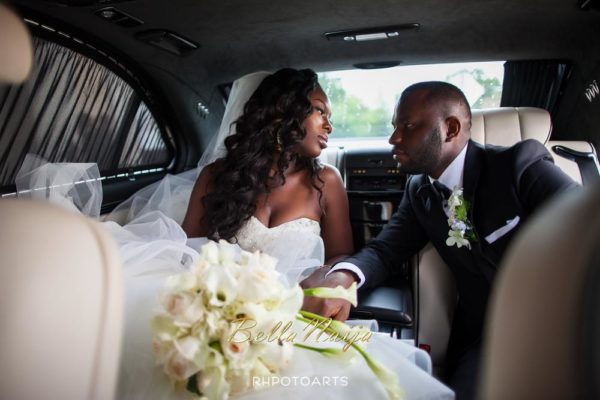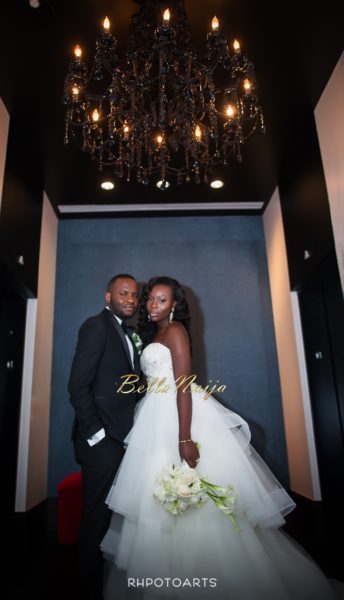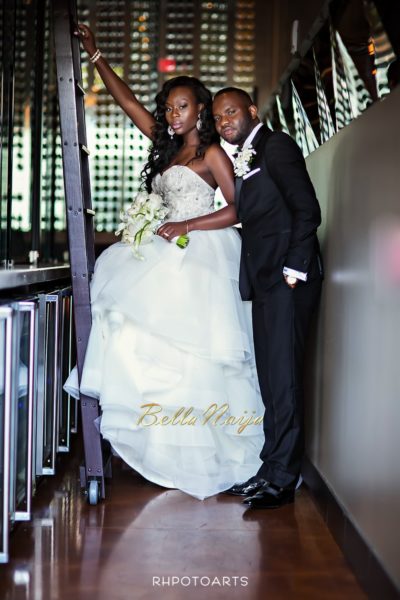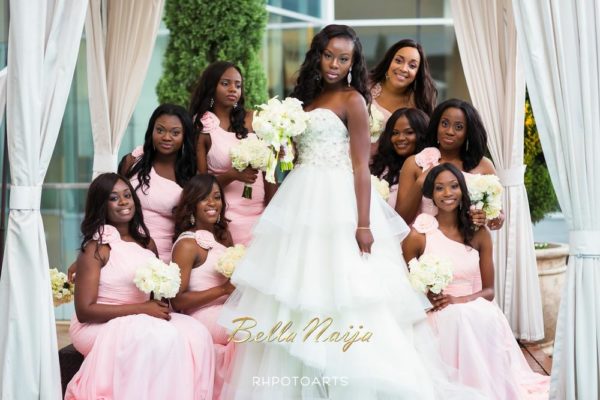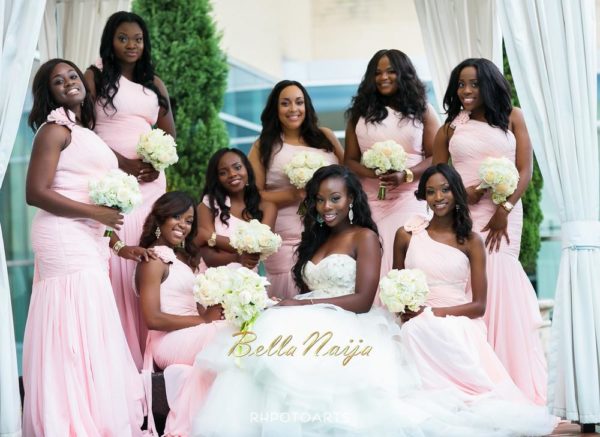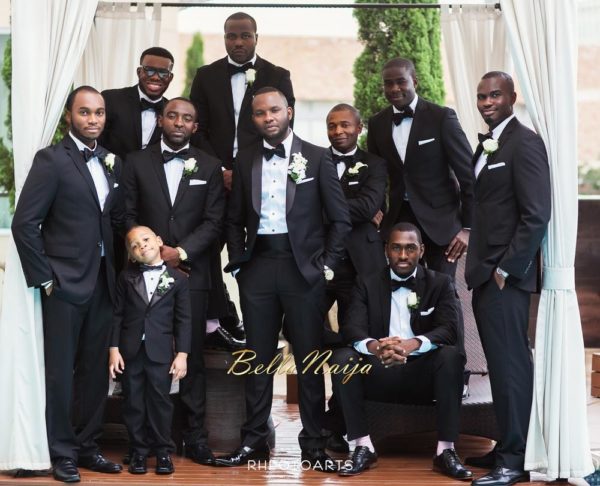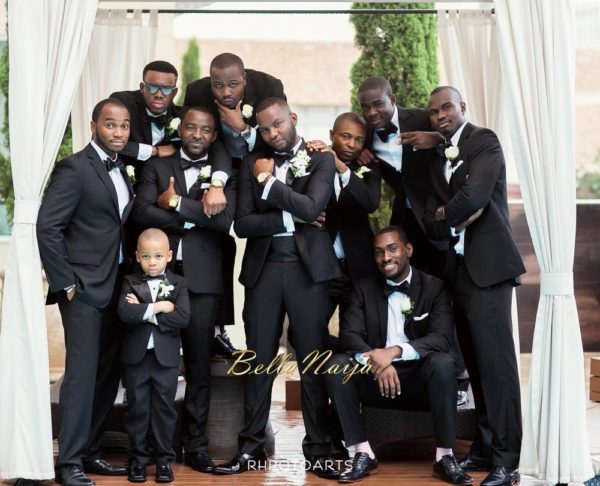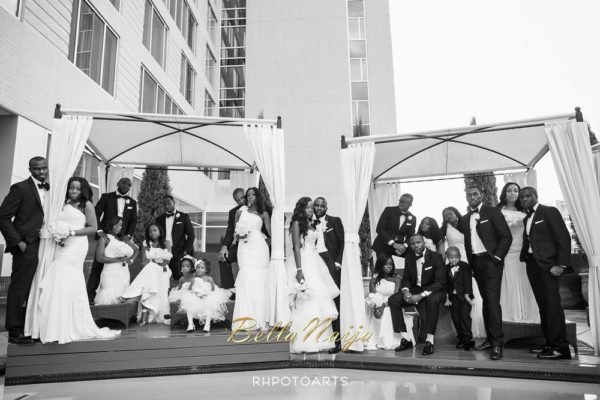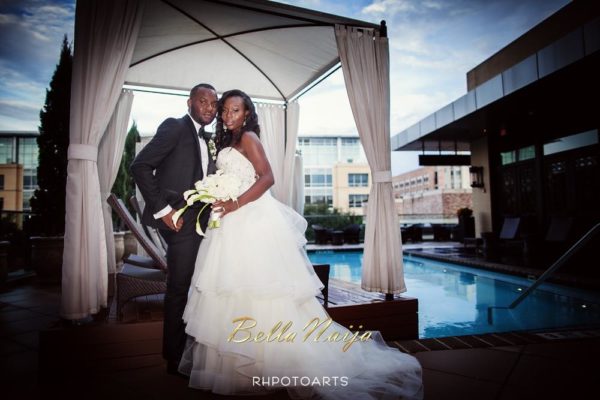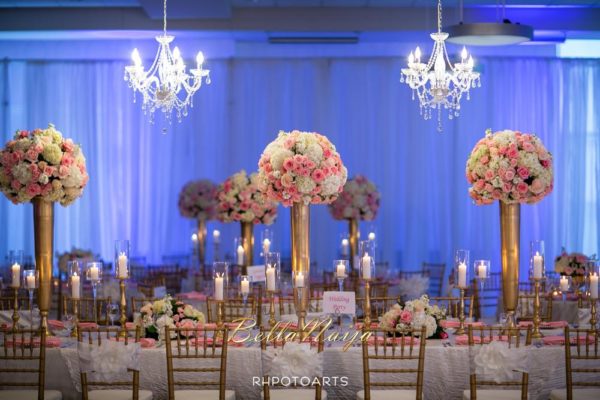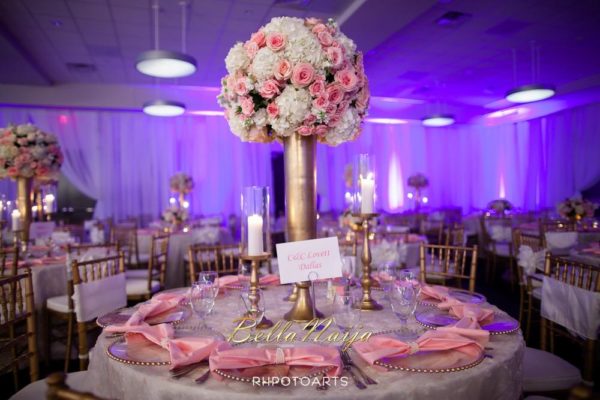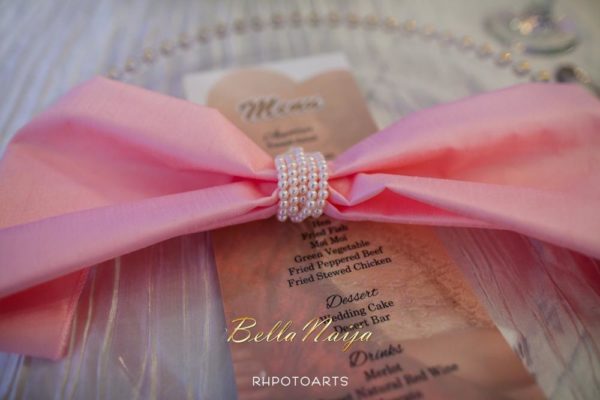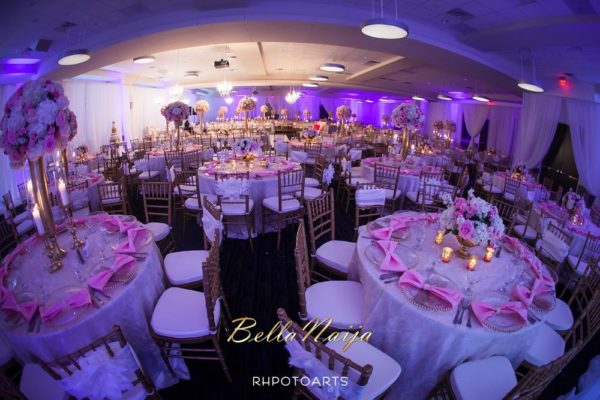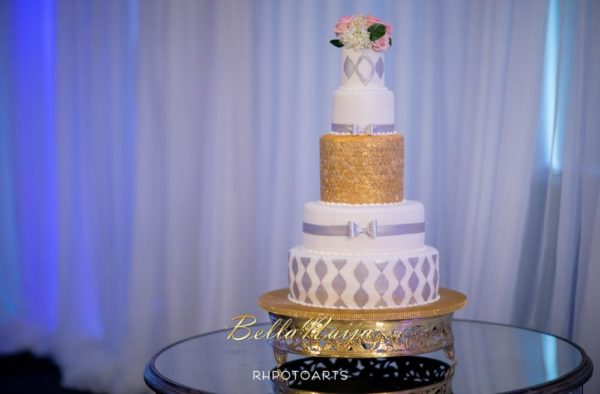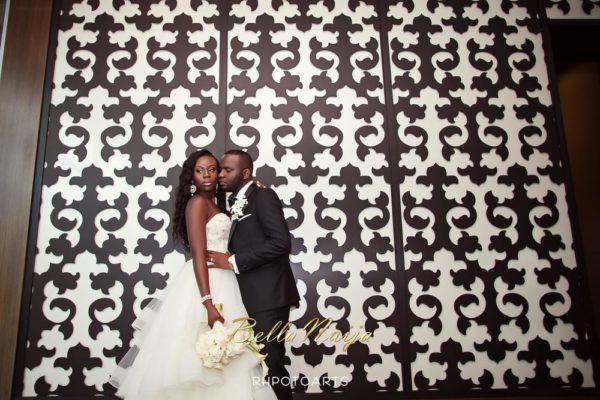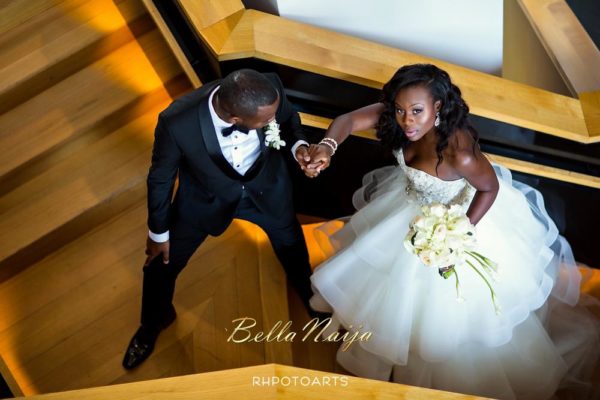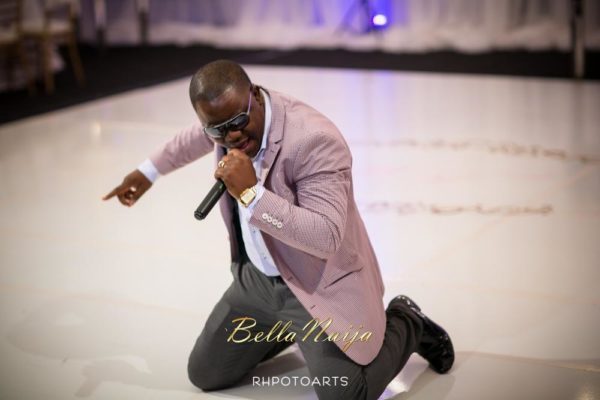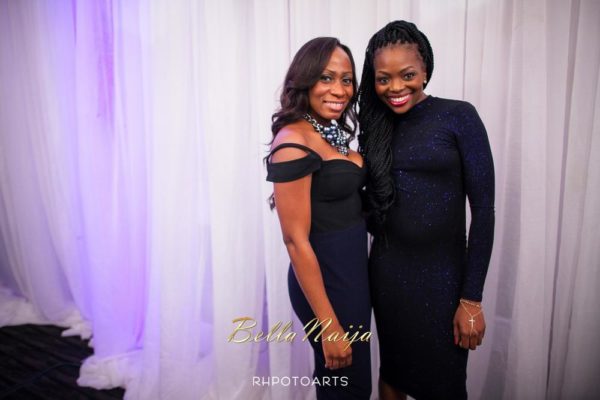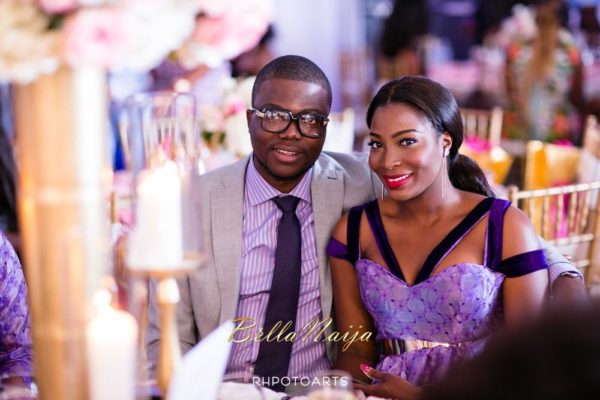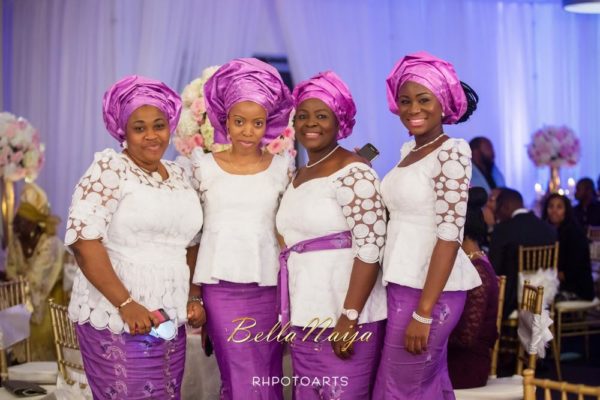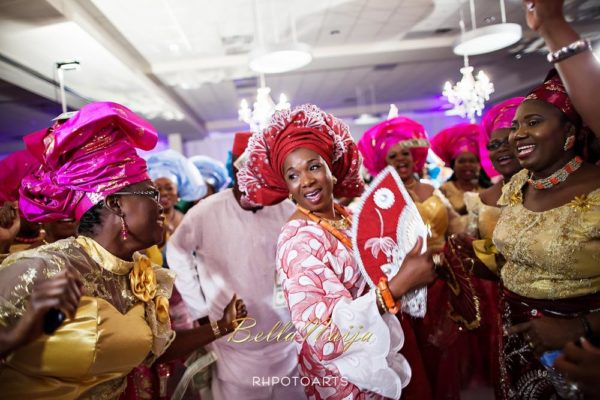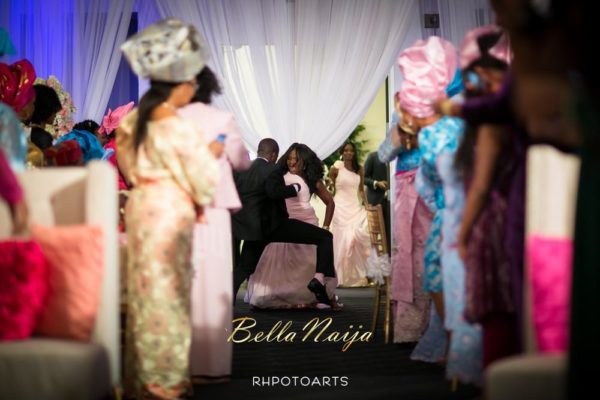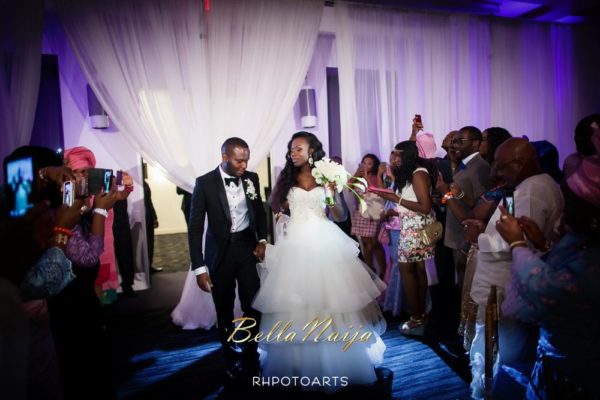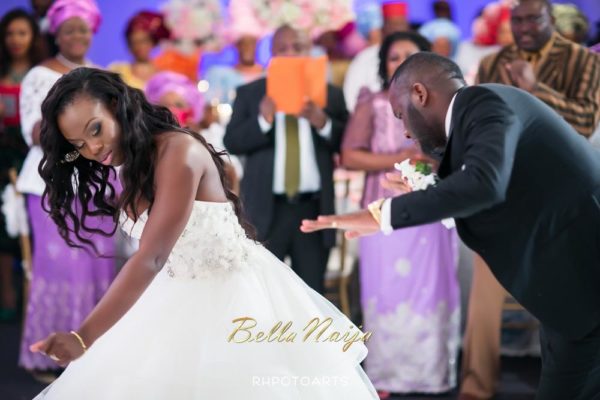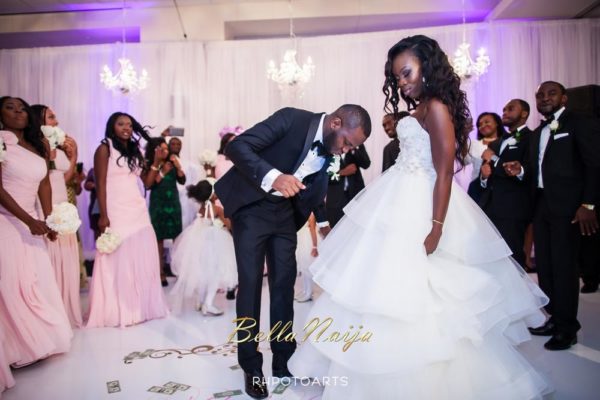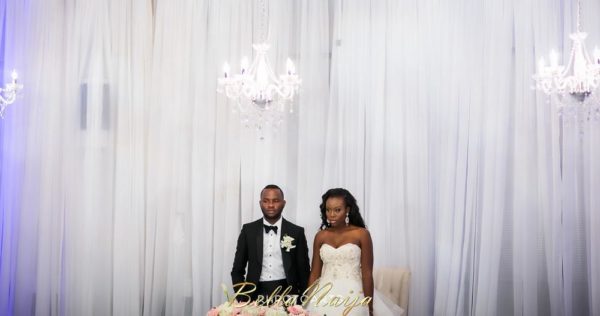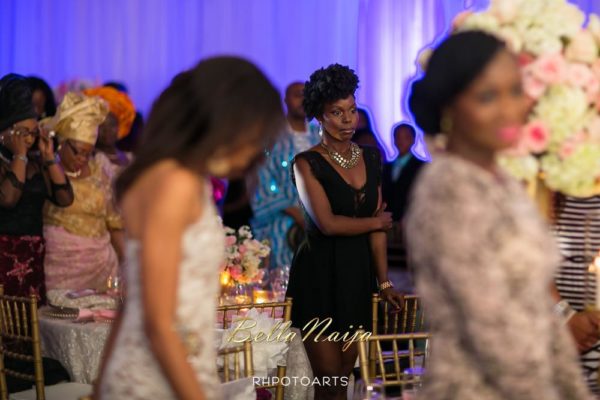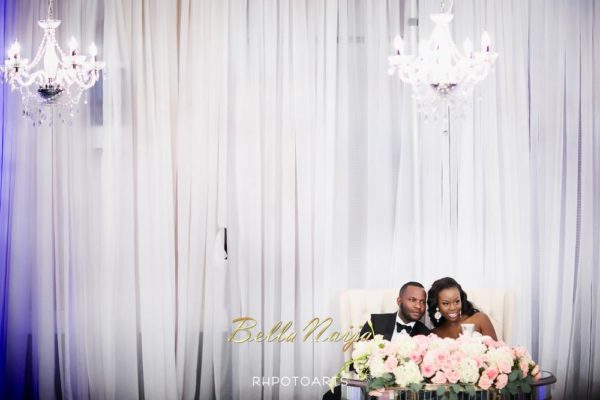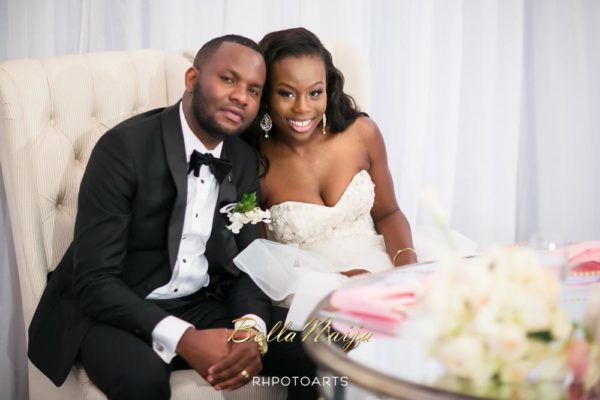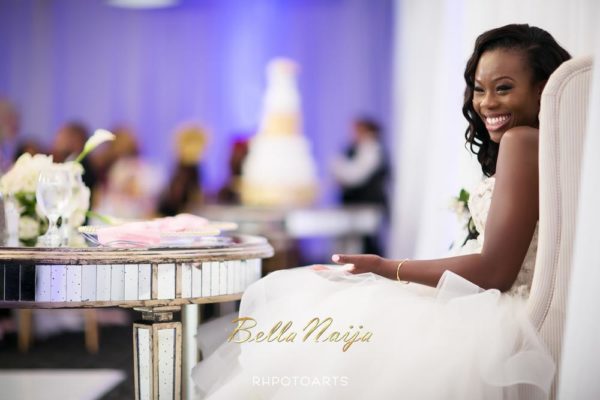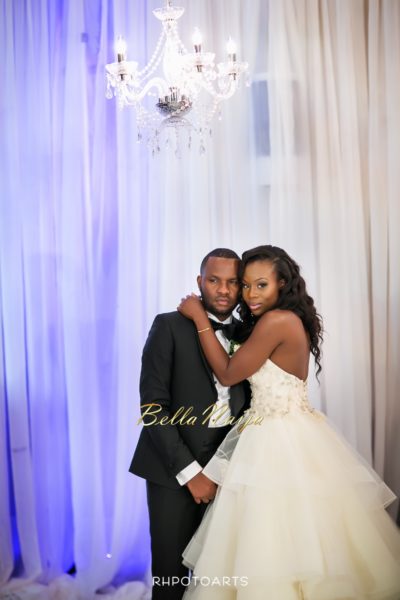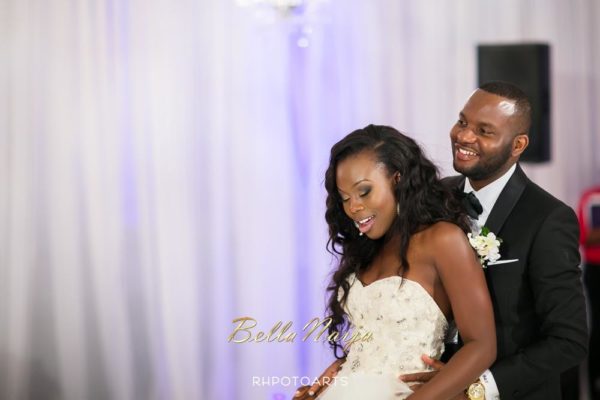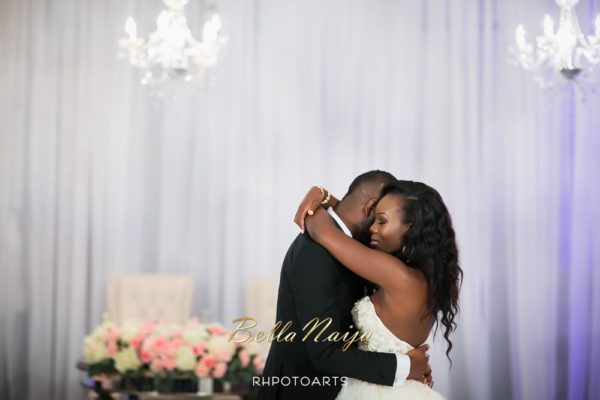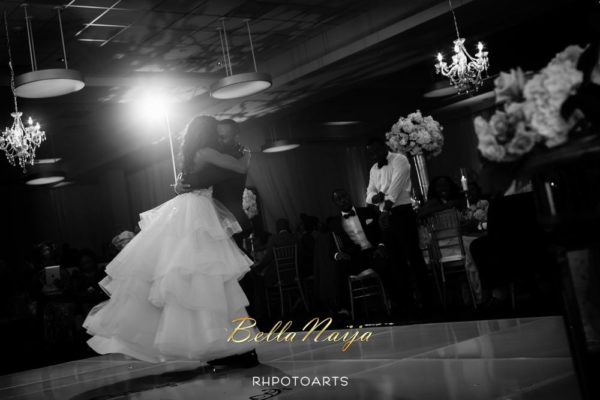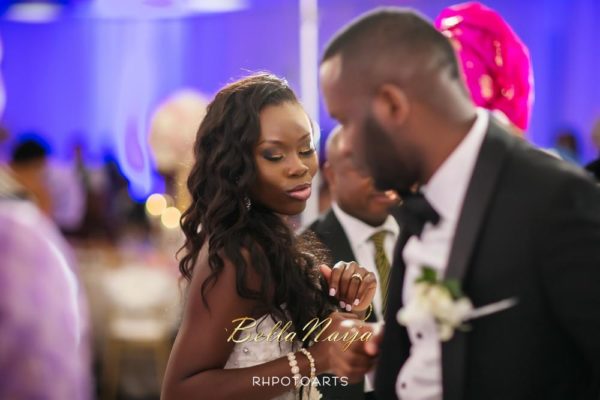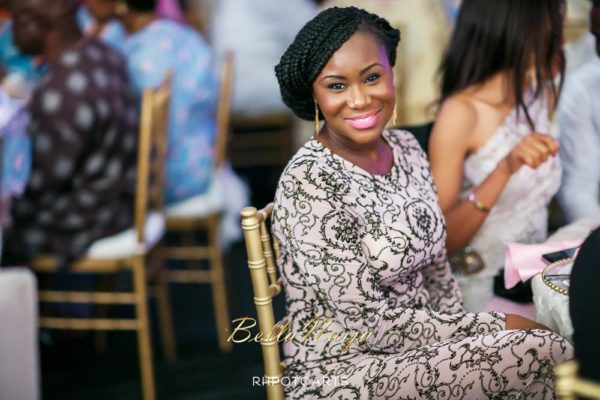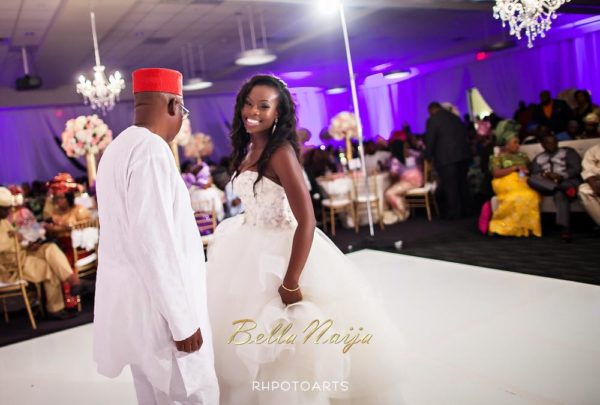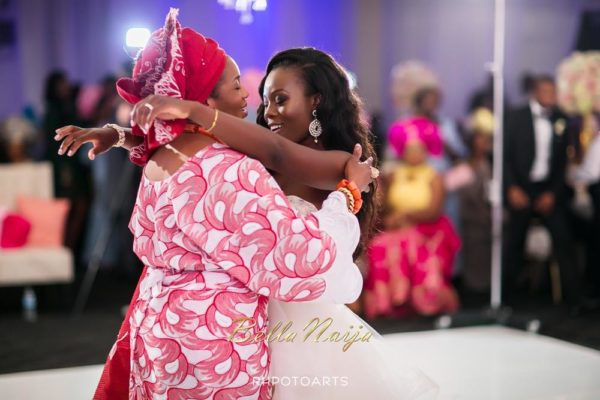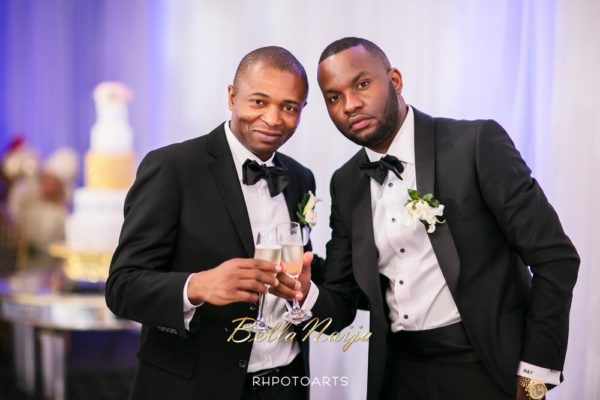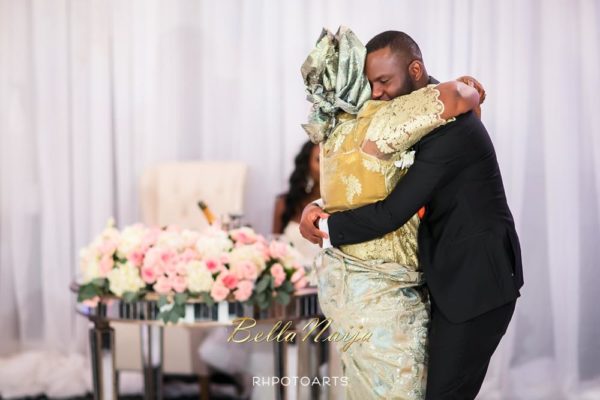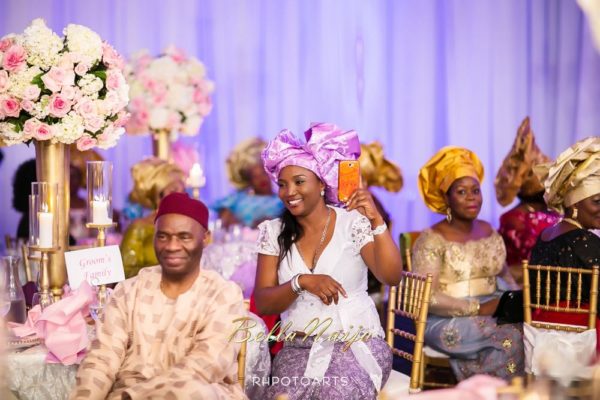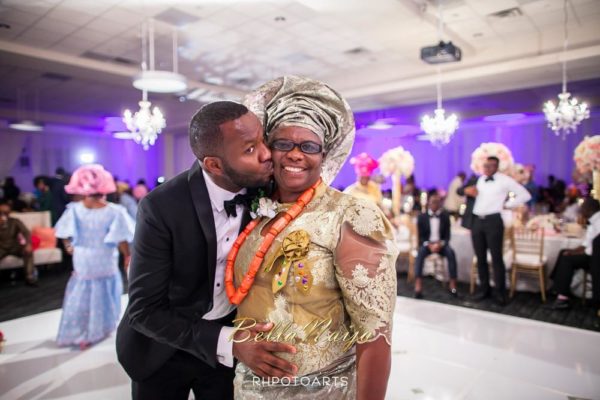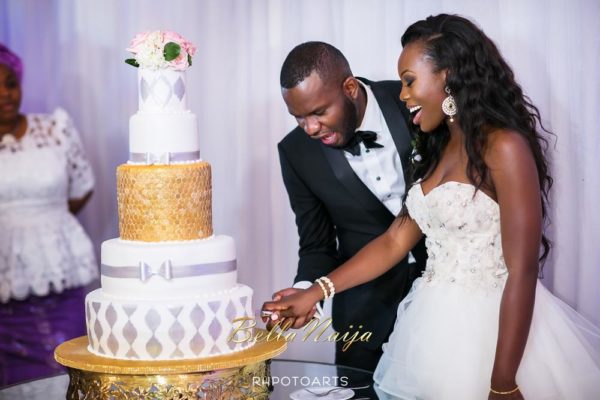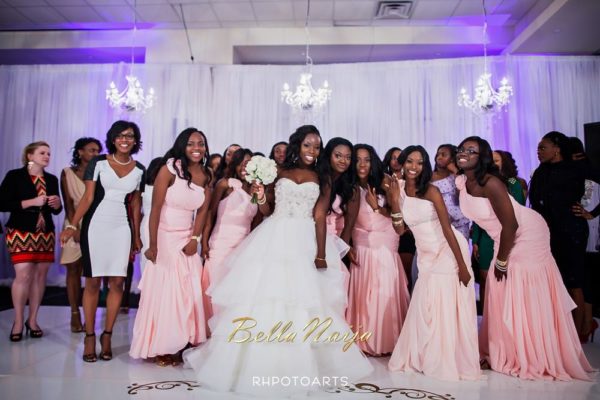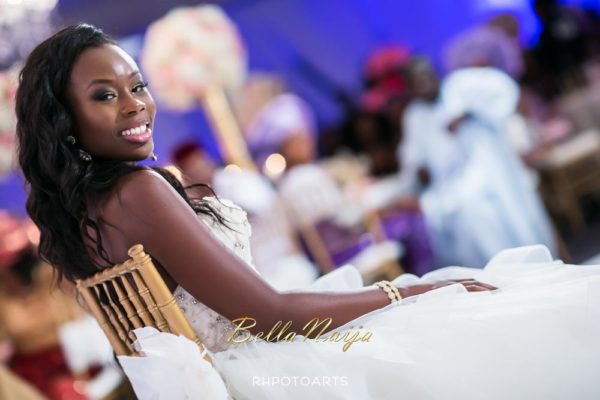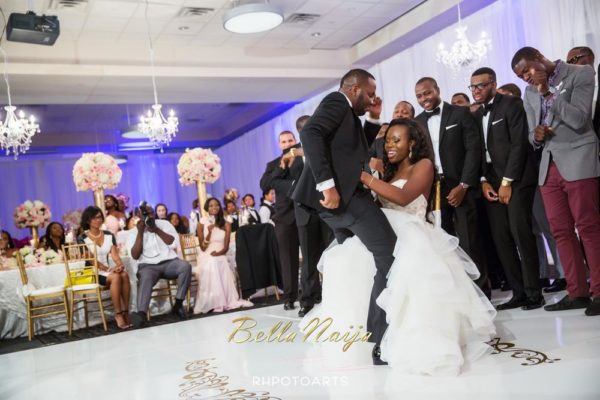 The highlight of the day was the garter toss because no one knew that my hubby could actually dance! Because he is generally so quiet when we go out, it was quite a surprise and he really got the crowed excited.
I have never seen so many men actually come out to catch the garter!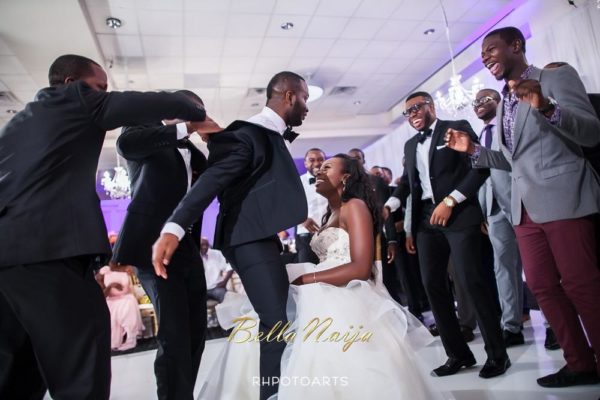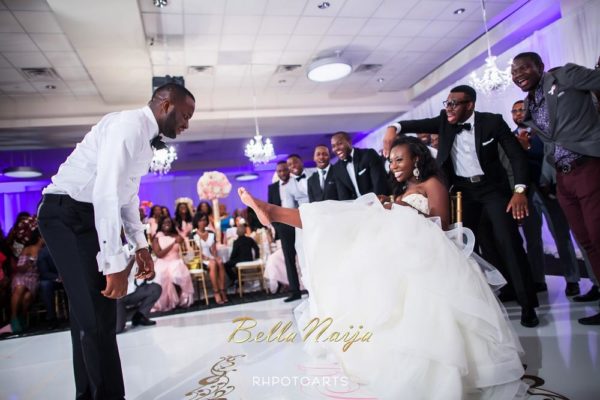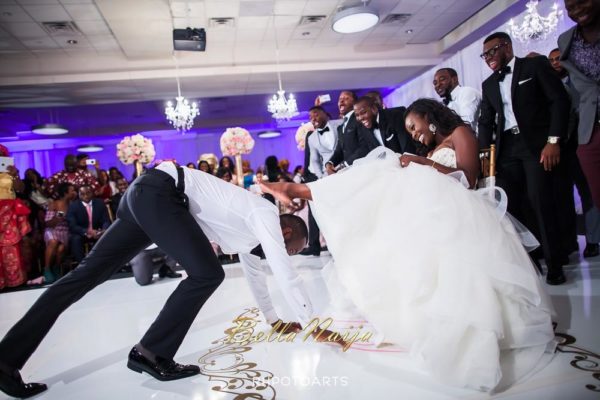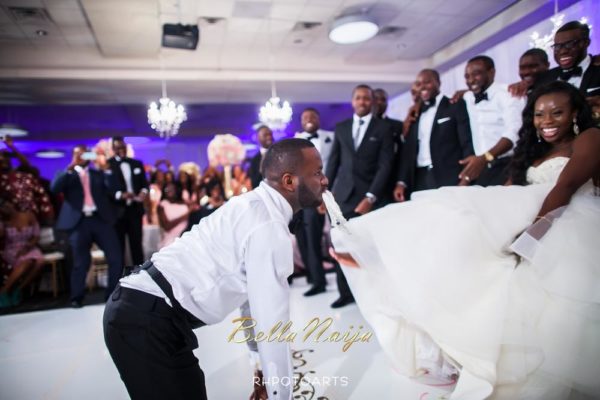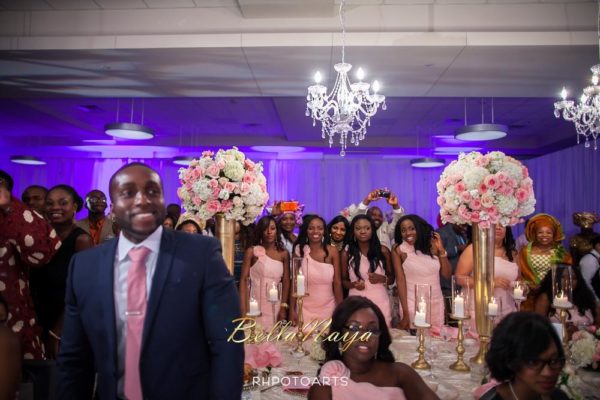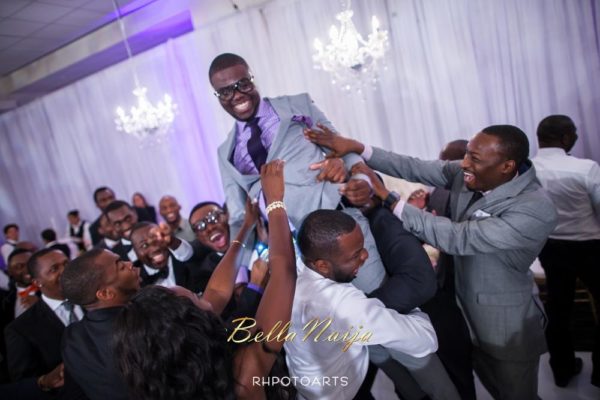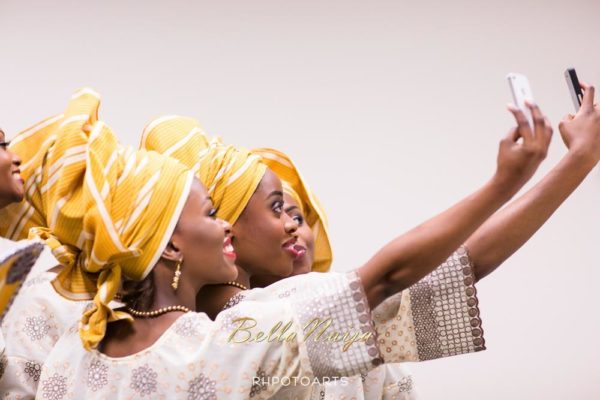 Segun Gele did my gele and styled my traditional look, while my makeup all through the day was done by the talented Lyzadora.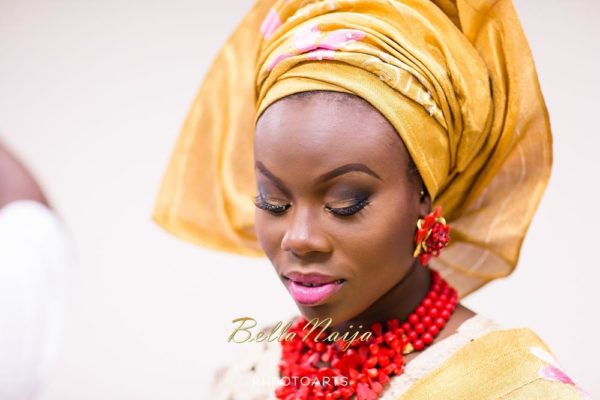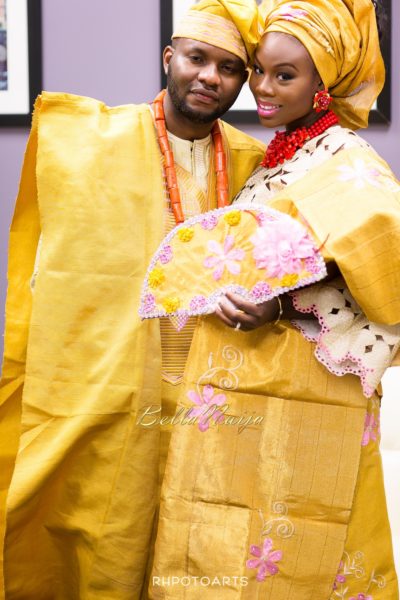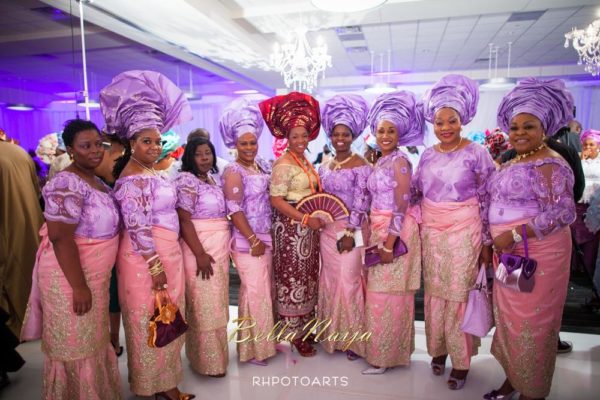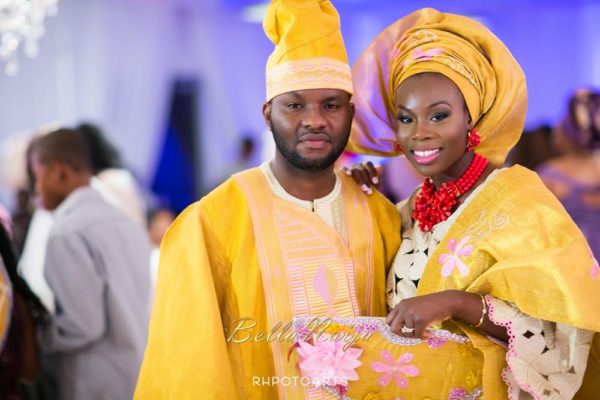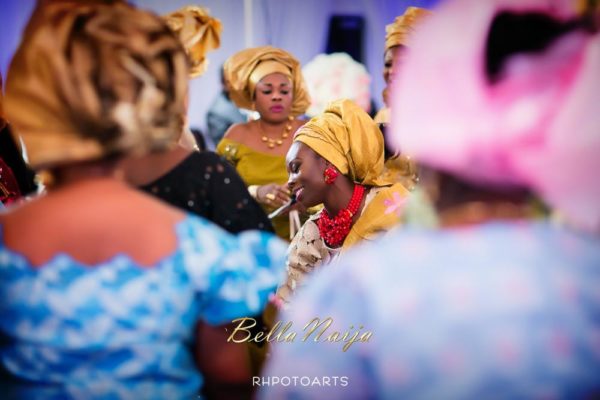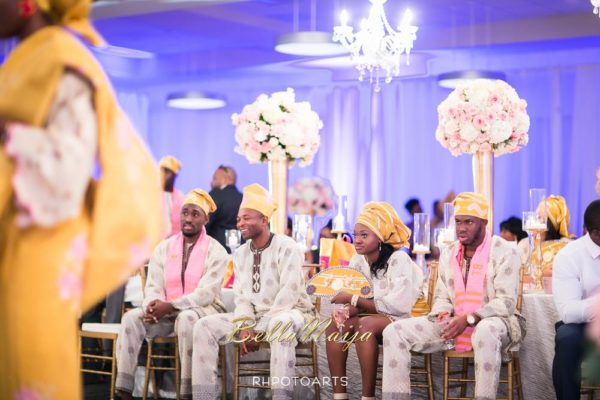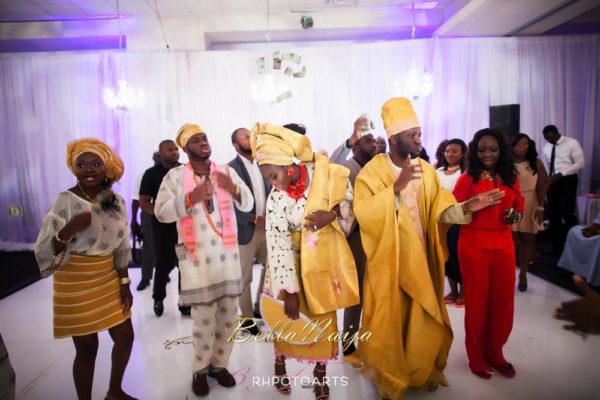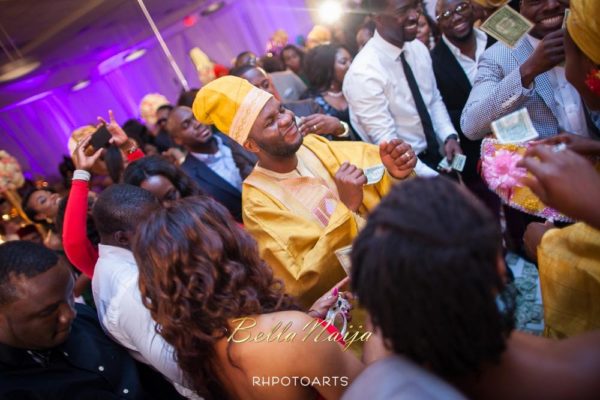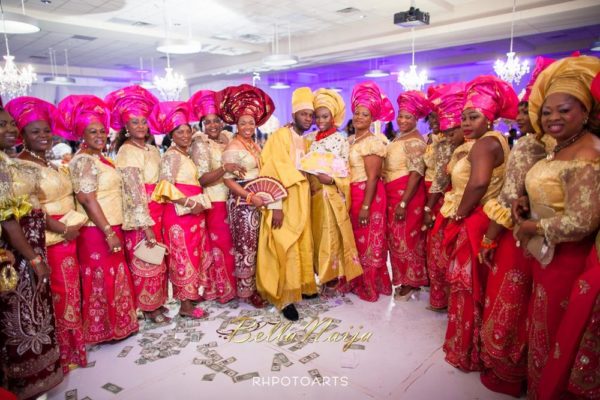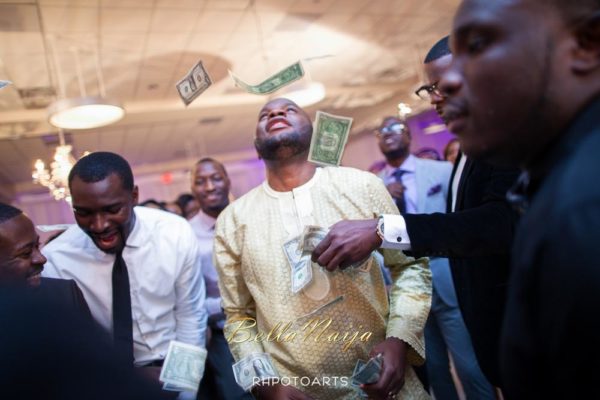 My third dress for the party was by Jovani. My husband and I danced the night away on the best day of our lives.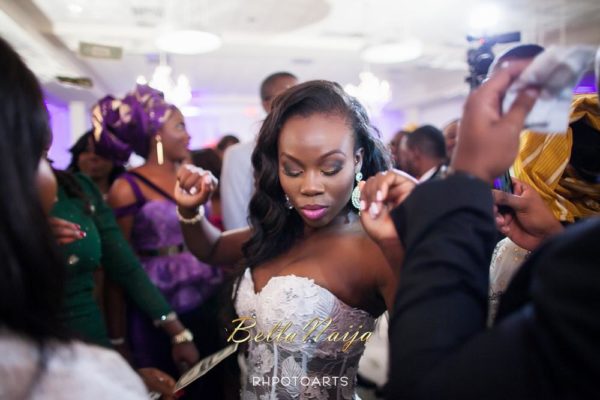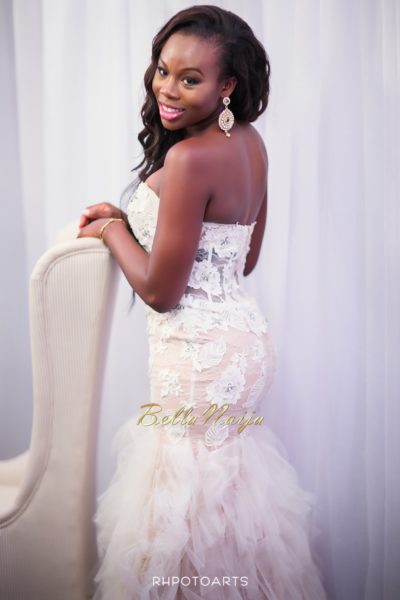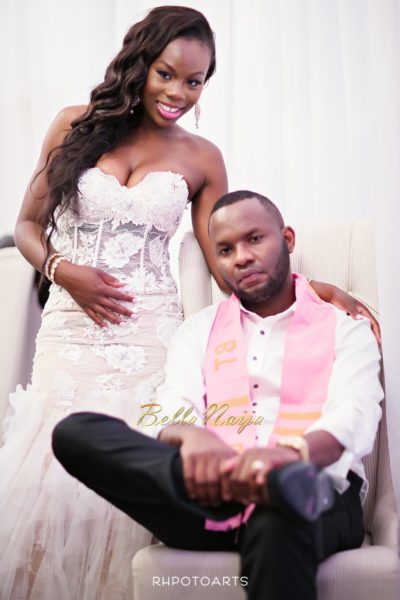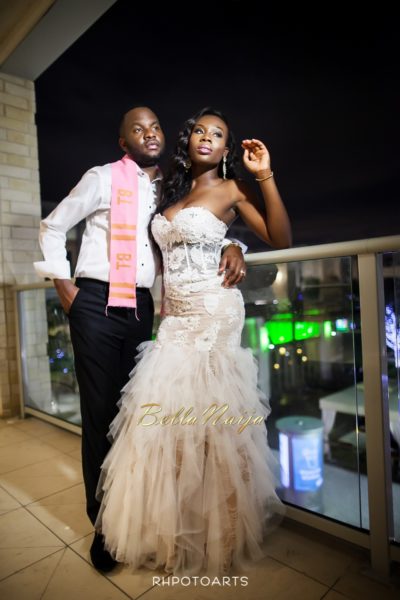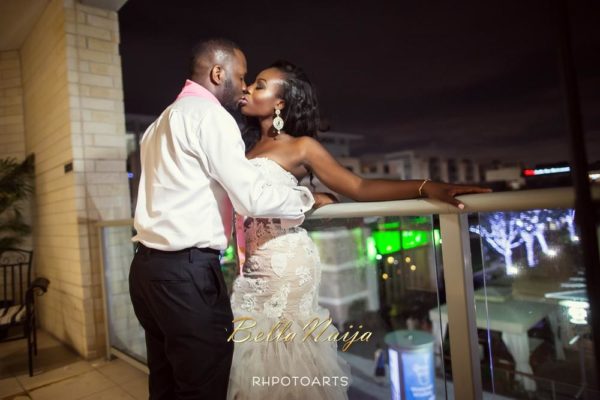 ***
Pre-Wedding & Wedding Photography: RH Photo Arts | www.rhphotoarts.com | raheem (at) rhphotoarts.com | instagram.com/RHPhotoArts
Wedding Photography Assisted by: Oyemi Photography | oyemi.com
Wedding Details
White Wedding Date: October 12, 2013
Church: St Theresa Catholic Church
Wedding Venue: Red Oaks Ballroom in City Center
Wedding Colours: Blush Pink and Gold
Wedding Attire
Pre-Wedding & Wedding Makeup: Lyzadora Beauty | instagram.com/lyzadora
Wedding Dress: Jim Hjelm
Second Dress & Groom's Second Outfit: Traditional Gold and Pink Aso-oke custom made in Benin City
Gele: Segun Gele | instagram.com/SegunGele
Third Dress: Jovani
Groom's Suit: Custom made classic black tuxedo styled by instagram.com/JPRstyling | PhilipAdesulu.JPR (at) gmail.com
Groomsmen Suits: Milano Exchange in Houston, TX
Vendors
Wedding Planner: Events by Doyin – doyin (at) eventsbydoyin.com | 832-308-7998 | instagram.com/eventsbydoyin
Wedding Decor & Bouquet: Flora and Eventi
Wedding Cake: Edet Okon | instagram.com/edetokon
________________________________________________________________________________
We love weddings as much as you do – get in touch for inquiries, inspiration & more!
E-mail: weddings (at) bellanaija.com | E-mail for #AsoEbiBella: asoebibella (at) gmail.com