Nigerian author Chimamanda Ngozi Adichie is definitely one of the most fascinating people out there. Chimamanda is not afraid to share her point of view.
In February 2014, Elle.com published an article by Chimamanda titled "Why Can't a Smart Woman Love Fashion?". The byline tells us After years of dressing down to make the right impression, novelist Chimamanda Ngozi Adichie wises up to a truth that her Nigerian mother has known all along.
Fast forward a few weeks to the 3rd of March 2014, Chimamanda surprised her fans when she submitted her photos to American fashion blog – Fashion Bomb Daily for their Fashion Bombshell of the Day feature.
In the feature, she shares personal style photos including this AsoEbi shot along with commentary – "I have clothes that other people tell me are lovely but I don't love them…And there are clothes I wear and love, about which my family and friends will say things like, 'you look like you're wearing a man's shirt that isn't your size.' Or 'is that really how that top is supposed to look?' Or 'I don't understand this dress.'"
Click HERE to see Chimamanda's Fashion Bombshell of the Day feature.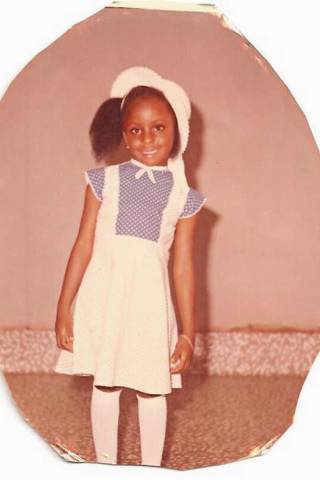 Going back to her Elle.com article, read excerpts below.
On Her Mum's Style
For her work as a university administrator, my mother also wore color: skirt suits, feminine swingy dresses belted at the waist, medium-high heels. She was stylish, but she was not unusual. Other middle-class Igbo women also invested in gold jewelry, in good shoes, in appearance. They searched for the best tailors to make clothes for them and their children. If they were lucky enough to travel abroad, they shopped mostly for clothes and shoes. They spoke of grooming almost in moral terms. The rare woman who did not appear well dressed and well lotioned was frowned upon, as though her appearance were a character failing. "She doesn't look like a person," my mother would say.
On How Her Style Changed when She moved to the USA
I made slight amendments to accommodate my new American life. A lover of dresses and skirts, I began to wear more jeans. I walked more often in America, so I wore fewer high heels, but always made sure my flats were feminine. I refused to wear sneakers outside a gym. Once, an American friend told me, "You're overdressed." In my short-sleeve top, cotton trousers, and high wedge sandals, I did see her point, especially for an undergraduate class. But I was not uncomfortable. I felt like myself.
On the Style Expectations for a "Serious Writer"
I had learned a lesson about Western culture: Women who wanted to be taken seriously were supposed to substantiate their seriousness with a studied indifference to appearance. For serious women writers in particular, it was better not to dress well at all, and if you did, then it was best to pretend that you had not put much thought into it. If you spoke of fashion, it had to be either with apology or with the slightest of sneers. The further your choices were from the mainstream, the better. The only circumstance under which caring about clothes was acceptable was when making a statement, creating an image of some sort to be edgy, eclectic, counterculture. It could not merely be about taking pleasure in clothes.
On Embracing her Love of Fashion Now
I am now 36 years old. During my most recent book tour, I wore, for the first time, clothes that made me happy. My favorite outfit was a pair of ankara-print shorts, a damask top, and yellow high-heel shoes. Perhaps it is the confidence that comes with being older. Perhaps it is the good fortune of being published and read seriously, but I no longer pretend not to care about clothes. Because I do care. I love embroidery and texture. I love lace and full skirts and cinched waists. I love black, and I love color. I love heels, and I love flats. I love exquisite detailing. I love shorts and long maxidresses and feminine jackets with puffy sleeves. I love colored trousers. I love shopping. I love my two wonderful tailors in Nigeria, who often give me suggestions and with whom I exchange sketches. I admire well-dressed women and often make a point to tell them so. Just because. I dress now thinking of what I like, what I think fits and flatters, what puts me in a good mood. I feel again myself—an idea that is no less true for being a bit hackneyed.
You can read the complete article via Elle.com
So let us know…Have you had to modify your style to be taken seriously? Do you feel you have to hide your love of fashion?
Photo Credit: Chimamanda Ngozi Adichie via Fashion Bomb Daily | Elle.com