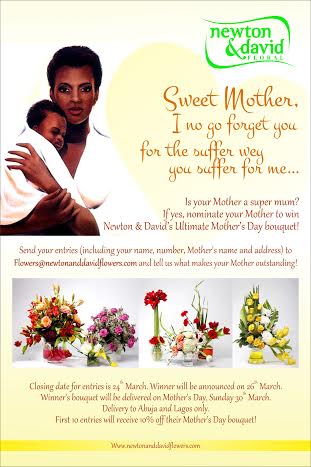 We all love our mothers right? So why not nominate your mother to win Newton & David's Ultimate Mother's Day bouquet!
For her to win, Send your entries (including your name, number, Mother's name and address) to [email protected] and tell us what makes your Mother outstanding!
The closing date for entries is Monday 24th March 2014. The winner will be announced on Wednesday 26th March 2014 and the Winner's bouquet will be delivered on Mother's Day, Sunday 30th March 2014.
Delivery to Abuja and Lagos only.
Newton & David is also offering 10 BN readers 10% off all Newton & David Mother's Day bouquet's from Monday 24th March 2014 till Saturday 29th March 2014!
Pop into any of the Newton & David stores and claim your discount.
Store Addresses:
Lagos
Victoria Island: Elpina Plaza, Plot 642c Akin Adesola Street, Victoria Island | Call 070 300 59833 or 07036091228
Ikeja City Mall: P176/194 Obafemi Awolowo Way, Alausa, Ikeja, Lagos | Call 0807 437 3845 or 0807 437 3813
Ikeja G.R.A: 27 Oduduwa Way, Off Isaac John Street, Ikeja G.R.A Lagos | Call 080 743 73812, 070 743 73868 or 07030697188
Abuja
Ceddi Plaza, Plot 264 Tafawa Balewa Way, Central Business District, Abuja | Call 08023830211, 08074373834
For more information, please send an e-mail to [email protected] | Find them on Facebook: facebook.com/newtonanddavidflowers | Follow them on Instagram @newtonanddavidflowers | Visit their Website: www.newtonanddavidflowers.com
__________________________________________________________________________________________
Sponsored Content