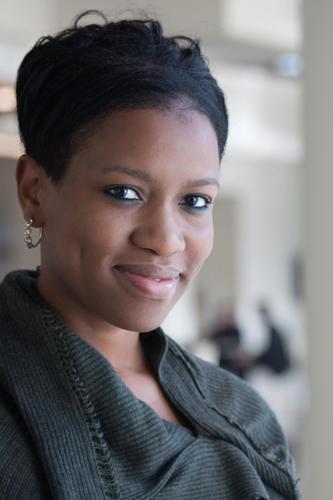 Move Back to Nigeria is a series on BellaNaija which aims to encourage young and not-so-young professionals in the diaspora who are trying to make the decision of whether to move back to Nigeria. In collaboration with the brilliant team at MoveBackToNigeria.com, we hope to bring you a weekly interview with individuals who have successfully made the leap, considering the leap, as well as those who have tried it and realized it is not for them.
MoveBacktoNigeria.com's mission is to showcase stories of Nigerians abroad who have moved back home and are taking giant strides, often against all odds and to serve as inspiration to others. This, however does not preclude us from sharing stories of the people who have moved back and are facing various challenges.
We have another dynamic young business-woman, Bilikiss Adebiyi on the hot seat this week! She's an MIT Alum and founder of the wave-making and innovative business entreprise, 'Wecyclers'. Read on for more on this fascinating and truly inspiring young entrepreneur.

Thanks for speaking with us. Can you please tell us who you are and what you do?
My name is Bilkiss Adebiyi and I am the CEO of Wecyclers. Wecyclers is a social enterprise working to help people capture value from their waste. We provide convenient collection of recyclable material from households using our fleet of low-cost cargo bicycles. Households get redeemable points in return. We aggregate collected waste and sell to recyclers.
Were you born in Nigeria? If yes, when did you leave and why?
I was born in Lagos Nigeria, into a family of 5. I attended Corona Ikoyi, for my primary School, and then Supreme Education Foundation for Secondary School. After this, I enrolled to study Law at Unilag, but only ended up staying for 1 year before leaving for the US. I left because the year at Unilag was very difficult, the conditions were terrible. There were constant clashes and fights among certain students, it really was not great. I had to leave as my parents and I were scared for my safety.
You continued your education in the US?
Yes. I did my BS in Computer Science from Fisk University, my MS in Computer Science from Vanderbilt University and I got my MBA from MIT, Sloan School of Management. The reason I chose to study Computer Science was because at the time, everything was getting computerised, so I thought I'd jump into that field. I actually enjoyed programming, as I am analytical, love to solve problems, and like mathematics.
What came after your studies?
After my Masters Degree I went to work for IBM, for 5 years, and by the end of it, I was all "computered" out. Initially, I was lucky to be working under a very intelligent boss who gave me a lot of responsibilities and also gave me big projects to work on, but the issue was the lack of career progression. In order to get promoted and move up the ladder, I would have had to work at IBM for a very long time. However, the benefits were good, we could work from home and had flexible working hours, which was handy as I had already started having kids.
So what did your day to day role at IBM involve?
I worked on a few projects developing some interesting products for our customers. Sometimes these products (software) had to be deployed internally at IBM and I was responsible for this. You can imagine as we had 400,000 employees globally, that was a lot of users to look after. For example if a server went down, I would be on call to provide support. That was a bit frustrating because sometimes you could find yourself at 2am on a Saturday morning trying to fix a broken server, and the pressure was immense as everyone was on your case. Downtime to our critical servers could sometimes get escalated up the management chain, so you can imagine how one would just have to respond when ever calls came in. These things happened from time to time so it was quite stressful. In the end I figured it wasn't what I wanted to do. I didn't want to continue working in an office. I wanted to be with people, I wanted to give back. So I quit the job and I went to MIT for my MBA to rediscover my purpose. I'm of the opinion that studying for an MBA is usually a good idea because it gives you "breathing space". It gives you time to look for a job, think about your life, provides an amazing network and much more.
MIT is a highly regarded school but arguably, usually preferred for science and tech, what inspired your decision to go there?
It was amazing. The people there are very careful about the MBA programme and who they select to come on. I made a lot of lifetime friends at MIT and I'm really glad I went there. I also applied to Harvard and didn't get in but glad in hindsight that I ended up going to MIT. Whilst there, I was able to interact with counterparts at Harvard, and other prestigious schools and I felt like I was happy it worked out there. At Harvard the way they program you is different. It's more about having discussions about hypothetical situations and how you would respond, whereas at MIT it's about "How do you get stuff done?", all about learning by doing. The culture was not about talking but about doing. If you had an idea, then it was all about implementing it. The motto at MIT is 'Minds and Hands'. Interestingly, there's a popular joke that Harvard graduates are the Managing Directors of Companies, and they hire MIT graduates to come and do the work and crunch numbers.
It was an amazing 2 years. The program consists of 4 semesters, and Wecyclers was born in the second year of my MBA. For our project, we had to choose specific sectors for our group, and I chose "waste". In January, as there are no classes, I took that time to go to Nigeria to see family and ended up doing a small project on waste management. This was during the fuel subsidy crisis which was difficult because of the strikes and all that, making planning difficult. The idea was, we asked people to bring their waste in for the opportunity to enter a raffle draw to win various items. The response was amazing, and people were excited. We also interviewed some kids, asking what they thought about "waste" in general. They were generally unhappy about the state of waste management within their communities which sometimes caused disputes with neighbours.
After this, I returned to MIT to complete the MBA, and whilst there, we entered some competitions with the business idea and got some support. I then moved back to Nigeria after I graduated to set up the business, and things have been progressing since then.
When did you move back to Nigeria?
I moved back in August of 2012. My husband had always lived in Nigeria, which is one of the reasons for that. I also moved back to be closer to my parents, family and friends, and to set up Wecyclers.
How did you find the initial experience once you hit the ground?
It was hard; I've had moments. I lived at my parents for about 6 months and they live on the Mainland and my kids' school is on the Island. So we used to commute every day. Every week I spent 13 hours in traffic, which was quite a nightmare. It was also hard getting used to all the power cuts. The generator was not on all the time, and with the intense heat, it was difficult to sleep at night. But thankfully, we survived.
Ok. Please tell us about Wecyclers.
We are based in Lagos Nigeria and we are working to help capture value from waste. The reason we do this is because people do not freely have access to waste management in developing countries like Nigeria; there is low awareness of recycling and its importance as it relates to environmental sustainability. We have a fleet of low cost cargo tricycles –called Wecycles – that go from house to house to collect recyclable plastics – plastic, "pure water" sachets, and cans.
At the point of collection, the material is weighed and is placed in our Wecycles and taken to our hub. At the hub we sell to recyclers. Customers can get redeemable points from what they recycle.
And how has the response been for Wecyclers?
The initial support was mixed. As you may imagine, this was a new idea so people had to get used to it. The first challenge was understanding what people wanted in exchange for their waste. Different people had different expectations, so creating the market was challenging… We have a system where people accumulate points in order to redeem their gifts. The quality of their gift depends on the how much they recycle. We have had people expecting to redeem laptops for giving a single sachet of pure water, but anyone would recognise it would take a bit more than that. Also perhaps not many people appreciated the environmental impact initially, however once they started noticing cleaner environments, they began to appreciate the service more. Things have been progressing steadily, and we now have 31 employees in the business.
While some of our staff are engaged in collecting waste, we always want them to look professional and presentable which can be challenging at times, but we are getting there. I strongly believe in having a good training program, and the rest would fall into place.
Definitely ingenuous! And where do you see the business in the coming years?
We want to be the best recycling company in Nigeria. We have the capability of creating efficient recycling all over Nigeria and are currently in Surulere and Ebute-Metta in Lagos, we have built a scalable model and will expand. We are not just about collecting waste, we are also a social enterprise, helping people to create value out of their waste. For instance, if a low income earner is trying to buy a blender, they can use their waste as a savings to afford it.
Well done! It's all really impressive and definitely inspiring! As you have been able to successfully resettle in Nigeria, what tips would you have for someone thinking of making the move back?
First of all, make sure you have made your mind up before you move. Once you decide, then no going back. Also when you are still new do not make any major investment as you might overspend because you still calculate and think of money in terms of dollars and pounds. Make sure your mind is calibrated to the local valuation system before making major purchases.
If you are looking to find a job, don't be afraid to ask to meet the MD of the company for a meeting. HR officials might not the most helpful since there might not even be a vacancy here, so you need to speak to the decision makers to network and let them know about you. Also dress smart and nice. In Nigeria, dressing is extremely important, as you get judged depending on how you present yourself.
Many thanks for your time and best wishes moving forward.
______________________________________________________________________________________________________
The  primary objective of MoveBackToNigeria.com is to connect Nigerian professionals with various opportunities in Nigeria, ranging from recruitment drives to information & support regarding relocation processes, financial & tax advice and much more. Move Back To Nigeria also features social interest topics such as what's on, where to live, how-to survival tips and so on. Consistently engaging with and featuring Nigerian professionals in weekly  interviews, Move Back To Nigeria regularly publishes social interest articles relevant to the general public. Everyone is welcome to their online discussions & fora and you are invited to air your views & suggestions on the topical and trending matters section. For more information and further inquiries, please contact [email protected]