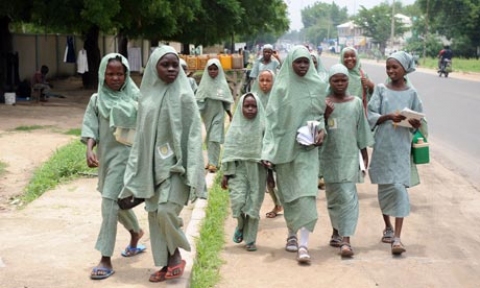 There appears to be a slight ray of hope in the midst of the series of Boko Haram attacks that have occurred over the past couple of days.
You will recall that the terrorist group abducted 200 school girls from their hostels in the Chibok area of Borno State on Monday (if you missed this story click here).  The latest development in the story is that 15 of those girls escaped during the abduction operation.
One of the trucks that was carting the girls away reportedly broke down after it departed from the school premises. As the militants busied themselves with fixing the truck, 15 of the girls jumped out of the truck and ran into the nearby bushes. They were able to escape without being noticed because the terrorists were distracted by the broken down vehicle.
We really do hope that the rest of the missing girls are found soon.
A  N50 million reward will be given to  anyone who provides information that will lead to the capture of the terrorists responsible for this kidnapping, Sahara Reporters states.
Photo Credit: AFP/Getty Images/Pius Utomi Ekpei