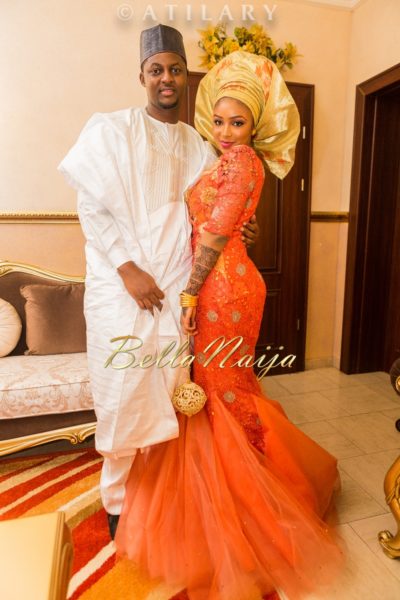 Once upon a time, Fareeda Umar Gano and Ibrahim Isa Yuguda met in Kano. They courted until the groom swept her off her feet with a magical proposal and a classic Cartier ring in Al Basha Restaurant, Maitama, Abuja.
Their wedding was a whirlwind of magnificent ceremonies in the Northern Nigerian cities of Kano and Abuja – a perfect way to end 2013, and beautiful beginning of their married life.
Just for Grooms! Advice from Ibrahim –
Marry a woman with a good personality.
~ All Photography: Atilary Photography
Pre-Wedding Shoot
Fatiha in Kano
At the Fatiha ceremony in Kano, the groom formally asked for the bride's hand in marriage and her bride price was paid. After the bride's family accepted his proposal, they prayed for Allah's blessing on the marriage.
Wedding Dinner in Kano
This was after the Fatiha, to celebrate the marriage blessing.
Budan Kai
Budan Kai means "Unveiling of the Bride". This was organized by Ibrahim's family to honour and welcome Fareeda to her new family. The bride was presented with gifts both in cash and kind.
Wedding Dinner in Abuja
The dinner in Abuja was a double celebration for the family as the couple and one of their siblings also wed. It was purely celebratory with toasts to the bride and groom, and cutting of their wedding cake.
Photography: Atilary Photography | +234111111609 | atilarystudio (at) yahoo.com | instagram: @atilary_ | atilary.com | atilaryweddings.com
Wedding Info
Wedding Dates & Venues
Dinner in Kano: Friday, December 27, 2013 – Afficent
Wedding Fatiha: Saturday, December 28, 2013
Budan Kai & Dinner in Abuja: Sunday, December 29,2013 – ICC
Bride's Makeup: Mamza Beauty | instagram.com/mamzabeauty
Orange Dress for Abuja Dinner: Warehouse Abuja
Wedding Planner & Decor: I A B Events | iabevents.com | sbello (at) iabevents.com | instagram.com/iabevents
________________________________________________________________________________
We love weddings as much as you do – get in touch for inquiries, inspiration & more!
E-mail: weddings (at) bellanaija.com | E-mail for #AsoEbiBella: asoebibella (at) gmail.com