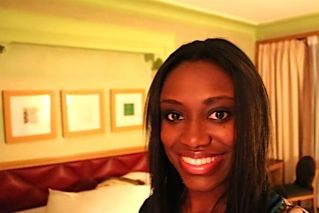 Today is one of the most significant days in the Christian calendar and as with all traditions, food plays a major role. Frejon is cooked and served with Fish stew and Garri. Mounds and mounds of Frejon is cooked in homes in Lagos Island (Isale Eko) and shared with neighbours on Good Friday. Its origins are from the Portuguese Quarters of Lagos. It is made with black beans, popularly called 'Ewa Ibeji' and Coconut. it is then seasoned with sugar, salt, and cloves (optional). I must say Lagosians have a fascination with Coconut, I guess its abundance in their vicinity is to blame. They gave us Baba Dudu, Coconut Candy, Coconut rice, Shuku shuku (please don't ask me what that means in English) and now Frejon. I must say a big
Thank you to a very good friend of mine, my personal person Kemi Adeniyi Kale, who brought the idea of Frejon to me. Never heard of it before, and she shared a recipe from memory which I took on board and cooked.
I wrote to BellaNaija, asking if I could submit Frejon for BN Cuisine as it is so poignant on Good Friday. Atoke's first response was 'Frejon!? Iyama' –  (the Nigerian slang for 'eeeeeeew', grammatically correct) Ugh! Not like I blame her though.
The images of Frejon I managed to find online were not that appetising, so I took it upon myself to upgrade a little, to make it more appealing. I went back to her with the words, 'when I make Frejon, I dare you to say eeeeew!' She laughed and said, 'I trust you. Because it is you, I know your Frejon would turn a frown upside down'. The challenge was on. First batch wasn't so great, off to the bin it went. By the next batch, I tweaked a few things and was quite pleased with the result.
Frejon is normally made as a fluid, creamy dish, but I found that was the problem with it. With food, you sometimes have to improve it and still stay with its flavour profile. So, if you are used to making frejon watery, try letting it thicken a bit to form a paste. Less eeeeeew-inducing.  To enjoy Frejon in your homes on this very commemorative day, here's how.
You will need
2 cups of Black Beans – i substituted with Nigerian Honey beans
1/2 – 3/4 cups of Coconut milk
2 heaped tablespoons of sugar – or more
A pinch of salt
5 cloves
How To
I found black beans, but I wasn't sure if it would work, mainly because of the colour. I looked at the black beans and what my image of Frejon would look like and the words that came to mind. I am too polite to write it here, so I stuck with honey beans.
Boil the beans till it gets very soft, and I mean very soft. Salt is not needed when boiling.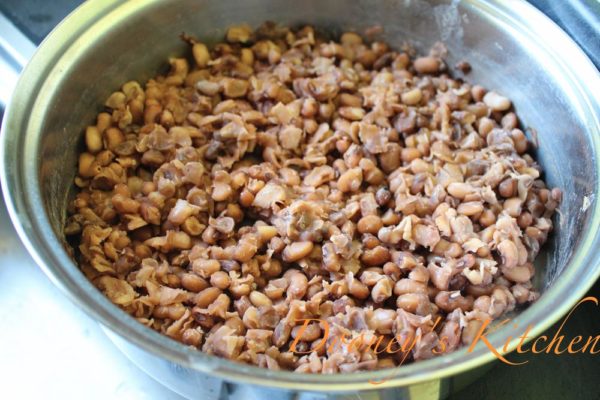 Once the beans is cooked and has absorbed all the water, pour into a blender, add coconut milk.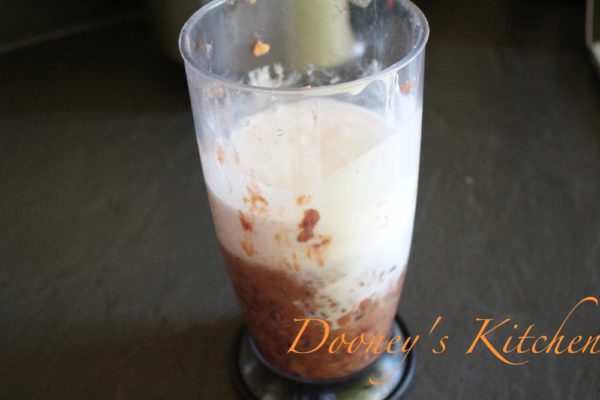 Pulse till smooth.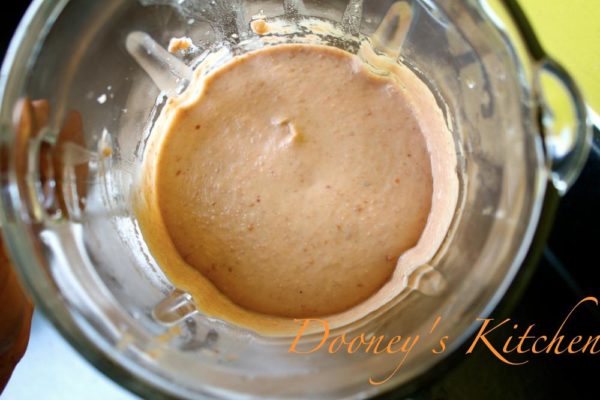 Pour the beans and coconut paste back into the pot.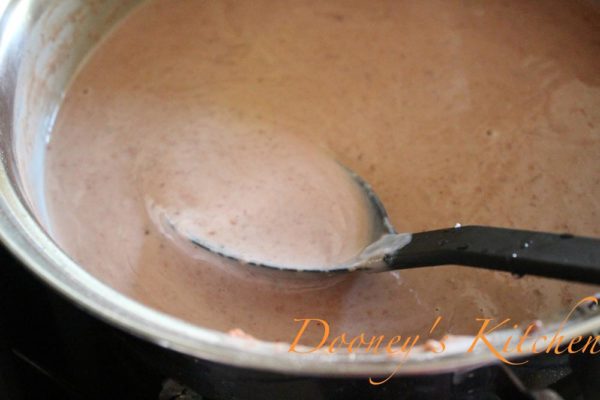 add cloves.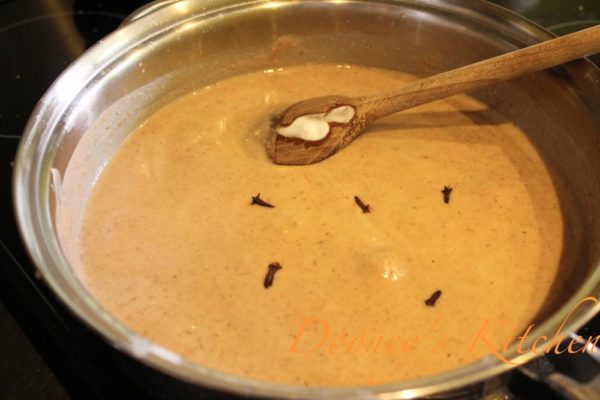 Season with sugar and salt.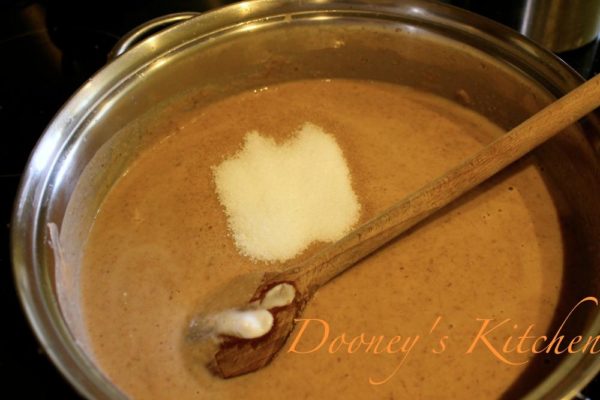 Set the heat to medium or low, and allow the bean and coconut paste to cook until it thickens. Ensure that you stir fairly constantly to prevent it from burning and forming thick lumps. To enhance the coconut flavour, you can add an additional 1/4 cup of coconut milk.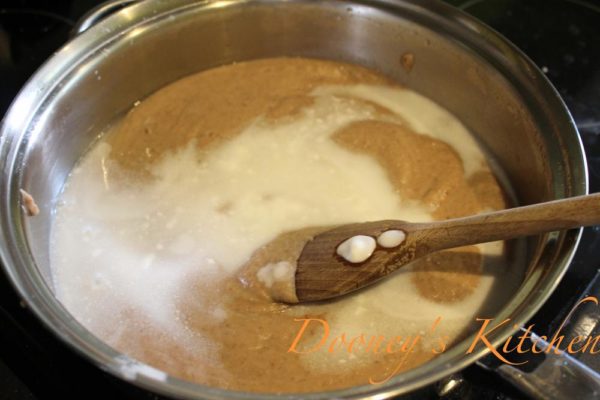 You can decide when you want to take off the heat. If you want to enjoy it with a creamy consistency, take it off the heat after about 10 minutes.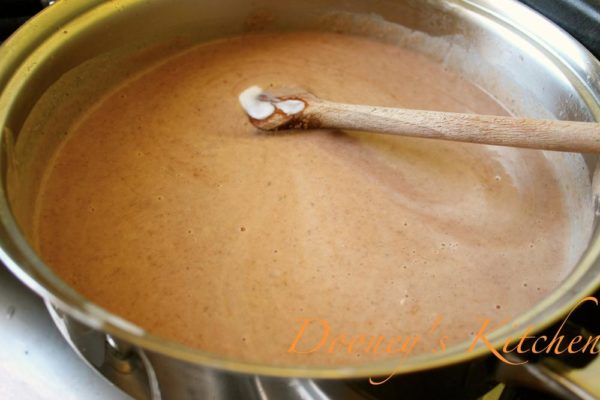 If like me, you would rather enjoy it as a paste, like mash, leave it in for another 5 – 7 minutes.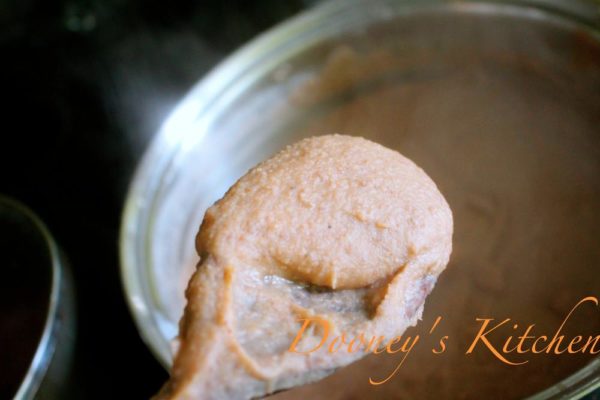 As with tradition, serve with fish stew and Garri.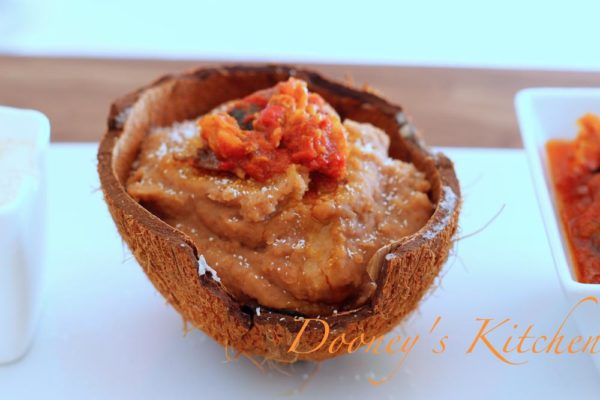 I went with smoked fish stew. To make this is simple, I had leftover Mama Deola Stew (recipe on the blog), in which I tossed in, softened and shredded Eja Osan, a little bit of water, and allowed to simmer for a few minutes, to allow the flavour of the fish to be infused into the stew and Voila. Stew done.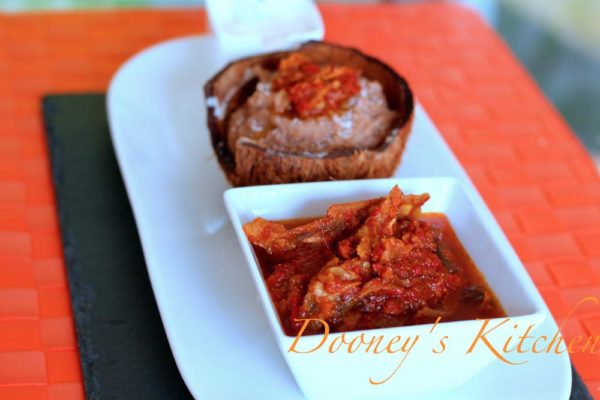 Here's to Good Friday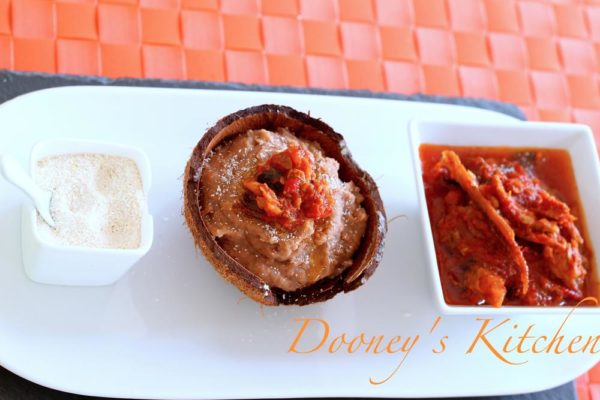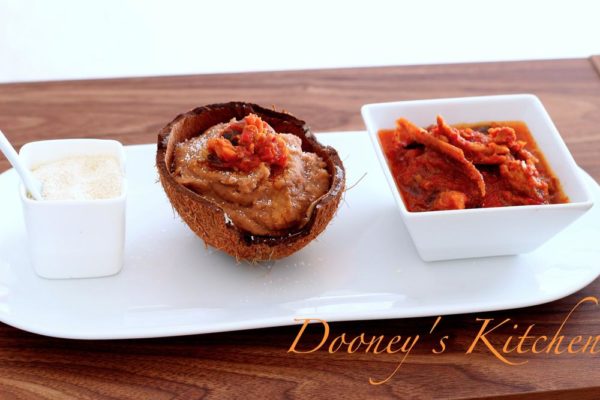 ______________________________________________________________________________________________________
Dunni Obata is an IT Project Manager by day and a cook the rest of the time. She loves entertainment and one of her bad habits is feeding people. When she's not cooking, she's watching the Food Network. Dunni is very passionate about Nigerian food and believes it has a lot to offer globally. Visit her blog –www.dooneyskitchen.com