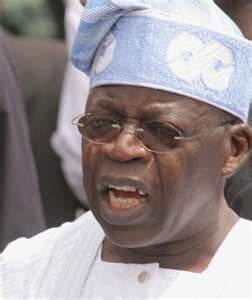 Former Lagos State Governor and National Leader of All Progressives Congress (APC) Bola Ahmed Tinubu is speaking out via Twitter on the country's security following the Nyanya Bombing incident.
Asiwaju, as he is often called, starts by sending out his heartfelt condolence to the family of the victims. He later launches into the government failing to protect its citizens.
"He must bear the responsibility", Tinubu says of President Jonathan.
This morning's bomb blast in Yanyan, Abuja and the mindless deaths is dastardly. It is an indictment of the Jonathan government.

— Bola Ahmed Tinubu (@AsiwajuTinubu) April 14, 2014
My heart bleeds for our people and the country over the deaths in Yanyan. A govt unable to protect its citizens deserves to be queried. — Bola Ahmed Tinubu (@AsiwajuTinubu) April 14, 2014
Nigeria's security outlook is depressing. The unending attacks suggest a failure of intelligence. Government must rethink its strategy Now. — Bola Ahmed Tinubu (@AsiwajuTinubu) April 14, 2014
On matters of security, the bulk stops at the President's table. Like in other countries, Jonathan is the Chief Security Officer.Stop Boko H

— Bola Ahmed Tinubu (@AsiwajuTinubu) April 14, 2014
Just as Jonathan laps up praises, he must bear responsibility and accept blame over Boko Haram's deadly attacks

— Bola Ahmed Tinubu (@AsiwajuTinubu) April 14, 2014
Too many lives are being wasted, too much blood being shed, too many limbs severed yet this government carries on with its cavalier attitude

— Bola Ahmed Tinubu (@AsiwajuTinubu) April 14, 2014
Nigeria's security situation is precarious Nigerians are tired of excuses and explanations They want protection for their lives and property

— Bola Ahmed Tinubu (@AsiwajuTinubu) April 14, 2014
As a country, we are united in grief over the Nyanya attacks But as a people, we must rise up to demand this govt provides better security

— Bola Ahmed Tinubu (@AsiwajuTinubu) April 14, 2014