Woah Muna! Ex Most Beautiful Girl in Nigeria Munachi Abii goes goth with her make-up while dressed in white for the April 2014 issue of House of Maliq.
The femcee covers "The Vintage Edition" of the publication with publicist and stylist Ifan Ifeanyi Michael. Ifan who rocks a black suit, a white shirt and polka dot tie, has worked with a lot of celebs including Yvonne Nelson, Liz Yemoja and Toolz.
The April edition takes everyone into "The Luxe World of Munachi Abii" and the creative styling world of Ifan.
Check it out! Munachi Abii
House of Maliq: From one-time beauty queen to music rap artist, how do you marry these personalities and on what platforms have you comfortably showcased these persons?
Muna: Being a beauty queen was a great platform to begin my career. Sure, it came with a lot of uncertainty because people already chose to see me a certain way, but I refused to be put in a box. So I defined myself, and create my own platform. It's a tough marriage lol but it's working.
HOM: What inspires your sense of style?
Muna: My feelings inspire my sense of style. Sometimes I'm happy, sometimes I'm tough, these days I'm royal.
HOM: You recently transitioned into a new hair phase. A short blonde bob. Quite a daring image statement; what gave rise to the change?
Muna: I felt I needed a new character with more definition. If you have been following my transition, you would recall that I've worn a lot of interesting hair styles and colours well before anyone dared to make it chic. However, there is something about this one that feels like home. When u think of MUNA, you want to see a lady with blonde hair, and that's me. The blonde is here to stay!
HOM: How long would this style transition last and what steps are you taking to effortlessly wear this image?
Muna: Who knows these things ? Looool the blonde is here to stay.
HOM: Are there any (other) grand music projects in the offering (perhaps a solo music video or even an album release) in the near future?
Muna: I am currently working with Lamboginny on an EP project titled "The Movement" after which my album should drop. God willing.
HOM: How about other bigger life plans and aspirations. Marriage maybe and probably raising a family?
Muna: I've got plans for TV, I've got plans for agriculture, I've got plans in real estate and architecture. And yes definitely raising a family.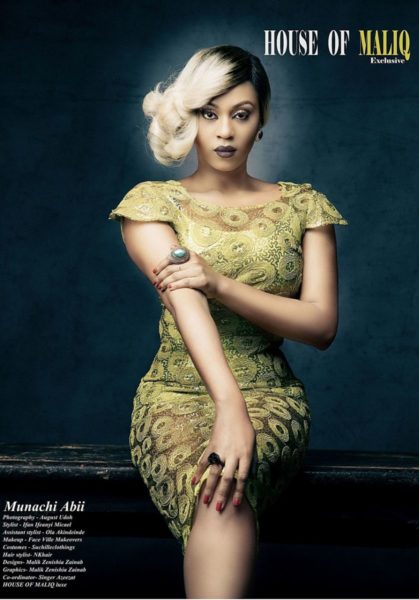 HOM:  What especially would you want to be remembered for?
Muna: I would like to be remembered as the woman who achieved everything she set out to do. With my life as an example, I showed the world that I could do it and I did it.
Credits
Munachi Abii
Photography: August Udoh
Stylist: Ifan Ifeanyi Michael
Make-up: FaceVille Makeovers
Outfits: White & Sequined Dress Suchille Clothing | Yellow Dress Isi Atagamen
Hair Stylist: NK Glamour
Graphics: Malik Zenishia Zainab (editor-in-chief)
Co-ordinator: Azeezat
Ifan Ifeanyi Michael
Photography: August Udoh
Stylist: Ifan Ifeanyi Michael
Make-up: FaceVille Makeovers
Outfits: MC Meka | 1407 Style
Graphics: Malik Zenishia Zainab (editor-in-chief)
Co-ordinator: Azeezat