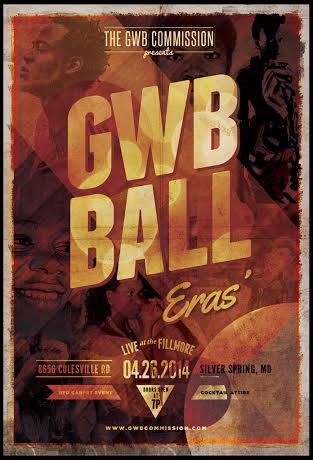 Mark your calendars for April 26th 2014 as The GWB Commission, brings you their annual ball celebrating Sierra Leone's 53rd Independence Anniversary. They are pleased to announce that the 6th Annual Green, White & Blue Ball will take place at the dynamic, first class, music and entertainment concert hall, The Fillmore Silver Spring.
This night of cultured elegance will feature upbeat sounds provided by DJ Lebbie as well as live performances by Sierra Leonean artists Heaven Jay and Abizzy.
Last year's ball was a smashing success with a theme of "The GWB Ball goes to Hollywood". At the 6th Annual Green, White, & Blue Ball patrons will have the opportunity to grace the red carpet with their elegant attire from different periods in time depicting this years theme "Era's…Reliving the Sierra Leone Experience". According to the Chair and Founder Mariama Jalloh-Heyward, "Every year we aim to outdo ourselves. It is our 6th year and our ultimate goal is to host an extravaganza that will have our guests fully entertained and anxiously awaiting GWBB7".
The event will highlight Sierra Leoneans making laudable efforts in the community with an awards ceremony spotlighting unsung heroes.
Partial proceeds from The 6th Annual Green, White, & Blue Ball will benefit Schools for Salone, a non- profit that partners with local villages in Sierra Leone, West Africa, to rebuild the schools devastated in the ten-year civil war that ended in 2002.
Tickets for this year's ball are available for sale at www.gwbcommission.com.
Date: Saturday 26th April 2014
Time: 7PM
Venue: The Fillmore Silver Spring, 8656 Colesville Road, Silver Spring MD, 20910, United States
Sponsors for this year's event include: Arik Air and Jabs Group Incorporated. Partners include Prince Zamira Photography, Restycle and media partners – BellaNaija, Face2Face Africa & Because I Am Fabulous.
For information on sponsorship opportunities and media partnership please contact: sarran@gwbcommission.com or mariama@gwbcommission.com.
__________________________________________________________________________________________
BellaNaija is a media partner with the GAB Ball 2014.