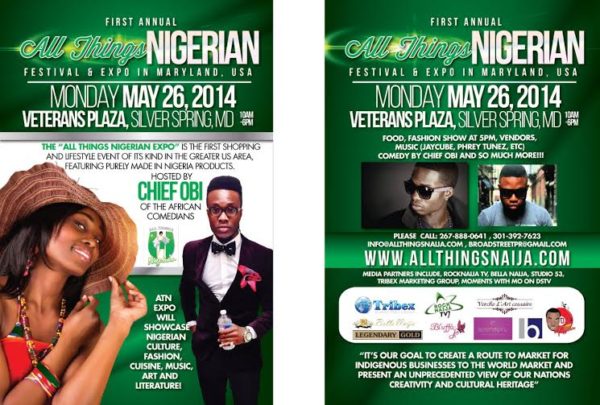 The 1st edition of All Things Nigerian Festival and Expo is here and it's taking place in Maryland, USA!
The shopping and lifestyle event will feature purely Made In Nigeria products with an aim to provide a platform for forward looking, dynamic, upwardly mobile, indigenous manufacturers of products with a global view to bring them to the United states market and the Diaspora.
The ATN Expo will showcase Nigerian culture with a Nigerian style barbecue, book signing with Ugo Agada-Uyah fashion, cuisine and literature alongside other products. It will also feature a 2 hour fashion show featuring some indigenous designer labels in the catwalk.
Watch Tessy Uyah, a small business owner talk about it.
Date: Monday 26th May 2014
Time: 10AM – 6PM
Venue: The Veterans Plaza, Silver Spring, MD, USA
For details, visit www.allthingsnaija.com.
For participation, please send an e-mail to [email protected] or [email protected] | Call +2348037004701 for local enquiries | Call +12678880641 for US enquiries
___________________________________________________________________
Sponsored Content