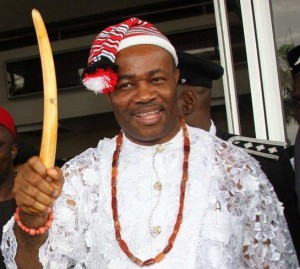 Governor Godswill Akpabio explains the reasons behind the passage of amended Pension Law of Akwa Ibom State.
If you recall, he forwarded a bill to the state's House of Assembly to approve among other things, a N100 million medical allowance for retired governors of the state.
The bill was passed on Monday.
According to Punch he said today Wednesday 28th May 2014, "With the signing of this law, it supersedes the existing law passed by the previous administration, which had been in existence since year 2000.
The Nigerian constitution empowers the State Houses of Assembly to make laws for the wellbeing of its people. So, we have today made the Pension Law for former governors and their deputies. This law was made in the year 2000 and was amended in 2006 and is now being amended in 2014.
The new law states that all staff of the former governors, should not earn more than N5m annually and staff of former deputy governors should not earn more than N2m annually.
No former governor can spend more than N100m in a year for medical expenses and no former deputy governor can spend more than N50m for medical expenses, because such extra money would not be spent by the state government, because we are making sure that we cover all the loopholes of financial wastages.
For the widows of former governors, they would receive a minimum of N1m a monthly for medical expenses and N500,000 for the widows of former deputy governors."