Here it is! The Wedding invite we have all been waiting for!
Kim Kardashian and Kanye West will be tying the knot in Paris and have a luxe invite with all the details.
The much anticipated invite has only been delivered to a select few, but now you can get your glance at it. It's printed on a grey matte card with embossed gold writing stating;
"The honor of your presence is requested at the marriage of Kim Kardashian to Kanye West, Saturday, the Twenty-Fourth of May Two Thousand and Fourteen. Details upon arrival. Black tie.
On the eve of our marriage please join us for a dinner, Friday the Twenty Third of May, at Six o' clock in the evening Paris, France. Cocktail attire. Please reply by the second of May".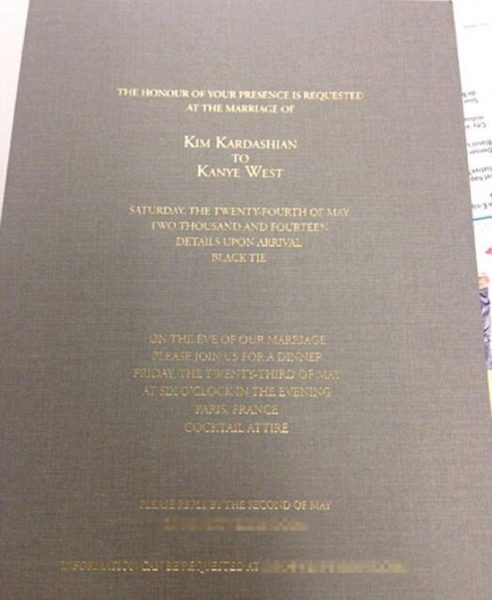 We can depict from the card that they will be having a very discrete wedding and it has been reported that even the Keeping Up With The Kardashians cameras will not be filming the event. #Sadface.
Can't wait to see the photos, because we know paparazzi will be all over France!
Photo Credit: Dailymail.co.uk