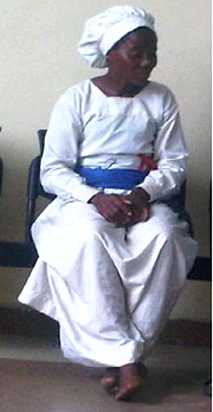 Lagos Police authorities have arrested a "prophetess" who reportedly set her 9-year-old daughter ablaze during a spiritual cleansing.
The alleged prophetess, 37-year-old Bose Oluwole,  who attends a white garment church, told police that she set her child on fire because God instructed her to do so, Vanguard reports.
Her daughter, Damilola, was rescued by some youths in the area who heard her cries for help, and rushed to douse the fire.
"I was only obeying God's instruction. I had a vision while praying that my daughter is from the witchcraft world. When I prayed to God over it, I received an instruction through the Holy Spirit to burn my daughter's body in order to deliver her from the evil society," Oluwole said. 
She has been charged with felony and attempted murder. She has pleaded not guilty to the charges, but will be held in custody at Kirikiri prison until June 2nd, when court hearings will resume.
Photo Credit: Vanguard