Oge & Regie's love radiates through the screen! The bride and groom met at the airport and after some 'forming', they started their journey to love, and now, wedded bliss.
Enjoy their beautiful story and wedding moments captured by Jide Odukoya Photography.
~ Pre-Wedding Photos: Photonimi
How We Met
by the bride, Oge
Regie and I met at Murtala Muhammed International Airport, Lagos in September of 2009. He was on his way to the US and I was on my way to Dubai with two of my friends for a much-deserved vacation. My friends and I had checked in for our flight and decided to go into the bookstore to see if we would find an interesting read for our trip. While we were deciding which books to buy, Regie walked into the store with his friend and struck up a conversation with us. I feigned disinterest, quietly slipped out of the bookstore, faked a call, and was 'forming' busy. Lol. But Regie wasn't discouraged; he hung around and was chatting with my other friend. He was almost late for his flight but waited for me to get off the phone. And when I did, (eventually the 'fake' call had to end!) he quickly asked for my number, I obliged, and he dashed off to catch up with his flight. He was off the radar for a few months and later resurfaced in January 2010. He called me up one day and though we just talked about random things, I thoroughly enjoyed chatting with him.
Then he started calling frequently; we would talk for long hours about anything and everything. I always looked forward to our late night calls. He made me laugh a lot. In February, he was to come for a conference in Abuja (where I resided at the time), and asked if we could have dinner. Of course I said yes! Dinner was so much fun, we talked and talked, and I laughed and laughed. He left for Lagos after the conference and we continued talking as usual. It wasn't long before we both fell in love.
There was just something about Regie, he is so different and mature and by far one of the kindest people I know. So officially, we started dating in March 2010, which was when we decided to put a name to our then relationship.
Even when I had to go to the US to get my Masters Degree, our relationship never suffered. We had/have an inseparable bond. We were always in touch and occasionally took turns in visiting each other. It's been an amazing journey so far.
What Makes Your Love Special? 
We understand each other so well. Our relationship is easy and stress free because we are friends. We put in a lot into laying a good foundation for ourselves just so we don't have to struggle to be happy. We are completely content with each other. And even when we disagree on certain issues, we are quick to find middle grounds.
The Proposal!
After dating for about 3 years, we already knew we were going to spend the rest of our lives together. Regie sealed it up with a proposal on New Year's Eve, right in the middle of Mass! I'm not one to be taken by surprise, I can always sense when people want to spring things up on me. But in this case, I was utterly surprised. I knew that at some point it would happen, but I never expected that it would happen right there in church. I was on a brief trip to Nigeria for the Christmas holiday. Regie and I spent that Christmas in Benin. We got back to Lagos on December 31st about 6pm and I dashed off to the salon immediately I got into Lagos. I however noticed Regie had been super hyper the whole day, I attributed it to him being happy about the New Year and didn't think too much of it. We had earlier planned that we would go for night Mass but I got back from the salon exhausted. Regie still insisted that we go for night Mass. I pleaded and pleaded with him that I wasn't feeling up to it but he wasn't having any of that. I eventually got ready and we left for mass about 10:30pm. Mass started about 11:30pm. Regie was still over himself with excitement. I thought to myself, "he really must be happy about this New Year".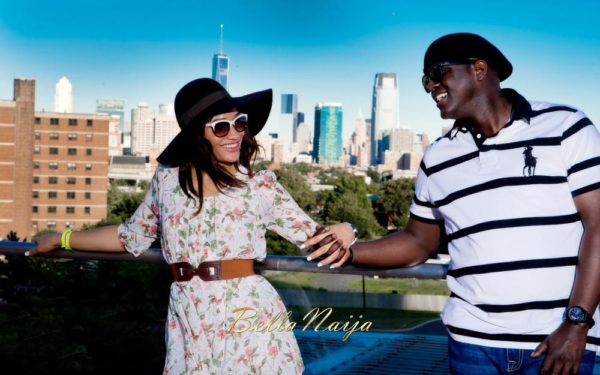 Then at exactly 12am on January 1st 2013 (at the same time the Reverend Father asked that we hug each other and congratulated everyone for seeing another New Year), Regie, who was sitting beside me a few seconds earlier, got down on one knee holding a black velvet box with a beautiful ring in it. I was so shocked and embarrassed and shy, I didn't hear any of what he was saying! The next few minutes happened in a blur. I remember asking him to quickly get up; I snatched the ring, put it on my finger and hugged him. At that moment, I was RED all over. Blushing from head to toe as people around us congratulated us. It felt surreal. It was after I woke up later that morning that it dawned on me what had happened earlier.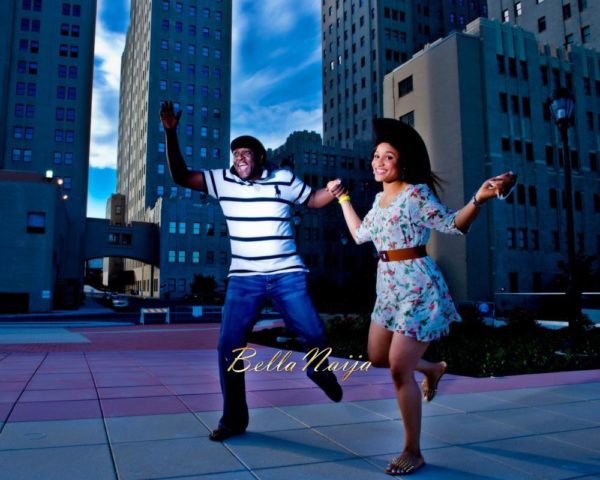 What are you most looking forward to as a married couple?
Building our home in a God fearing way together with our kids.
Advice for a Bride/Groom on their wedding day:
There might be a million reasons for you to get upset on your day, but make a conscious effort not to let them get to you and smile your way through them all. Focus on enjoying your special day; be aware of every second that passes (there will be many times in the future when you'd wish you could re-live that day), and remember to also be a guest at your wedding.
BellaNaija Weddings wishes Oge & Regie a happy home.
***
~ Wedding Photography: Jide Odukoya Photography
***
Wedding Photography: Jide Odukoya Photography | info (at) jideodukoya.com | instagram.com/JideOdukoyaPhotography | (+234) 803 399 9286
Pre-Wedding Photography: Photonimi | photo (at) photonimi.com | instagram.com/Photonimi
Wedding Info
Wedding Date: 4th January 2014
Ceremony Location: Catholic Church of Assumption, Ikoyi
Reception Location: Oriental Hotel, Lagos
Wedding Attire
Bridal Gown: Paloma Blanca – palomablanca.com
Bride's Second Dress: Gozel Green – www.facebook.com/gozelgreen
Bridal Party Attire: Bill Levkoff – www.billlevkoff.com
Groom's Tux: Isreal Okoko of SANCT designers
Makeup: Chinaka of Dear April – +2348039307867
Hair: Ugo of Make Me Salon – makemesalon.com/wp
Vendors
Wedding Planners: Bride and Groom
Cake: SayCheese Cake – saycheesecakes.com.ng
DJ: DJ John – +2348067177877
Live Band: Ebony Band
Flowers: Newton & David – newtonanddavidevents.com/index.html
________________________________________________________________________________
We love weddings as much as you do – get in touch for inquiries, inspiration & more!
E-mail: weddings (at) bellanaija.com | E-mail for #AsoEbiBella: asoebibella (at) gmail.com