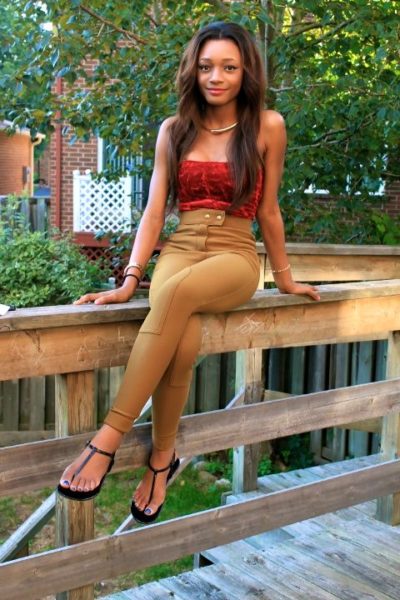 "Everyday is a fashion show, and the world is your runway" – Vivian Ezike
It's time for another fabulous edition of My Style – our monthly BN Style feature that aims to celebrate the unique style of our amazing BN readers.
The My Style page is all about showing how diverse and universal style can be. Style is individual, unique and fun and is a personal representation of how each person expresses their take on fashion; so BN Style watchers let's appreciate her unique style. 
 Enjoy!
BellaNaija reader Vivian Ezike is our My Style focus for this edition and we are loving her simple yet chic style. This style lover, also know as Vivientann, was born and raised in Lagos, Nigeria before she moved to Toronto, Canada where she now lives. She is a full-time student and is also a freelance makeup artist, a fashion and hair stylist and a hair vendor for www.houseofhair.blogspot.ca.
Oh, that's not all, she also has a fashion blog – www.lavivientann.blogspot.com and a Youtube channel – Vivianezike – where she shares her personal style with her viewers. Talk about living a fabulously busy life.
Today on BN Style, we are going to follow Vivian as she takes us deeper into her style, where she loves to shop, her favourite pieces and of course her advice for other stylistas.
My Style is…
…more simple & chic, with classic elements to draw everything together. However, I am open to trying out pieces that may be out of my comfort zone; and if they don't work out, at least know that I tried them out. I style my outfits based on my mood and the way I feel each day. I am drawn to soft, feminine and classic pieces. I also love keeping up to date with current fashion trends (by reading magazines and fashion blogs), and incorporating them into my personal style.
Where Style Meets Personality
I love my style because it is an extension of my personality. I am an introvert and my style reflects that. I tend to stay away from anything extremely dramatic or attention seeking. I love how style can be a form of expression – it is versatile and unique to each individual. I am a shy person and I find that once I put on something I feel comfortable in, I instantly feel a lot more confident and much more positive.
Where I Shop Till I Drop
I shop anywhere that has whatever I am looking for at that point in time. However, some of my favourite stores include, Zara, H&M, Topshop, Forever 21, Asos.com, Misguided.com. I occasionally film hauls on my Youtube channel showing the things I buy.

Admittedly, I shop a lot more than I need to so I have recently given myself a shopping ban for about 4 months, wish me luck. In the past I shopped about once a week, or once in two weeks, depending on what my schedule that week looks like.
My Tresses
I like to keep my hair fairly simple. I usually rotate about five different hairstyles. My favourite hair styles include, a middle/side part ombre, a top bun – its just so simple and elegant, a bob, or a kinky curl fro.

My Makeup Look
My make up is also kept really simple. I go for a bronze eye during the day, and a smokey eye at night. I like to switch it up with bold lipstick colours – red, pink, etc.

How I Accessorize
When it comes to accessories, I like dainty, barely-there accessories. I mostly wear studs for earrings, the occasional statement necklace is the most I can do. I like to wear a lot of sunglasses because it always gives my outfits an edgy vibe.
Feet & Shoes
As for shoes, I love court shoes, I have them in a variety of styles and colours. I also equally love strappy sandals (when the weather permits) – they are so simple and they complete an outfit by adding that extra pizzazz.
On A Regular day
Most times during the day I'm in flats but if I have an occasion to attend I put on some heels to jazz up my outfit.

Bag Life
My favourite bag, is my black structured Zara tote – I find it so handy as it is the perfect size, and looks more expensive than it actually was. I switch it up with a few other clutches, but that's my go-to bag.
Getting My "Working Class Girl" On
Skirts, pants and blazers are my work uniform. Although, I like to switch it up with the occasional midi dress.

I Own the Night
During night outs I like to show a bit more skin than I otherwise would, but killer heels are a must!

I Think Every Girl Should Have
Personally I like to have a blazer, some sunglasses, and some gorgeous heels as staples in my wardrobe – you can create a number of different looks with these items.

I think every girl should have; the basic tee – in white, grey, and black, at least one pair of court shoes in black, or nude, and a blazer in white and black.
My Advice for Other Stylistas
The most important thing I have learnt is that if items don't fit properly they will not look up to par, ill-fitting clothes – no mater how expensive – will not look flattering.

If I Could Steal A Celebrity's Wardrobe
If I could, would want to have Rihanna and Victoria Beckham's wardrobe. I adore their styles –  literally everything looks great on them and the confidence the exude is incredible!

Which Celebrity Stole My Look
I think my style resembles Genevieve Nnaji's style the most. She's classy and elegant!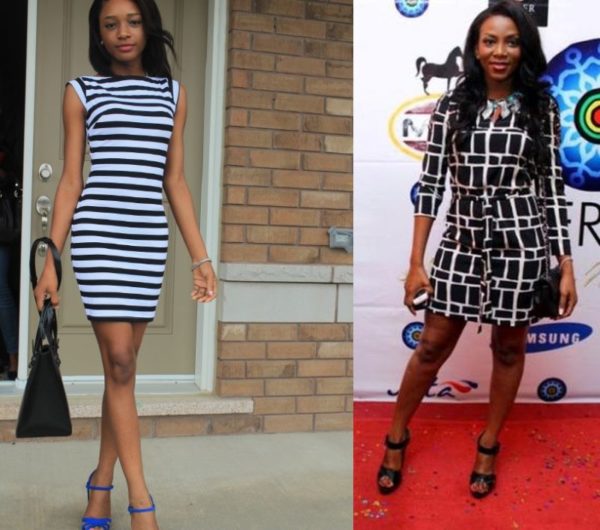 My Style Philosophy
"Everyday is fashion show and the world is your runway" – Coco Chanel. I believe in looking my best for every occasion, and everyday.
Thank you to Vivian for sharing her style with us. To find out more on Vivian and follow her awesome style, you can Visit her Blog: http://lavivientann.blogspot.ca/ | Find her on Facebook: www.facebook.com/House-of-Hair | Follow her on Instagram: @vivientann | Follow her on Twitter: @vivientann |  Watch her on Youtube: https://www.youtube.com/user/vivianezike| Find her on Tumblr: http://vivientann.tumblr.com/
____________________________________________________________________________
If you are interested in appearing on My Style, simply send two pictures of yourself or that of a friend depicting a typical day and night look with a short summary of your style to style(at)bellanaija(dot)com. When your entry is approved, you will be required to send in more pictures and personal commentaries on your style or that of your friend as the case may be!