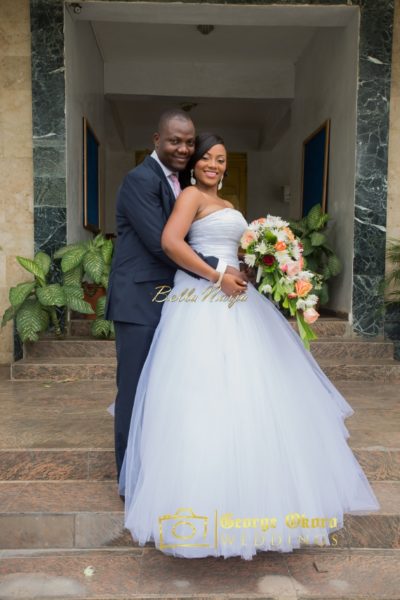 Happy Monday! We have the perfect treat to brighten up the end of your day 🙂
Eniola Kila & Abiodun Doherty – her, a civil servant met him, a sailor, through Instagram! She says it started when "He saw my pictures and video on Instagram on a friend's account." They eventually met in person and fell in love shortly after.
On how he asked, the bride jokes that although she wanted a 'proposal story', she's very happy with how it worked out – "Honestly my Hubby is a traditional man, he just said he wants to marry me and knew I was his wife when he saw my picture…So we went to the UK together and asked me to pick a ring I love. We went to the States together and then he told me to pick another…That was it…"
The bride's bevy of beautiful sisters were instrumental in her planning, picking out her reception dress and their beautiful bridesmaids dresses.
Eniola's advice for other brides is to save money by buying local and thinking long-term –
"You guys shouldn't stress yourselves ordering or buying your gowns outside the country. There is absolutely nothing you're looking for you wouldn't get here in Naija… And I don't believe in spending so much on a wedding gown one will just wear for 8 hours or less and never wear again … If you want to splurge on anything, focus more on wedding rings. "
True to her tips, on her wedding day the lovely bride was dressed in a breathtaking ball gown purchased from Brides and Babies in Abuja, where she resides, while the groom wore a bespoke suit by House of Adeshina.
BellaNaija Weddings wishes Eniola and Abiodun a beautiful married life together as One.
***
~ Photography: George Okoro | Additional Photography: Brookmatrix Photography
White Wedding
Traditional Engagement
***
Photography: George Okoro | instagram.com/georgeokoro | www.georgeokoro.com | iamgeorgeokoro (at) gmail.com
Additional Photography: Brookmatrix Photography | brook_matrix64 (at) gmail.com | 080 6973 2226
Wedding Info
Wedding Dates, Venues & Colours
Traditional: 23rd December 2013 – Bride's Family Home – Pink, Lemon and Orange
White Wedding: 26th April 2014 – BMO Events Arena – Emerald Green & Peach
Engagement Attire
Aso Oke: Bisbod
Beads: Bimms | instagram.com/bimmms24
Makeup: Jide of St Ola | instagram.com/jideofstola
Wedding Attire
Wedding Dress: Brides and Babies | instagram.com/bridesandbabies
Groom & Groomsmen Suits: House of Adeshina
Bridesmaids Dresses: Custom Made
Makeup: Fati of Mamza Beauty | instagram.com/mamzabeauty
Vendors
Wedding Planner: Oxford Street Events – Brenda Salubi
Decor: Reehis Events
Traditional Cake: Gozee Cakes
White: Nikky Cake Studio
Food: Jevinik
Cocktails: Cocktails In and Out
Desserts: Sweet Tooth
Invitations: Aromire Wedding Store
________________________________________________________________________________
We love weddings as much as you do – get in touch for inquiries, inspiration & more!
E-mail: weddings (at) bellanaija.com | E-mail for #AsoEbiBella: asoebibella (at) gmail.com