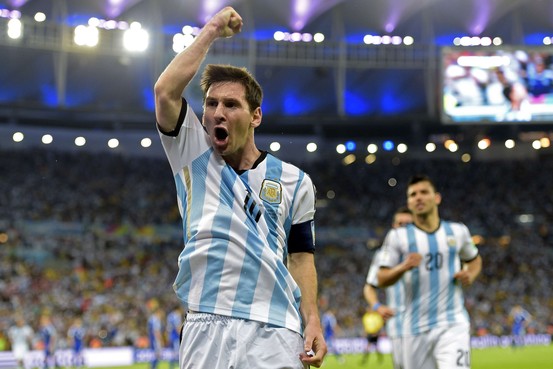 Wow! What a roller coaster of seven matches – upsets, shock defeats and needless tackles, what more can you ask for in an entertaining World Cup?
Australia's "rusty" start cost them a win in their opening match. Well, a 3-1 loss to Chile in Group B wasn't their game plan nevertheless the Socceroos showed real character and had a world-class performance in the second half. But obviously, goals get you points and they seemed to lack that vital final touch. But, in all, it was a performance Australia can be proud of.
The Greeks have never been known for entertaining displays or their goal scoring prowess, even their Euro Cup win ten years ago came as a surprise to all. No one saw it coming then and in 2014, they haven't improved much tactically. The Colombians ran them rugged and should have made it 6 nil instead of the 3 nil it ended. Greece, you won't be surprised to hear, are very poor on and off the ball and it would be a big surprise if they make it out of group C.
I must confess, I had written Costa Rica off in this tournament. You can then imagine how stunned I was by their enterprising comeback against Uruguay. They literally took the scalp of Uruguay 3-1 in their World Cup Group D opener. Uruguay came to Brazil with high hopes of progressing deep into the tournament, but they were overridden by a vibrant Costa Rica side.
They started well when Edinson Cavani put them in front from the penalty spot, but second-half goals from Joel Campbell, Oscar Duarte and Marcos Urena handed the three points to Costa Rica. One question repeatedly came to mind, where has Arsene been hiding Joel Campbell? Such was his performance on the night.
When you need to get maximum points against the "weakest" team in a group, you have to use your best players. I solely blame Oscar Tabarez (Uruguay coach) for their loss; he should have risked Suarez because a 50% fit Suarez is better than a 110% fit Cavani.
Switzerland came from behind to beat Ecuador in dramatic fashion in an entertaining Group E opener. Ecuador took the lead only to be pegged back early in the second half (with their inexperience largely letting them down), and then concede the winner with just seconds left in stoppage time. Unbelievable, Switzerland won it with virtually the final kick of the game!
It was rugby time with Honduras against France. As a pundit said, "it was fun, but we can say that because none of the France players lost a leg", which at one stage, looked pretty likely. The French managed to play some decent football among all the violence around, with the front three of Griezmann, Valbuena and Benzema particularly impressive.
Overall, it was a very comfortable 3-0 win for France as Honduras' indiscipline saw Wilson Palacios sent off in the first half and from then on Didier Deschamps' side dominated. Probably the most impressive performance from a team in their opening game, but France will face far greater opposition during the remainder of this tournament.
Now to the opener of Nigeria's Group F, Argentina got the win against Bosnia but it was anything but routine victory. Sead Kolašinac's own goal had Argentina ahead and Lionel Messi's individual second sealed the deal in the minds of most supporters but Bosnia struck back through Vedad Ibisevic and provided a nervy end to game. Bosnia showed enough belief to suggest they could progress from this group and this gives the Super Eagles an additional reason to win their match against Iran tonight.
Inspiration from Experience.
For Colombia, we can say the presence of their best and most respected player, Radamel Falcao in their traveling team has worked as a morale booster for them. They showed the world that even with their best sidelined, they still have a lot to offer. Colombia defended well, started brightly, attacked with pace and power and they were always the better side.
Call it a stroke of luck but I feel Drogba added the missing firepower into the Ivorian team and, within six minutes of his introduction, his side were ahead. With Yaya Touré not at his best after recovering from a hamstring injury, they needed something to ginger their swagger and bring them back into the game after conceding early. 'The Drog' did just that! He fit right in like the missing puzzle and gave their opponents something else to think about and, while they were doing that, Bony and then Gervinho both nipped in to convert crosses from right-back Serge Aurier. Thumps up to Sabri Lamouchi, for the well timed tactical changes. (Hoping Keshi is that lucky tonight).
Take it or leave it, Pirlo is a whiz. With over 92% pass completed, mostly originating from the Azurri's midfield where he is king, Italy was able to quench the fire power and pace of Raheem Sterling, Welbeck and Sturridge to run out 2-1 winners in an evenly matched contest. Definitely Roy Hodgson cannot be blamed for the loss, as he used the best players available to him. Then again sometimes its just not your day.
***For the first time in years, Balotelli showed what he can do with his all-round performance. I guess he can really bring it home when it tickles his fancy.
_______________________________________________________________________________________
Omitiran Adeola is a BSC Graduate in Mass Communications with news, sports & lifestyle journalism experience for over 3 years. As an avid lover of sports, she is living her dream of keeping the football world on its feet.