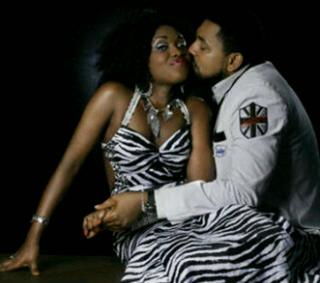 Nigerian singer Kefee is in coma.
Last week, news went viral that the "Branama" singer is in critical condition. Kefee collapsed mid air on a flight to Chicago. The pilot made an emergency landing so she could receive medical care in Los Angeles.
A tweet was later sent out from her official account, thanking fans that she is okay – read it here.
Sources close to the couple have confirmed that the music star is in a coma and today, her husband Teddy Don-Mommoh tweeted that everyone should pray for her.
#PRAY #PRAY #PRAY #PRAY #PRAY #PRAY. #PRAY #PRAY #PRAY. ##PRAY #PRAY #PRAY. #PRAY #PRAY. #PRAY. #PRAY. #PRAY. #PRAY. #PRAY. #PRAY. #PRAY

— TEDDY DON-MOMOH (@Teddiizzle) June 4, 2014
Update – Statement from Kefee's PublicistHere's an update on Kefee's health from her publicist.
Kefee's husband, Teddy Don-Momoh, has called on friends, well-wishers and Nigerians as a whole to join him in prayers for the life of his wife.

Teddy made the plea from the U.S. where his wife is still under intensive care at the hospital.

"Kefee wants her friends, fans and well-wishers to know that she loves them. We just need prayers now; she just needs our prayers now because there is nothing God cannot do; prayer is the key. God is still the same yesterday, today and forever, He has done it before and he will do it again,"he said.

Kefee was reported to have collapsed on a Chicago-bound flight some days back which forced the plane to make an emergency landing in Los Angeles so she could receive medical attention.

Teddy said that he couldn't really give a full account of the situation and cause of the collapse as he just got to the U.S. on Saturday to be with his wife and she has been in intensive care since then.
Kefee and Teddy recently obtained diplomas in filmmaking from the U.S. and had started off on some projects together. One was the shoot of her music video which was directed by Teddy.

She also recently released a single titled, 'Dem Go Talk', before all this happened.
Teddy pleads that the privacy of the family be respected as much as possible while we all take this situation to God in prayers.