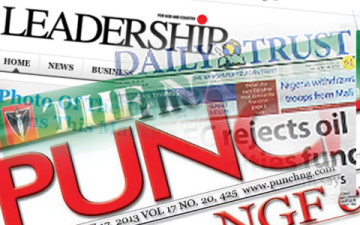 The Nigerian military and the State Security Service (SSS) allegedly raided delivery vans of some prominent Nigerian newspapers this morning.
 Vans in various parts of the country were stopped, searched, and papers destroyed, Punch reports. 
Publications affected include The Nation, Daily Trust, Leadership, and Punch.
A source from Leadership Newspaper reportedly stated that SSS and military operatives were acting based on "orders from above."
"Soldiers  intercepted and destroyed newspaper copies meant for the North-West region at the Kaduna tollgate. The copies booked for South-South and South-East regions were also seized by the soldiers," said the source.
Sources from The Nation also reportedly confirmed the incident claiming "The same scenario occurred in Benin/Warri Road, Port Harcourt, Kaduna/Kano Road and Nasarawa/Jos Road," 
According to reports, Director of Defence Information, Chris Olukolade, stated that the vehicles were being searched because of a report authorities had received indicating that lethal materials were being transported via the vans. 
"The general public and the affected media organisations in particular are assured that the exercise was a routine security action and should not be misconstrued for any other motive," Olukolade said.
Photo Credit: Punch