Take  good long look…Tyra Banks isn't going anywhere.
The veteran model, former TV host of The Tyra Banks Show and originator of America's Next Top Model (ANTM), is striking the poses we've grown to know and love for the 21st issue of international fashion, arts and culture mag – Black Magazine.
Fun Fact: Tyra coined the word "Smize" (the art of smiling and giving a smoldering look at the same time ) & "Fiercely Real" -popular words used on her wildly popular international TV show – America's Next Top Model.
For the cover, Tyra is intensely sultry rocking a black bob and deep dark eyes and contrasting yellow manicure.
In her interview with the magazine, Tyra goes for a walk down memory lane. She discusses issues she faced while modelling, America's Next Top Model international and her mission to expand the world of beauty.
Read excerpts from her interview with Thom Kerr at Independent Artist Management.
On the issues that came with being an African American model
The major roadblock was the color of my skin. It was difficult being an African American face in the industry. Fortunately, my mother taught me that it wasn't me, Tyra Banks, the person, being picked apart; they viewed me as a product, so I rarely took it personally.
After many agency declines I was signed by L.A. Models and offered an opportunity to go to Paris. On that first trip I was the first and only model to ever book 25 shows during one Fashion Week.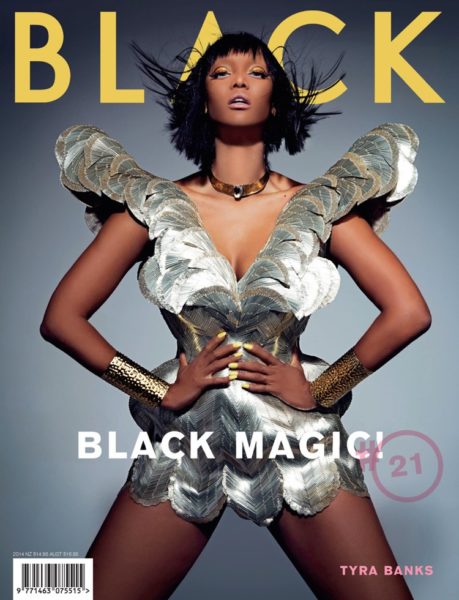 On the America's Next Top Model Franchise
The interesting thing is a lot of people think that I just produce Top Model or host it but people don't understand that I created the idea and it is the very first fashion themed reality show in history. I chuckle when people think I signed on to do it. Top Model is a pop culture mainstay and one of the longest running shows in television history. It's not something I ever thought would happen but now that it has it makes a lot of sense.
The show blends an industry that has an intrinsic mystery about it with mainstream girl (and now, guys!) next door. People now think "I can do that, I can try out to be America's Next Top Model" and millions have. It's very accessible while still allowing me to push the message that I set out with for the show: there isn't just one definition of beautiful.
The show has also birthed over 20 different International versions from Russia to Australia to China and Africa. I am so amazed by this and I travel around the world visiting and appearing on my International versions.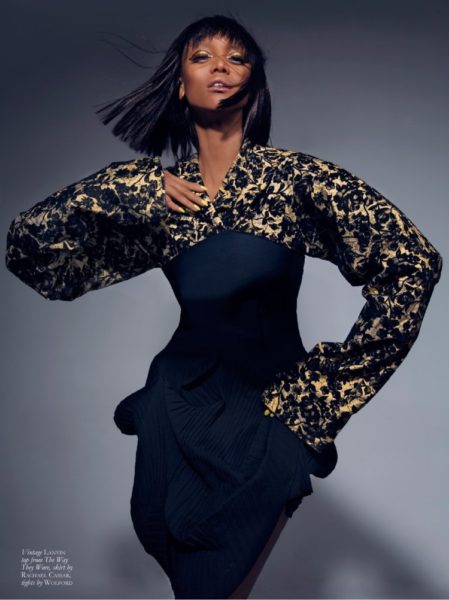 On ANTM as a tool for addressing beauty issues in modelling and the world
I wanted to challenge beauty stereotypes by feeding viewers so much "candy" with the message while raising self-esteem and challenging beauty stereotypes in the process. My main goal for America's Next Top Model was and is to expand the definition of beauty. I rarely cast cookie cutter beauties on the show, although some classic beauties make their way in with their modeling potential but my passion is to expand what people see as beautiful.
We've had models with everything from bodies covered in freckles to gaps in their teeth to some of the most stunning "Fiercely Real" (my word that I prefer to use over "plus size") girls that I've ever seen. One of my favorite "critiques" of the show is when people say "Tyra, why'd you cast that girl? She's not a model, she's not even pretty!" and then they see what she is turned into with hair, make-up and a wind machine and you see her photo and it's so stunning.
People realize that "pretty" has many faces. The message it that beauty really is in the "smize" of the beholder and it's not what everyone thinks it is.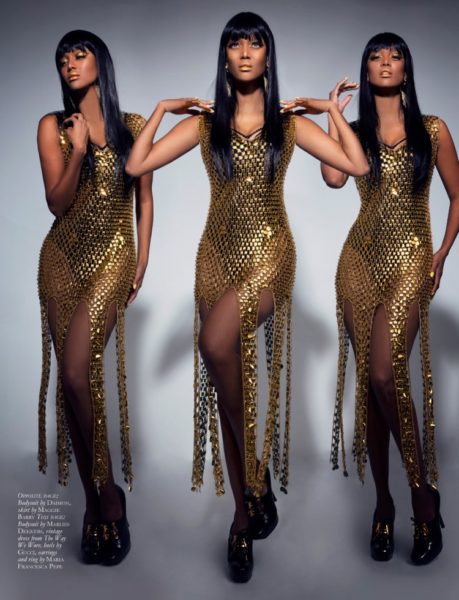 To read the full interview and see more amazing photos, visit www.blackmagazine.co.nz.
Photo Credits
Photography: Thom Kerr (Independent Artist Management)
Hair & Makeup: Justin Henry (justinhenrybeauty.com)
Fashion Editor: Camille Garmendia