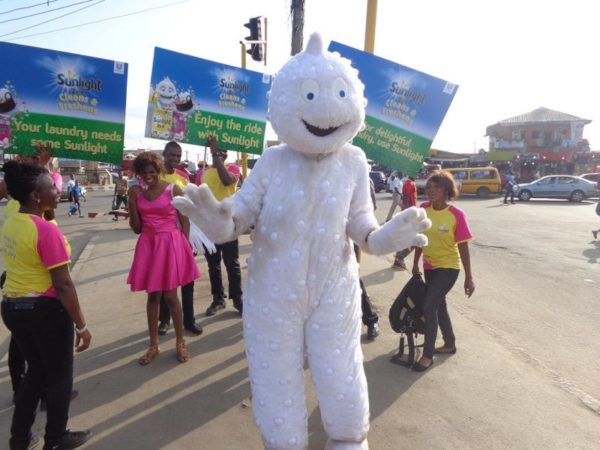 As part of efforts to spread light-hearted fun and happiness among the general public, Sunlight detergent – a leading detergent brand from the stable of Unilever Plc, has released the Sunlight Bubbleman on all major motorways in the Lagos Metropolis!
Accompanied by his gorgeous fairies, Sunlight Bubbleman is spreading the beautiful fragrance of Sunlight detergent across various traffic laden streets, homes and offices; bearing free packs of the detergent and other exciting prizes.
The Sunlight Bubbleman tour is part of Unilever's continued commitment to work together to create a better future everyday for Nigerians and make people feel food, look good and get more out of brands and services that are good for themselves and for others as well.
People are expected to Hashtag #SpotTheBubbleman to participate in this thrilling experience; and to win great prizes, members of the public are endeared to like the Sunlight Nigeria Facebook page HERE and follow @SunlightNigeria on Twitter for real time location updates.
Sunlight detergent not only comes in two fragrant variants namely: Spring Sensations and Tropical Sensations, but is also available in a range of sizes from the 26 gramme sachets to 2 kilogrammes packs.
Gentle on all fabrics and colours, Sunlight assures its consumers of sensational cleaning and long lasting fragrance.
Watch the Sunlight Bubbleman in Action on the streets of Lagos!

___________________________________________________________________________________
Advertorial – Sponsored Content