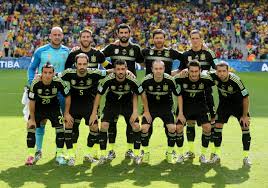 You know how you've saved up some really good amount of money and you think to yourself, "Now I can take that well deserved vacation". You plan a very good trip based on the large amount of money you now have at your disposal, exotic islands, shopping spree, international cuisine, the whole works. Then you get to the perfect holiday spot and all hell just breaks loose. You catch a stomach bug on arrival and there goes your need for foreign cuisine, no strength for shopping and no stamina to tour the island. In spite of your money and well laid out plans, the trip just fails.
I've heard people say things, "Spain is finished, their players are old, tiki taka is dead", all because Spain crashed out of the World Cup after the group stage matches. Spain were thumped 5-1 by the Netherlands; thrashed 2 goals to nil by Chile; and then went on to beat Australia 3-0. They became the first defending champions in World Cup history to lose 2 consecutive games in the tournament. However, they are not the first defending champions to crash out this early, Brazil (1966), France(2002) and Italy(2010) were already on that list. The French came back from that horrible outing to reach the finals in 2006 and only lost narrowly to Italy after a penalty shootout. Brazil recovered from their 1966 nightmare to win the 1970 World Cup. I think Spain would come back from this outing much sooner rather than later and the reason is simple.
The Spanish team did not fail because they had poor players or a dip in form but due to tactical lapses. Spain as a country produces a vast array of talent. In fact, most of the players that didn't make it to the World Cup for Spain would walk into any other country's team/starting line-up. In their third match, it was mostly fringe players that got the desired result.
Players like Thiago Alcantara, Cesc Fabregas, Koke, Isco, Pedro, Jese Rodriguez, Morata, Carvajal and Illarramendi are all world class that would fit into that national team and bring them pride and glory once again. Even names like Iniesta, Silva, Diego Costa, Sergio Ramos and the likes are not yet done.
The team just went through a bad patch which was more mental than physical and would recover remarkably from this shocking breakdown. Just like a bad vacation, Spain had the talent and the quality, they just got hit by a bug called Dutch revenge and pressure.
____________________________________________________________________________________________________-
Tega Onojaife started a career in financial portfolio management but soon realised that her passion for sports was too overwhelming to remain a supplementary. Tega is well known for her wit and confident analytical presentation, her versatility and in-depth knowledge of a wide range of sports; NBA, Tennis, Formula 1, Athletics, Boxing and, of course, Football. She has worked with reputable Radio and Television stations. Follow her on Twitter @tegasupreme