What makes a bag the perfect work bag? The size, the brand, the color or just its functionality?
There are many factors that determine how we pick our work bags; and not to say one decision is better than the other, but ultimately you carry the bag. So, no matter the decision you make, the bag must meet at least one of your function requirements.
Gone are the days of carrying that ugly briefcase and lugging around that heavy manly bag that you would hide once the work day was done. Now we have the modern luxe bag that transitions seamlessly from day to night!
Your job determines what size or silhouette of bag is necessary for your lifestyle. Do you need something big to hold various documents? Or a bag for a fashionista on the go? Are you traveling from one city to the other to achieve success? Do you require a compact bag to carry your electronic files, a full size computer or iPpad? These are some of the very important factors that will determine your functional needs and ultimately dictate what bag you buy.
After doing a little research I have come up with a list of amazing bags at all price points that serve working fashionable women.
Check out what bags hold the key to stylish success, as well as some of the very stylish women sporting these must-have bags.
Enjoy!
Prada: The Prada Saffiano Luxe Tote
If you are familiar with this bag you know that the Saffiano leather is literally indestructible! The finish on the cowhide leather is beautiful and masks any scratching which will happen with normal wear and tear. The bag comes in a variety of sizes, with the bigger sizes proving to be more functional for work.
If you have more files and a bigger computer, get the extra-large size like Racheal Placide from Pink Peonies; or my size, which is chic and clean. You can also get the medium size that also features separate compartments making it easy to organize work and play.
I love my Prada Saffiano, a great work or play bag, the ultimate chic look!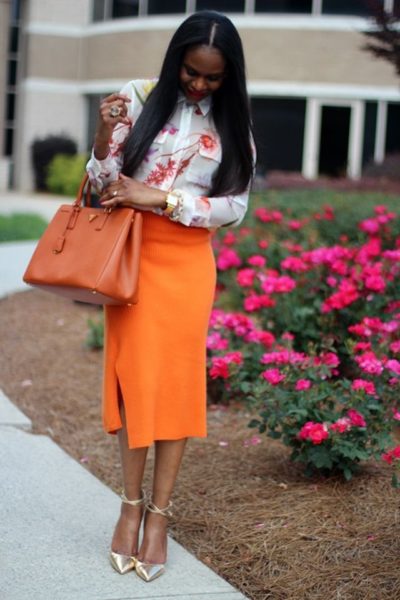 Racheal Parcell from the PinkPeonies.com looks uber-fab sporting the over-sized Prada Lux Saffiano Tote.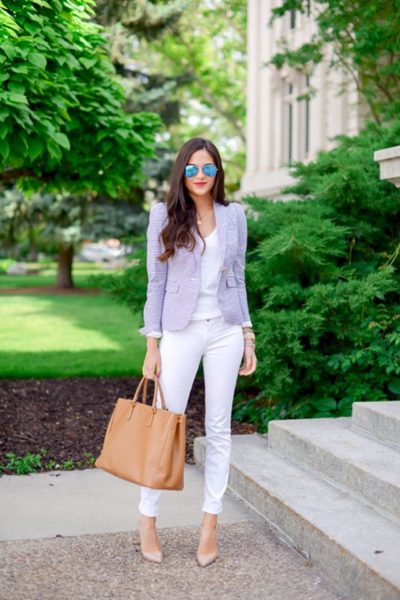 Our favorite gladiator is one stylish star! Kerry Washington's Scandal character, Olivia Pope gets the job done in style with her Saffiano Lux Tote.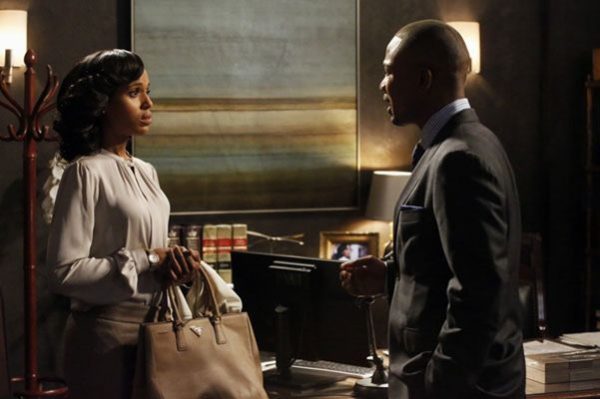 Givenchy: The Givenchy Antigona
This bag which first debuted in late 2011 has proven to be the bag to have from the Givenchy brand. Celebrities and style bloggers alike flaunt this simple yet extremely classic design. The silhouette of the bag is spacious with more than enough room to hold work files, an iPad and whatever a fashionista on the go may need for a busy day of work and play.
Wendy Nugen from Wendyslook.com book blog completes this classic yet stylish outfit with the bag that mirrors her look.
I rarely make impulse purchases, but when I laid my eyes on this Kelly green Antigona, I couldn't resist. That was one jump I am so happy I made.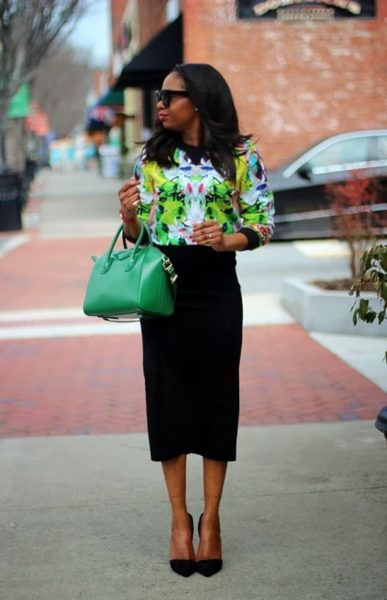 Reed Krakoff: The Reed Krakoff Boxer Tote
The Reed Krakoff Boxer bag was inspired by the way boxers wrap their wrist. Reed believes that wrapping the wrist was an individual art, hence he used that as his inspiration when creating the knotted tie detail in front of the bag. This bag is a great option for a work or a play bag. It even comes equipped with its own iPad pocket! I love this option for its clean lines and classic appeal. This bag definitely makes the perfect stylish statement.
I love the sleek lines of the boxer making it one of my favorites!
Reed Krakoff bags are known for their color-blocking – a feature that adds interest.

Veronica Popoiacu from bittersweetcolours.blogspot.com spots her Boxer in one of my favorite popping colors – pink!
Fendi: The Fendi 2 Jour
This bag is not only good looking, but in the few years since Fendi has introduced this bag, it's out-sold any bag the brand has offered since its inception. There is a good reason why this bag has done so well; it is clean, classic and also redone season after season in new innovative materials.
Supermodel Joan Smalls modeling the 2 Jour. I love everything about this bag.
I am in love with Kate Lebrasse from lebrasse.com's mink fur 2 jour, absolutely stunning!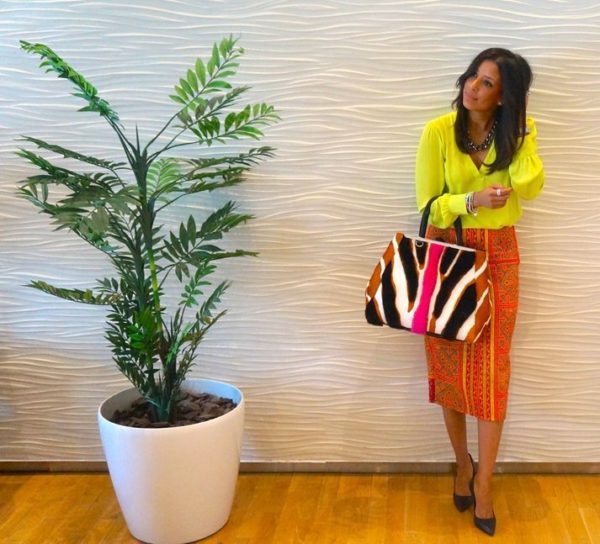 Celine: The Celine Luggage Tote
The famous Celine Luggage tote has proven to be a bag to have. Season after season, this bag continues to sell out, making it one of the most sought after bags. Even with the numerous price increases this bag has seen in the last 2 years, I suggest that if you want to take the plunge and splurge on a bag do it now before it takes another increase in price. The bag doubles up as the perfect work bag with its spacious center, zipper pockets and phone pockets. It also features an outside pocket for easy access to your phone.
When I got my Luggage Tote, it was less than half the cost of what it is today, hence I can brag to my husband that it has appreciated in value. Smart bag, smart choice.
Folake Huntoon from StylePantry.com is rocking her neutral Celine Luggage Tote. Love how it looks with her colourful outfit.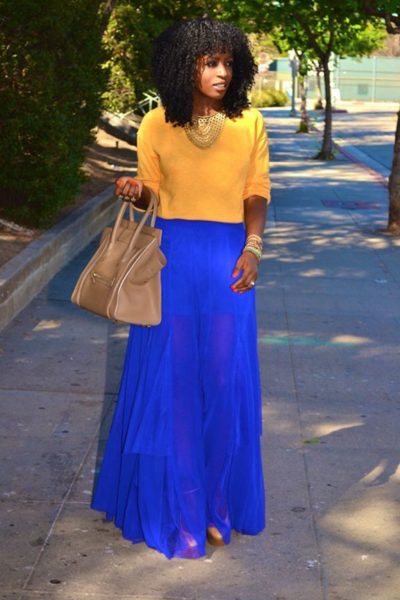 Michael Kors: The Micheal Kors Hamilton Bag
This bag is a lower price point than the rest but holds its own. Designed by American fashion power house Micheal Kors, this bag has proven to be a favorite among celebrities, bloggers and fashionista's alike. Simple yet stylish, this bag is a great option if you are not willing to break the bank on a bag.
Priscilla from Prissysavvy.com is ready for casual Friday in this casual-chic outfit.
A model sporting the brands iconic bag.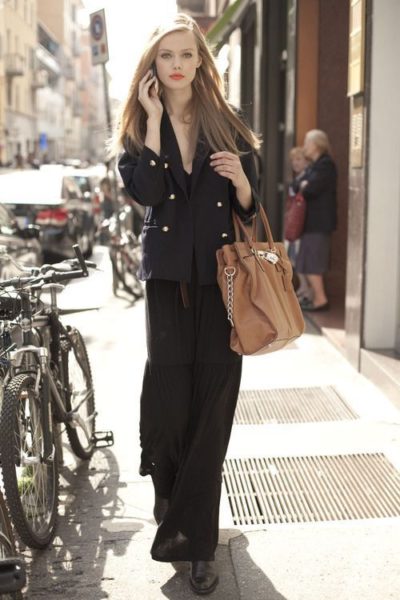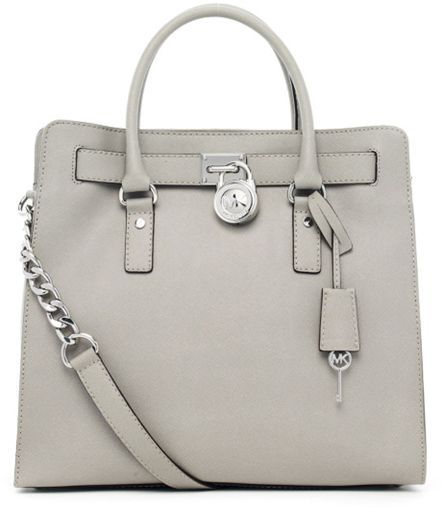 Saint Laurent: The Sac De Jour
Last but not least, the Saint Laurent Sac de Jour. If I could only justify buying another bag, this would be my choice. My mouth literally dropped when I saw it. Clean and classic, my ideal type of bag. However I have to admit that the bag is on the heavy side, but that won't stop any true fashionista from carrying a totally fabulous bag. Like all the other bags listed, this too is perfect for work and play and holds various compartments. It also comes in 3 sizes but the 2 bigger sizes work perfect for work depending on your work load.
Ranti from ranti-in-review.blogspot.com looks uber-chic and oh so stylish carrying her Sac De Jour.
The always stylish Nicole Richie's streetstyle look is complete with her Saint Laurent bag.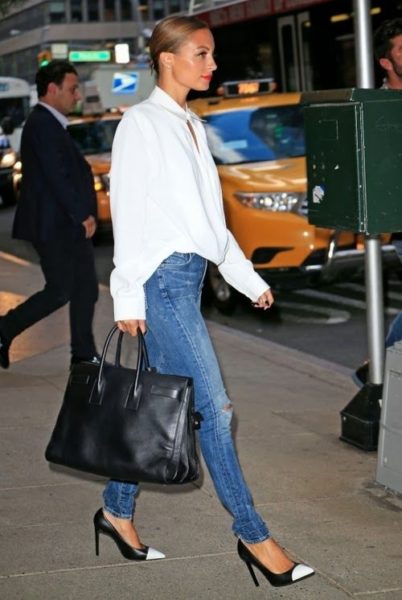 I know you are thinking I didn't include this bag or that bag, but there are only so many and I don't want to confuse you. These picks are all it bags that will transition perfectly from work to play. If you think I missed a luxe bag you have or are currently obsessing over let me know.
Next time we will highlight some of the hot new bag silhouettes, but until then what was your favorite and how would you incorporate it into your successful lifestyle?
Photo Credits: http://awedbymonica.blogspot.com | http://fashionbombdaily | http://stylepantry | http://wendyslookbook.com | http://songofstyle | http://prissysavvy.com | http://ranti-in-review.blogspot.com | http://pinkpeonies.com | http://netaporter.com | http://bittersweetcolours.blogspot.com | http://lebrasse.com | http://popsugar.com