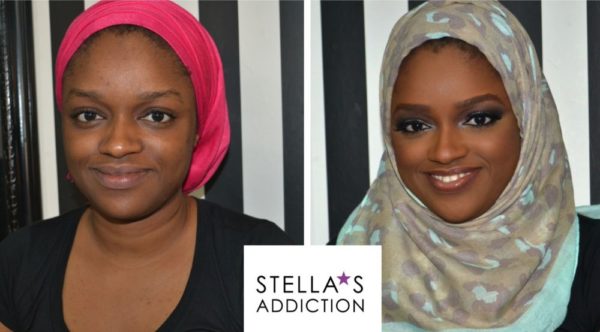 Happy holidays Bella Naijarians! It feels good to be home on a Monday right?
Well in the spirit of Eid-el-Fitri, we have a gorgeous makeup tutorial by Stella Maris of Stella's Addiction to get you in the holiday spirit. With an Arab/Muslimah inspiration, this look is perfect for the Muslimah who wants to head out today (or any other day) looking fab.
The makeup look entails a mint centre with a deep dark crease, mint highlighted tear ducts and a slightly highlighted & nude lip.
Here are the products she used to create this fab makeup look;
Eyes
OFRA Cosmetics Pencil in Light Brown*
Peggy Sage Eye Primer*
House of Tara Liquid eye liner in Black*
Magnolia Makeup Loose Eye shadow in Mint Julep* (mint shade; center of lid)
Magnolia Makeup Loose Eye shadow in Sugar Hill* (shimmery brown; crease& outer corner)
Magnolia Makeup Loose Eye shadow in Just Black* (matte black; outer corner)
Inglot D.S 490 eye shadow
Amazing Shine Human Hair lashes in #01*
Peggy Sage Paris Divin'Cils Mascara*
Zaron Black Velvet
Lips
Zaron Lip liner in Cappuccino* (seriously blended out)
Magnolai Makeup LipFix in Bare*
Sam Fine for Fashion Fair Canary Diamond lipgloss*
Watch!

________________________________________________________________________________
Stella-Maris Ikelionwu is a professional makeup artist, beauty blogger and vlogger. She is the brains behind Stella's Addiction makeup studio and boutique in Lagos and she writes the beauty blog of the same name.
She holds an MBA and an MSc in Communications & Strategy Management, degrees in Makeup Artistry and French but chose a career centered around her passion for makeup and hasn't looked back ever since. You can find her on www.stellasaddiction.com.