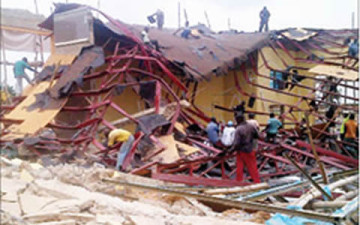 The main hall of a newly completed high school built by the Osun State government collapsed yesterday morning.
Fortunately, no lives were lost. However, two artisans who were laying tiles in the building when it collapsed, were injured according to Punch.
The school, which had reportedly been inspected by government officials a few days prior to the collapse of the hall, was supposed to be commissioned tomorrow.
Speaking on the incident, Folasade Odoro, Police Public Relations Officer for the state reportedly attributed the collapse to "heavy wind."
A statement has been released by the Osun State government via media aide, Semiu Okanlawon:
Information at the disposal of the government indicates that the main hall which had been completed along with other classrooms of the school came down at about 6am Wednesday after a loud bang.

As a responsible government, it is too early for us to say what the exact cause of the collapse is until we have full investigations and advice of professionals.

However, it must be stated here that all necessary quality assurance tests were carried out to ensure structural durability and integrity of the project.

Engineers from the Osun Ministry of Works and engineers from the Structural Engineering section of the Nigerian Society of Engineers have been dispatched to the site to establish the real cause of this unfortunate incident.
Photo Credit: Punch/Femi Makinde