Feed a Child, a South African Children's Charity Organization has issued a public apology after its ad sparked a lot of backlash.
In the controversial 1-minute ad, a black boy is seen sitting on the floor, begging for food as a white woman portrayed as wealthy, feeds him like a dog.
In an another clip, the boy lays in her lap on a couch, as a "happy puppy" who has just been fed.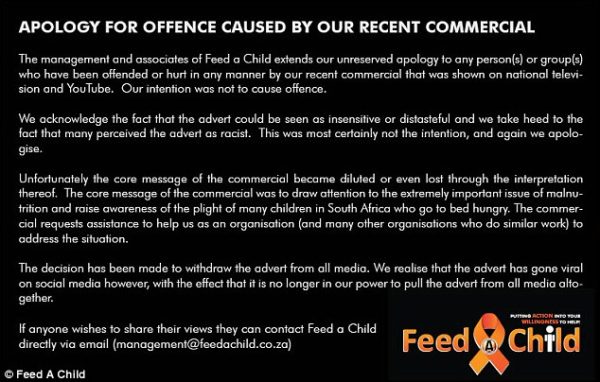 The chief executive of Save A Child Alza Rautenbach has apologised for the controversial ad which was scheduled to be broadcast between news programmes in the country.
Alza explained that it was to help raise the issue of child hunger in South Africa. "What if this advert changed a child's life? What if this advert changed 3.5 million children's lives? What if this was your child going to bed hungry tonight, and this advert can change that?
The child was a character that the agency used. It wasn't chosen for any specific reason – and yes, the idea was to use multiracial people, just as our country is. It doesn't help to have an advert that is not representative." she said.
The charity claims the real message has been lost due to the controversy.
Watch the Ad