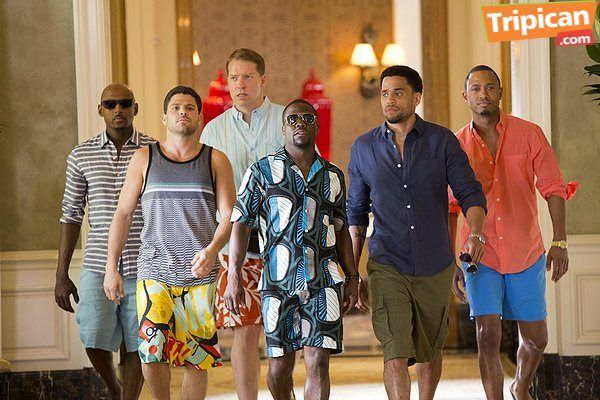 Happy New Month Tripicanites! The most anticipated comedy Think Like A Man Too sequel to Act Like A Lady, Think Like A Man hits the Cinemas this Friday 4th July 2014. Do not miss it!
Think Like A Man Too reunites the entire cast from the surprise hit Act Like A Lady, Think Like A Man, which was based on Steve Harvey's best-selling book Act Like A Lady, Think Like A Man. Besides an impressive array of talented actors, the first movie's strength and its intelligence came from the way it incorporated Harvey's book into the plot, and referenced it just enough not to seem like a film commercial.
All of the couples are in Vegas for Michael (Terrence Jenkins) and Candace's (Regina Hall) wedding. Each couple is going through some sort of conflict, that is Mya (Meagan Good) discovering that Zeke (Romany Malco) used to be a 'playa', Jeremy's (Jerry Ferrara) doubts about getting Kristen (Gabrielle Union) pregnant and becoming a dad, or Lauren's (Taraji P. Henson) job offer in New York that she's keeping a secret from Dominic (Michael Ealy). Also, Michael and Candace have a problem: Loretta (Jennifer Lewis), Michael's overbearing mother.
Watch the 'Think Like a Man Too' Cast on the Vegas-Themed Sequel on ABC News

Cedric's narration tries to position this as a battle of the sexes, with the men competing against the women to throw the better bachelor/bachelorette party.
Most of the humor comes from Hart's antics, and we all benefit from his willingness to do or say anything for a laugh, you know, Hart dancing around in his underwear, or jumping into the deep end of a swimming pool to impress the ladies, only to realize that he can't swim. There are also several surprises that are good for laugh-out-loud moments, but many of the situations that are actually funny.
Excited yet?!
Watch the Think Like A Man Too Trailer

Tickets are available now on www.tripican.com