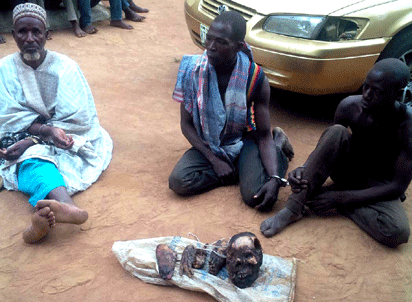 Two suspects dealing in human parts were paraded by the Commissioner of Police, Kwara State, Ambrose Aisabor, yesterday Wednesday 23rd July 2014.
The third man pictured above is said to be an accomplice.
Aisabor told reporters that the two suspects were arrested with a human head, leg and hand in Tabira village, Okuta, Vanguard reports.
After a tip-off, the suspects – Amos Kareem and Abubakar Ladan were arrested.
Ladan claims that Kareem promised him a motorcycle if he could find him the parts. So he went to a burial ground, cut off a human head, leg and hand.
Kareem revealed to newsmen that some politicians buy the parts from him. He however didn't reveal their identities.