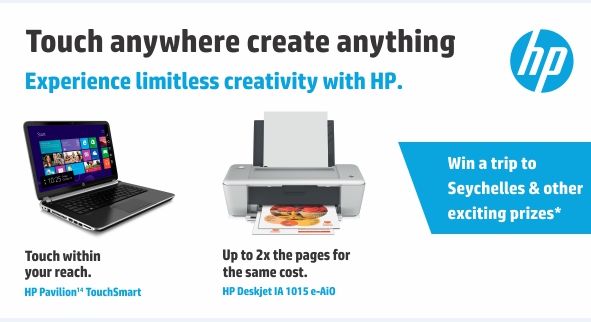 Are you ready for this? HP is offering you an all-expense paid trip to Seychelles for that Summer holiday you've always wanted.
How are they doing this? With the "Touch Anywhere, Create Anything" promotion powered by HP, Intel & Windows 8.
To enter into the draw, simply Buy any eligible HP Tablet, Notebook, Desktop, Printer or HP Original Inks & Toners from any of the listed participating retail stores. You will be given a raffle ticket immediately.
Winners will be selected in a raffle draw at the HP Nigeria office which will be witnessed by the National Lottery Regulatory Commission and the Consumer Protection Council of Nigeria.
Winning participants will be contacted immediately after the draws are held. Remember, there are lots of prizes to be won in this promotion!
Call 08086212756 for more information!
This promotion ends on Thursday 31st July 2014.
Terms and Conditions Apply.
_____________________________________________________________________________________
Sponsored Content