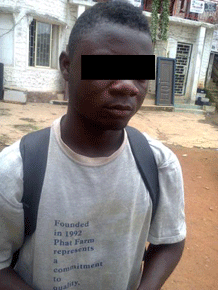 On Tuesday 19th August 2014, a 19-year-old apprentice welder was nabbed after defiling a hen. The fowl reportedly died after the act.
The incident is said to have occurred at the continental area of Akure metropolis.
Stella Akintola, the owner of the fowl, told Vanguard, she went to bed early on Tuesday night but later woke up when the chickens at the back of her room begun clucking loudly.
Stella stepped out of her room, and found out that the back door was still open. She became curious and yelled to know who was there, "only for him to appear from the corner of the house, saying he went to the toilet because he had a running stomach." she said.
Stella said she was not convinced, so she went to the location of the fowls, then she realized that one of her chickens was stone dead with its feathers littering the floor.After raising an alarm, the suspect confessed and begged, promising to pay any amount for the dead chicken.
Although, he earlier refused to speak to reporters, the suspect said, "I was already sleeping when a spirit just came upon me and directed me to go to the back of the building. I did not know what I was doing again until when I discovered that I had slept with the hen."
The apprentice whose name is being withheld was also reportedly kicked out of his home town for defiling a goat.