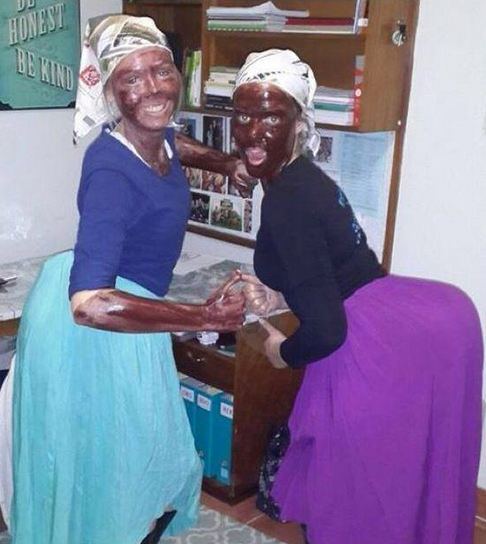 The blackface trend is making the headlines once again.
If you recall, during the 2014 FIFA World Cup, a large number of Germany football fans wore a blackface for a game against Ghana. An investigation was opened, but there was no final statement.
Recently, two white South African students posted a photo of themselves in blackface. It prompted a school disciplinary response as well as reignited a social media conversation on racism in South Africa.
The ladies are from the University of Pretoria, and in the photo, they are seen dressed as black domestic workers. Although it was quickly deleted from Facebook, it has since gone viral on Twitter.
An official for the tertiary institution said that the students would be disciplined for harming the school's reputation.
Many South Africans have shared their reactions to the photo using the hashtags #blackface and #studentracism.
In the year 2014, South Africa seriously debating if #blackface is racist and offensive or not. I'm defeated.

— Simphiwe Dana (@simphiwedana) August 6, 2014
I understand the difference between art and blackface. A dancer might paint themselves from head to toe in black, red, white etc.

— Simphiwe Dana (@simphiwedana) August 6, 2014
The response to #Blackface is more upsetting than the "normalisation" of this sick practice.

— Florence Masebe (@FloMasebe) August 6, 2014
Dear fellow white folk: Don't even try defend this #Blackface garbage. DON'T. This is the reason race relations are at a low in South Africa

— Nickolaus Bauer (@NICKolausBAUER) August 6, 2014
So if #Blackface is acceptable, white South Africa…It should be fine for others to wear khaki shirts & plaster flour on their faces,right?

— Nickolaus Bauer (@NICKolausBAUER) August 6, 2014
#blackface debate proving how little white South Africans understand power, oppression, racism.

— Jodi (@urbanjodi) August 6, 2014
Sad that aftr all that's happened, blacks still have to teach whites that it hurts when they kick them, let alone where it hurts. #blackface

— milisuthando bongela (@missmillib) August 6, 2014
The sad thing about #blackface for me; the woman that are being "mocked" by these white young ladies, raised them…

— Gomo (@MsManche2) August 6, 2014
Would've been "ok" to mock our generation, but to mock someone's mother, the mother who worked tirelessly for peanuts day in&out #blackface

— Gomo (@MsManche2) August 6, 2014
Is it offensive? Yes. Extremely. In fact, it goes beyond the blackface – mock not the domestic worker. #LiveVIPZA #blackface

— Bra Vader (@LeeMolefi) August 6, 2014
(2/3) the domestic worker is symbolic of how black needs (& kids) have been subjugated to white needs #blackface pic.twitter.com/k0VispZZlH

— Bra Vader (@LeeMolefi) August 6, 2014
But a few individuals are not in support of the movement using the #studentracism hashtag
My opinion on #StudentRacism , Report on positive Residence intergration, stop fuelling the fire with negativity pic.twitter.com/MBbuoxZ85L

— Michael Smit (@smitm06) August 6, 2014
So this #StudentRacism thing… Just remember being offended is a choice.

— The phr0gnomenon (@phr0ggi) August 6, 2014