Salut my BN Cusine Fam!
Let me start with a huge thanks to Uzo for that simple but stunning post on coconut milk, which is one of my favourite ingredients in the world to cook with. Her post served as inspiration for today.
The title of today's post is in honour Angelia Jolie. I mean, I have to celebrate my home girl who finally got hitched. It was really beautiful see her and Brad finally tying the knot… it was really great serving the puff puff at the reception. *slides away*
Between myself and my aunty Rosalind I'm not sure who is more bossed about Thai food. It's an absolute favourite. But you see, even me a whole Chef sometimes we need to "cheat" sometimes. Not every time make from scratch, sometimes speed up the process. In this light, the Thai curry paste is my secret weapon. I discovered it in Paris when a chef friend made the most delicious coconut chicken soup with lemongrass and rice. When I asked him how he made it, I was already opening a note page on my BlackBerry to take a lecture of how he made such a time consuming curry paste and the possibility of him squeezing his own coconut cream and milk.
Only for him to pull the below out…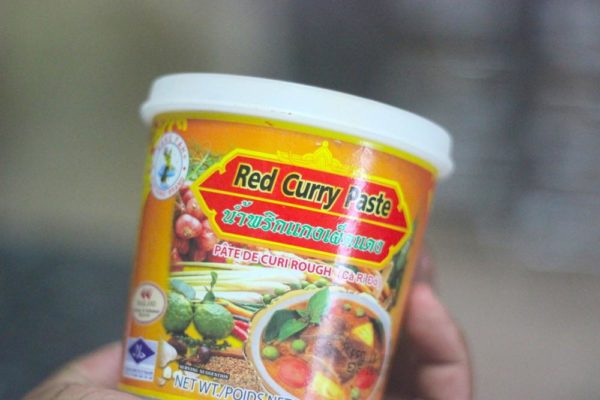 Yes, a curry paste. I almost want to judge him for not making his own paste but hey… didn't I clear my plate? No bi me dey ask fo recipe? So I decided to not play God!
Since the day I found it retailed in Nigeria, I haven't looked back. Although when I use it, I tend use it as a marinade or recreating that soup I had in Paris. I always have a tub at least in my fridge.
I taught/showed my students at the recently concluded Masterclass with Chef Fregz at Kogsy how to fillet a fish and make a an easy curry with a pilaf rice. That way, dinner is fast and easy; and you can entertain your guests make it look like you made such an effort to make that curry paste from scratch. You and your kitchen will keep your secrets.
However, you would need some coconut milk, some coriander leaves, vegetables like baby corn, bok choi, green peppers, pineapple (yes Thai people do that sometimes) and whatever you like really.
I kept mine as simple as possible – Fish Curry Sauce some fresh chillies, squeeze of lime at the end and my pilaf lemongrass rice.
I know you're thinking "but chef biko why don't you show us the way to make ours from scratch?" Errrr my response… "this brand is the good type that truly authentic. I mean the packaging is written in thai language it doesn't get more real than that!"
So for that fast dinner, easy lunch or causal dinner party this is a quick almost hassle free idea plus you can use chicken for this as well. Beef not so much because it would rake sometime to cook except you're using the fillet of beef. But I'd rather chicken, fish or seafood.
Here's what you need to make your curry (Serves 4)
4-8 fish fillet portions
1/2 tablespoon sesame oil
1 tablespoon red curry paste (it's available in green and yellow but red take the win for me)
300-400ml coconut milk or 1 can (all coconut milk usually come in 400ml cans)
Half a lime
1 large green pepper (ground or finely chopped) (optional)
1 large red bell pepper (ground) (optional)
A handful of coriander leaves
Fresh thai or birds eye chillies for garnish (green and/or red)
For The Rice
1 1/2 cups long grain rice or basmati rice or fragrant thai rice
2 cloves of garlic smashed open
1 stalk lemongrass bashed open
A pinch of salt to taste (if you use the fragrant rice you may not even need to salt)
1 medium onion chopped
2 tablespoons vegetable oil
Water to cover
How To
Massage the curry paste into the fish or whatever protein you're using, along with the sesame oil. Leave to marinade.
Proceed to make the rice.
In a saucepan or pot, place the oil and when hot add the onions, garlic and lemon grass and stir fry till lightly fragrant and add the rice. Stir fry the rice till it's evenly coated/glistening in the oil.
At this stage add the water making sure it's about 2 inches above the rice. Cook on a low heat till the water dries out and the rice is just done and fluffy but not to soft. This should take about 15 minutes
Please note:  if you are cooking the thai fragrant rice or basmati rice it would require less cooking time and probably a little less liquid, because the idea with this rice recipe is to allow the steam do the cooking once the water has dried out.
While the rice is cooking, in a hot frying pan, add about a 100ml of the coconut milk and the tablespoon of the curry paste (be prepared to sneeze and cough a little). Fry the paste till the coconut milk almost starts to dry out, and the paste is bubbly. Be careful not to burn the paste.
Add the remaining milk and allow to simmer for about 10 minutes till it thickens. If your adding any vegetables you can add at this point. allow them to cook before adding your fish.
For the fish, in some oil sear the fish on both sides but don't allow cook all the way through as you want it to finish off in the curry.
Add the coriander and chillies at the very end and vegetables like green pepper for it to retain its freshness for as long as possible.
Serve hot, and enjoy with coldest drink you can find.
If you don't like spicy just add a bit more coconut milk and less of the paste and a pinch of brown sugar or palm sugar to cool it down and also omit the extra chillies.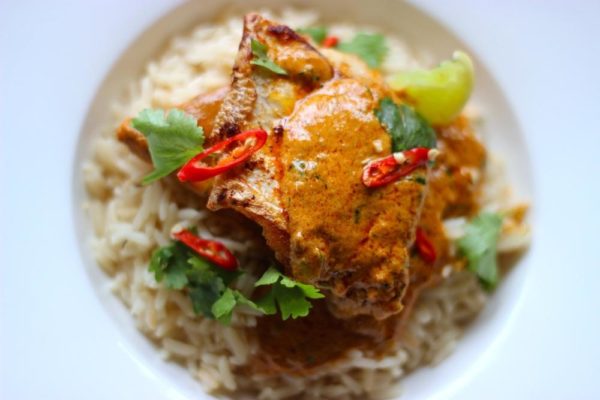 Give it a try this weekend… and have a good one while at it!
Ciao!