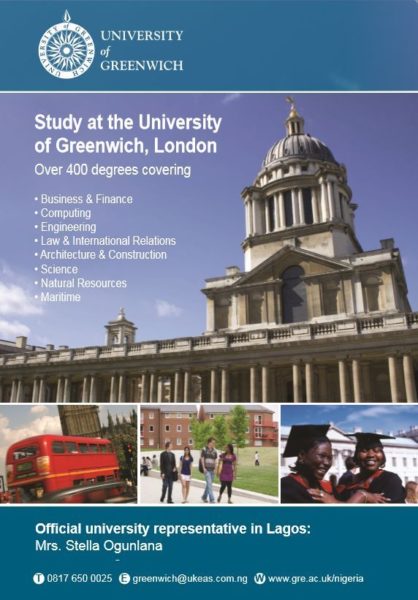 Do you dream of studying in London? Do you have an offer of admission from the University of Greenwich? Have you applied for your Visa or have your Visa already? Are you confused about how to obtain an offer of admission from a reputable University in London?
This event is for you.
The University of Greenwich has organised and will be holding a Visa Seminar/Pre-Departure briefing in Lagos and you are invited.
Please come with your originals and photocopies of your credentials as there will be on-the-spot offers for those yet to obtain their offers of admission.
Date: Saturday 2nd August 2014
Time: 11AM -3PM
Venue: Affordable Cars Building, 76 Opebi Road, Opebi, Lagos
For more information, please call Stella Ogunlana on 08176500025 or send a mail to [email protected]
See you there!
_____________________________________________________________________________
Sponsored Content