Are you a 3rd Class Graduate seeking to Start a Premaster Program? Attend The University of Greenwich Counselling Session today, January 18th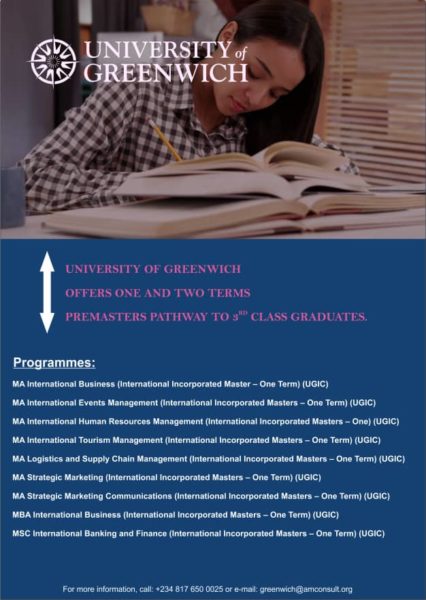 Do you have a 3rd class or are you interested in a one-term Premasters Program? Then this event is for you. The University of Greenwich invites you to a Counselling Session with a representative from her Pathway Partner Oieg, United Kingdom.
The University of Greenwich is one of the most preferred UK Universities by Nigerians seeking to study abroad, Greenwich is based on a UNESCO World Heritage Site on the banks of the River Thames. As part of the Old Royal Naval College, it was described by The Independent newspaper as "more breathtaking than the Versailles of Louis XIV", asides from the top of the Art facilities, the University staff include a winner of the Times Higher Education Most Innovative Teacher awards. The University of Greenwich is a thriving international student community of people from 176 countries.
Date: Friday, January 18th, 2019
Time:  10 am to 2 pm
Venue: 70B Olorunlogbo street, Anthony, Lagos.
For more information, kindly call Stella on 08176500025.
————————————————————————————————————————————–
Sponsored Content