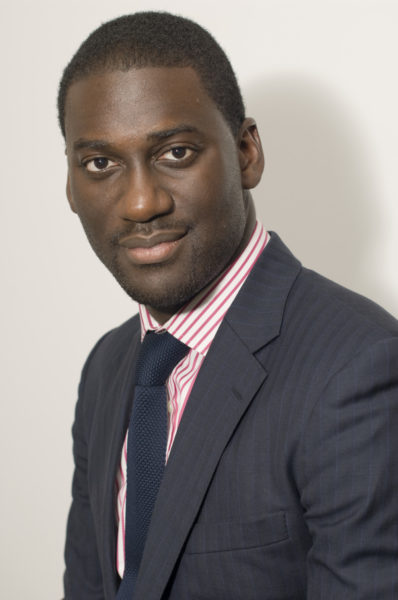 Move Back to Nigeria is a series on BellaNaija which aims to encourage young and not-so-young professionals in the diaspora who are trying to make the decision of whether to move back to Nigeria. In collaboration with the brilliant team at MoveBackToNigeria.com, we hope to bring you a weekly interview with individuals who have successfully made the leap, considering the leap, as well as those who have tried it and realized it is not for them. MoveBacktoNigeria.com's mission is to showcase stories of Nigerians abroad who have moved back home and are taking giant strides, often against all odds and to serve as inspiration to others.This, however, does not preclude us from sharing stories of the people who have moved back and are facing various challenges.
Kelechi Ekugo is our interviewee of the week. His background is quite diverse, given his experiences in the public and private sectors in Nigeria and the UK. In this interview, find out how he moved from the UK to contribute to Nigeria's development as a Technical Assistant to the Presidential National Economic Management Team (N.E.M.T). Currently he works as part of an investment group, focused on sub-Saharan Africa.
Thanks for speaking to us. Can you please introduce yourself?
My name is Kelechi Ekugo. I currently run the UK operations as Executive Director of L.A.T. Cleveson, which is primarily into proprietary investing and corporate advisory focused on sub-Saharan Africa.
Have you always been in the UK or did you move from Nigeria at some point?
So I was born in a town called Wuppertal, Germany, where I had my toddler years before returning back with my parents to Nigeria to have my early education right unto secondary school. I came to the UK after secondary school to undertake higher and further education studies and then gaining professional work and business experiences afterwards before moving back to Nigeria in 2009. This was after I had spent about eight to nine years in the UK studying and working for corporate institutions like Morgan Stanley.
I moved back to work for the Federal Government of Nigeria for four years at age 27, as a Technical Assistant to the Presidential National Economic Management Team (N.E.M.T) which at that time, was incorporated by late President Yar'Adua and chaired by the Minister of Finance, Dr. Mansur Muhtar. This role was a UK – DFID/World Bank funded engagement to which I also doubled-up as a Technical Adviser to the Honourable Minister. I continued in this same capacity supporting the activities of N.E.M.T when Dr. Segun Aganga was appointed Finance Minister under President Jonathan. Then between 2011 and 2012, I moved on again as Technical Adviser into the newly incorporated Ministry of Industry, Trade and Investment, which is led by Minister Aganga and remained there till 2012 after which I returned to the UK to focus on private sector.
Can you highlight your educational background for us?
Following secondary education in Nigeria, I proceeded to the UK and attained a diploma in Electrical & Electronic Engineering at Epping Forest College in Essex and then moved on to Imperial College, London to study a BEng in Electrical & Electronics Engineering. Along the line, I decided to cross over to do a degree in Finance.
What prompted your move to finance?
I began to realise that while I had developed technical and analytical skill sets. I felt it was imperative for me to harness those skills into financially viable and practical contexts, because I was always fascinated by the act of making money, entrepreneurship and dealing with wealth managers, hedge funds, private equity firms and banking institutions. So, I went back for another degree in Financial Services at the University of Derby.Professionally, I got a role as a Financial Analyst at Morgan Stanley Investment Bank, London, within their Financial Control Group (FCG), supporting their Stock Lending equity trading platform.
How did you find the introduction into your professional life and role?
I found it very insightful; challenging, but yet rewarding within a professional and corporate environment. I worked for an institution that pretty much had thousands of employees all under the umbrella of one organisation – all of them responsible for various sophisticated investment products and services covering the global financial services world.
My role as a Stock Loan Controller for the FCG was to perform daily Dividend Surplus reporting to our management summary account and production of other related reports for our traders, trading clients and management. It involved a bit of accounting and financial analysis techniques.
Within the organisation, I developed professional skills in a fast-paced environment and gained product knowledge on various financial/investment products that appeal to different classes of clientele.
Why did you leave? It sounds like you enjoyed working there
I left after a few years and following the impact of global market changes as a result of the credit crisis within the period of 2008/2009 and the division gradually downsizing and moving personnel's around and so, I decided to look onwards for newer challenges in a sense. Interestingly enough, I began to look at other opportunities in the UK both entrepreneurially and also professionally, and whilst in the middle of making decisions, a rare opportunity presented itself for me to work for the Nigerian government. I applied for it and fortunately was shortlisted as the preferred candidate which led to my move back to Nigeria where I worked for the Ministry of Finance and the Presidential N.E.M.T.
How was your public sector experience in Nigeria compared to your time at Morgan Stanley?
Personally, I thrive in challenging environments as I find them interesting. Here I was, moving from the UK to Nigeria where stories of poor infrastructure, lack of professional ethics particularly within were rife. So for me, it was an interesting experience firsthand and of course challenging myself with the opportunity to transfer my skills within such environment.
Interestingly while in the role, I worked with the N.E.M.T and Finance Ministry on formulating policies geared towards economic development and sustainable public financial management. I provided support in negotiating concessionary World Bank loan support for the country's critical infrastructural development, sat as secretary to a few government committees such as the Expenditure Review Committee (2010) and the Deepening of the Nigerian Capital Markets (2010), was part of the technical committee that drafted the Nigerian Sovereign Wealth Fund Bill (2011); then worked on the investment climate reform initiatives geared towards attracting local and foreign investors and provided technical recommendations towards the reformation of the Nigerian Commodities Exchange both under the Industry/Trade & Investment Ministry.
I should say that moving back to Nigeria and especially, working with the Federal Government, proved to me that there was also a fair level of commitment on the government's part to attract young and talented brains as part of their drive towards capacity development and creating value-add within public sector and policy administration. After 4 years in Abuja in the role, I moved back to the UK for a different challenge with a broader focus on Africa.
You did not want to stay in Nigeria permanently?
Having done four years in public sector Nigeria and having had a couple of years in the private sector in the UK, I came to a point where I felt it was perhaps now useful for me to combine those collective experiences and harness them to an entrepreneurial and commercial experience. Given the insight and exposure with Nigeria, I could tell that what we see as challenges can inevitably be transformed to opportunities through better service delivery, creating jobs, positive social impact and gaining commercial returns. So, I went back to the UK, to take up my current responsibility as part of an entrepreneur minded and professional team. Our focus is sub Saharan Africa but predominately implementing in Nigeria. Hence I'm still very much within reach with Nigeria.
Tell us this current role in particular it's relevance to Nigeria.
I'm part of a proprietary investment and corporate advisory boutique that has originated its own ventures, have a sector-agnostic investment appetite but has currently entered the Maritime and Agriculture market sectors, by developing its own strategies geared at creating value and service delivery to its far reaching clientele and target markets.
We currently have operationalized a maritime venture to service energy offshore operators in Nigeria, whilst on the Agro space we are working towards developing a first class vegetable production farm somewhere in North Central, Nigeria. In addition, we offer corporate consulting services to clients given the diverse talent pool within our growing organisation.
I run the UK arm of the organisation and what we do from this end with my teeming colleagues is pretty much offer critical strategic, financial and operational analysis for the execution and executive team on projects we are active or interested in. Also, given that London is a renowned global business hub, it offers me the opportunity to manage certain corporate relationships. Whilst we have active projects in Nigeria we also have some investment commitments in other West African countries.
Do you intend to go back to Nigeria for good at some point?
The good thing about my current responsibility is that I get to come to Nigeria very often on work related projects hence Nigeria is still very much within reach.The fact that I am operating from London doesn't withhold the fact that Nigeria is very much within reach for me. It's home for me regardless!
Where do you see yourself in the next five years?
Well, the hope then is to have made a huge difference in society, be it Nigeria, Africa or wherever. I believe developing societies like Nigeria deserves equal opportunities in terms of basic needs, infrastructure and amenities. We should not wait for government, government should provide the right and enabling environment for private sector to thrive and be socially responsible. In five years time, I want to see that all projects I've worked on with my team are operationally viable, scalable and have created jobs and made a positive difference to society.
Whilst you were working in Nigeria, did you pick up any particular skills there that you think will be helpful for anyone headed in that direction?
Having worked in the public sector, I now understand how policies are being formulated by Government and can also see through the challenges faced. Also working with the civil service and lack of proper infrastructure is a huge challenge, with my firsthand experience, it made me realise that there is a lot more that people from abroad and even more importantly the private sector, can do to ensure that we have a conducive environment to live in and do business. So, for me, valuable skills learnt are being able to work as a team, patience and perseverance, ability to adapt very quickly in a challenging environment, good values, morals and respect for everyone.
And on a final note, what words of advice would you give to people who might be considering a move back to Nigeria?
The first point to have is self-belief that our impact no matter how small, will clearly make a difference on the long run. It is realising that at the end of the day, no matter what the challenges are in the country, a good chunk of these challenges are pretty much man-made and so, can be mitigated or resolved with the right leadership and critical masses in due course.
Furthermore, as one who has seen how systems and processes work in developed countries, it is only fair to transfer those skills and experiences to Nigeria and really understand that if we can't collectively come together with a positive mindset, then whatever we try and set out to achieve in an environment like Nigeria, will not be achieved. Nigeria is home and offers great opportunities; with hard work, patience, just ensure you stay positive all the way and you'd go very far.
Many thanks for your time and best wishes moving forward.