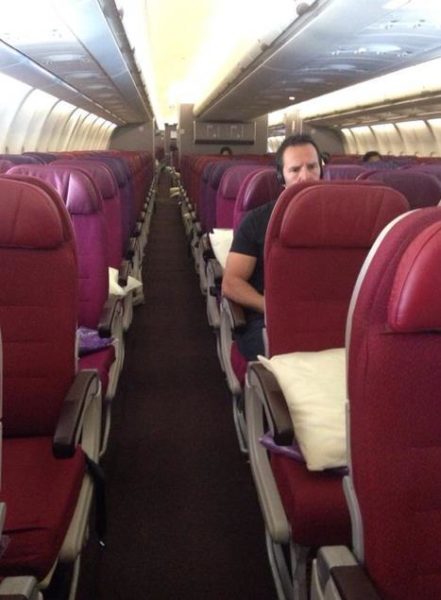 Malaysian Airlines has had two of the worst air tragedies in recent years, and it looks like it is greatly affecting business.
The recent first crash was back in March. the MH370 is still missing, and the downing of the MH17 over Ukraine in July.
A passenger posted a photo on Twitter claiming to show a Malaysia Airlines flight from Australia. It shows rows and rows of empty seat with just a few visible passengers.
Lots of interest in my earlier tweet of an empty Malaysia Airlines flight. The facts tonight on @SBSNews online pic.twitter.com/9rBPzcrBIE

— Ricardo Goncalves (@BUSINESSricardo) August 27, 2014
A family of 3 can be seen enjoying and relaxing with a glass of champagne with no other visible passengers.
Thank you @MAS it is an amazing surprise! pic.twitter.com/ujlI6nCaWW

— Ping (@WanPingCoombes) August 17, 2014

BN checked out the Twitter page of Ping (the woman above with her clan) and discovered that she and her family got upgraded because there were not passengers.

Daily Mail reports that nearly 200 cabin crew have resigned from the carrier, causing crew shortages among the staff still working for it.
The airline is also expected to announce its earnings for the period between the disappearance of MH370 and the downing of MH17 over Ukraine.