Hello, I'm an entrepreneur! But are you running a business or playing at a hobby?
Nigerian Entrepreneurs are some of the smartest, most creative people you will ever meet. They are dreamers and risk takers and there is never a shortage of good ideas. However, why is it that some struggle while others thrive?
Doing business in Nigeria requires a special kind of patience and some of the obstacles can kill even the most passionate entrepreneur's determination to succeed. However, some entrepreneurs get in their own way by not taking the time to understand the role that having control of your business' finances plays in their success or failure. These are three tips that can help.
Chase The Dream But Don't Forget the Paper
'Find something you love and you'll never work a day in your life'. This quote is probably responsible for many people quitting their 9-5 to become 'entrepreneurs'. I have always loved this quote because passion is certainly an important ingredient for being successful in business but sometimes we forget it is not the only ingredient.
For example, I love baking cookies with my daughter Zikora and I feel passionate when I'm participating in this activity but do I have what it takes to translate this passion into a business? Am I prepared to do the work required to upgrade my skill set and to turn it into a profitable business? Can I create an innovative business model and implement a cost structure and revenue model that works? , Probably not!
A business by definition is a set of activities that are driven toward the goal of making profit while a hobby is an activity that you habitually engage in for pleasure. The difference between the two is profit. Therefore, if you are an entrepreneur and you don't have a handle on your business' finances, you are playing at a hobby. This does not mean that you have to become an accountant but it does mean you have to keep records of your business activities and know how to interpret your financial statements, even at a very basic level.
Unfortunately only 1 out of every 5 entrepreneurs I've spoken to have up to date financial records. This is especially true with people in creative industries; you cannot be in business for 5 years, claim you are doing well and not have a balance sheet, profit and loss statement and cash flow statement. Your talent can only turn to profit when you are on top of the numbers. If you intend to scale your business up in the near future, banks and investors won't take you seriously, if you don't know some of these numbers. So start as you mean to go on.
Two valuable lessons, young entrepreneurs can learn from a conversation I once had with Tara Fela- Durotoye, CEO of House of Tara.
1. From day one, she had an Apex notebook where she wrote down all her revenue and costs. Even though at the time, she was doing it for the sole purpose of knowing exactly how much she had to tithe every month, it helped her understand exactly where her money was going and where to cut costs and increase revenue.
2. As her business evolved, she pooled resources with other small business owners to collectively pay a freelance accountant who had the peach tree accounting software on his computer.
My point is, even though she is an entrepreneur with a non-financial background, she understood the importance of keeping records from the very beginning.
Separate Your Personal Funds From Your Business Funds
Congratulations! You started a business. The first thing you need to understand is that you and your business are two separate entities. So the smartest thing you can do is create a corporate account for your business. You also need to understand that the funds in your corporate account are not for you to spend on your personal expenses because technically that money is not yours.
For example Tosin is a fashion designer. She is very good at what she does and markets her services like a pro on social media, so business is great! Her corporate account for Tosin ventures has a healthy balance of N5million. So when Tosin is going on holiday, she pats herself on the back because she's worked hard, so she can spend N2.5 million on her ticket, hotel and shopping allowance. After all she'll have a balance of N2.5million in the bank. That's prudent right? WRONG! 'Tosin na you get business o' but technically you are stealing.
Let me tell you why! You are spending your business' cash flow on your personal expenses instead of its profits. What you should actually be doing is pay yourself a salary, which will reflect as an expense in your P+L or take a percentage of the profit. If your business cannot cover its own costs without begging or dash, you are not in fact 'ballin'.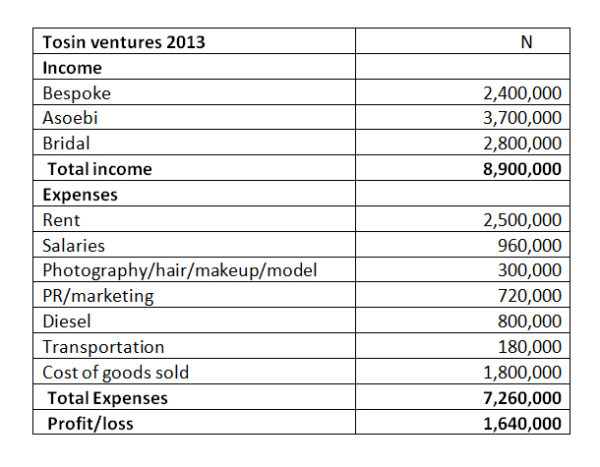 Let's look at the income statement Tosin should have prepared before she made her decision. Her Total income reflects the fact that business is good which means that N8.9million went through the company's account. Let's assume that before her holiday she had a N5million balance in the company's account because rent and some of the other costs associated with the business were not due yet. However, the business' total expense in 2013 is N7.2million leaving her profit at N1.6m which means that although Tosin is running a profitable business and took the initiative to open a corporate account for her business because she didn't follow through with the separation of her personal funds and business funds, she overspent on her holiday. Tosin was spending her cash flow instead of her profit because she probably only relies on her bank balance as a measure of how well her business is doing as opposed to financial statements.
Focus On The Work Not The Hype
I call this the Sonja Morgan factor. Sonja Morgan is a character on the reality show 'Real Housewives of New York' (don't judge me). She is very delusional about her finances and has built a fictitious empire in her head. From manufacturing a toaster oven to designing uniforms for the Nigerian football team (all ideas that never came to fruition) this woman is convinced she is a business mogul.
I'm all for positive thinking and having confidence in your abilities but some people just take theirs to the absolute next level. We all know at least one person like this. They spend so much time trying to convince everyone they are a multi- million naira 'tycoon' with no finished work to show for it. Breaking news! An idea is not a business! Just because you've made 'half ass' attempts at 10 things does not an empire make.
Your idea has no value unless you execute it, so you need to put in the work. I have several instagram quotes that can help illustrate this point. Lol! ' They want to shine like Diddy but don't want to work like Puff', 'You can't have a million dollar dream with a minimum wage work ethic' and 'Your dreams don't work unless you do'.
However, I'll settle for a quote from Aliko Dangote. 'I built a conglomerate and emerged the richest black man in the world in 2008 but it didn't happen overnight. It took me 30 years to get to where I am today. Youths of today aspire to be like me but they want to achieve it over night. It's not going to work. To build a successful business, you must start small and dream big. Tenacity of purpose is supreme'.
Our dreams are valid but we must work tirelessly to achieve them.