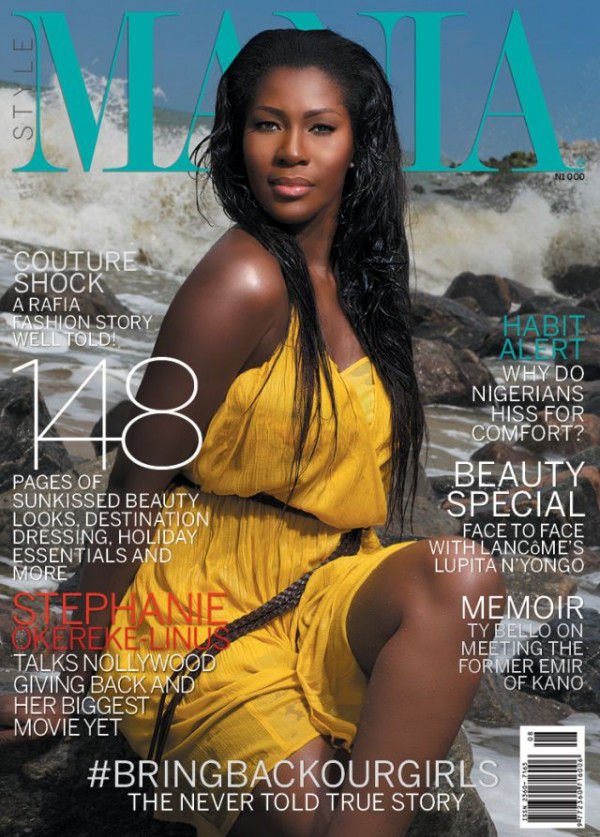 Yellow does suit Stephanie Linus.
The actress is the cover star for Mania Magazine's August 2014 "Travel" issue. Mrs Linus who is seen sitting on rocks by a beach as the water cascades, looks smouldering as she focuses her eyes on the camera.
In the magazine, the black beauty talks Nollywood, her works with women living with Fistula and her biggest movie yet.
In this Travel issue, the team presents destination dressing illustrations, the most flattering sun kissed looks for this season and loads more.
Feast your eyes on this glamorous-yet-unassuming fashion editorial.
With Kenya, Lagos, and Oshogbo listed as choice travel destinations, and a compelling narrative on the #BringBackOurGirls campaign, this is a travel edition to remember.
Credits
Cover
Photographer: Kelechi Amadi-Obi
Fashion Editor: Godson Ukaegbu
Make-up: Bimpe Onakoya
Hair: Zubby Eneoma
StyleMania
Photographer: Gbenga Akindele-Nelly
Stylist: Fruition Image
Make-up: Blessing @ Zaron
Hair: Zubby Eneoma
Model: Janet @ Hues & Shades
BeautyMania
Photographer: Kelechi Amadi-Obi
Stylist: Godson Ukaegbu
Make-up: Bimpe Onakoya
Model: Zainab Balogun
FashionMania
T.L.C
Photographer: Kelechi Amadi-Obi
Stylist: Godson Ukaegbu
Make-up: Osaretin Ero @ 24Shades
Model: Lydia Nnenna Obute
Enchanted!
Photographer: Kelechi Amadi-Obi
Stylist: Godson Ukaegbu
Make-up: Modela
Hair: Ugo Igbokwe
Model: Deliah Ipupa