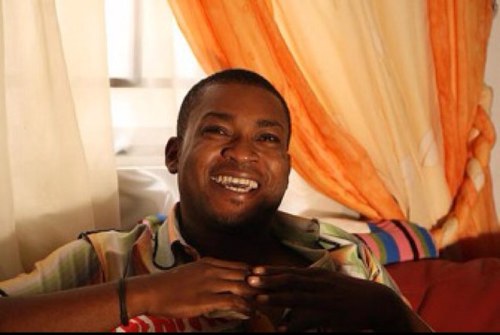 It has been an interesting week on Twitter. And by interesting we mean bizarre – did you catch the trend of men shaving their chest hair in form of a brassiere , sad – the continuous Ebola stories, and quick happy – Uche Jombo-Rodriguez gets verified.
BUT Nothing really gave us a "What is going on moment?" than Chidi Mokeme's recent rants about shooting on sight, Ebola victims who escape quarantine. It was a viral sensation.
We always thought he was the 3cs (cool, calm and collected) who lets the activists do all the talking, but boy were we proved otherwise.
Now Chidi is dissecting the word – "Stupidity".
What is he on about? Check it out!
"A stupid man's report of what a clever man says can never be accurate….."

— chidi mokeme (@chidimokeme) August 15, 2014
"A stupid man unconsciously translates what he hears into something he can understand." — chidi mokeme (@chidimokeme) August 15, 2014
"People demand freedom of speech as a compensation for the freedom of thought which they seldom use."

— chidi mokeme (@chidimokeme) August 15, 2014
"You are not entitled to your opinion. You are entitled to your informed opinion. No one is entitled to be ignorant."

— chidi mokeme (@chidimokeme) August 15, 2014
"Some people have just about enough intelligence to open their mouth when they want to eat, but certainly no more."

— chidi mokeme (@chidimokeme) August 15, 2014
"The two most common elements in the universe are Hydrogen and stupidity….and stupidity has a longer shelf life."

— chidi mokeme (@chidimokeme) August 15, 2014
"It's too bad that stupidity isn't painful."

— chidi mokeme (@chidimokeme) August 15, 2014
"When a great genius appears in the world you may know him by this sign; that the dunces are all in confederacy against him."

— chidi mokeme (@chidimokeme) August 15, 2014
A stupid person's notions and feelings may confidently be inferred from those which prevail in the circle by which the person is surrounded.

— chidi mokeme (@chidimokeme) August 15, 2014
"Stupidity lies in wanting to draw conclusions."

— chidi mokeme (@chidimokeme) August 15, 2014
"If stupidity got us in this mess, how come it can't get us out."

— chidi mokeme (@chidimokeme) August 15, 2014
"A fool who cursed the sun was surprised to see it still shining."

— chidi mokeme (@chidimokeme) August 16, 2014
"The biggest threat against the survival of humanity is not brutality and unkindness, it is stupidity."

— chidi mokeme (@chidimokeme) August 16, 2014
People are even 'stupider' in crisis thinking about how they'll dodge the blame or grab the glory, rather than about what will actually work

— chidi mokeme (@chidimokeme) August 16, 2014
"All the inane, meaningless noises people make that pass for intelligent conversation. They might as well be pigs grunting in the pen."

— chidi mokeme (@chidimokeme) August 16, 2014
"In the midst of the global crisis, poverty, unemployment, frustration, etc, one can easily see how stupidity can be a path to happiness."

— chidi mokeme (@chidimokeme) August 16, 2014
"It is stupidity rather than courage to refuse to recognise danger when it is close upon you."

— chidi mokeme (@chidimokeme) August 16, 2014
"The belief that the world was created yesterday seems to hold great appeal to those born at that time."

— chidi mokeme (@chidimokeme) August 16, 2014
"Don't let your teeth make you lose respect by permanently keeping them opened for the sake of being friendly."

— chidi mokeme (@chidimokeme) August 16, 2014
"The fundamental cause of the trouble is that in the modern world the stupid are cocksure while the intelligent are full of doubt."

— chidi mokeme (@chidimokeme) August 16, 2014
"Let us cease believing that the measure of a man's love lies in how stupid he has become or is willing to be."

— chidi mokeme (@chidimokeme) August 16, 2014
"We really need to find a cure for stupidity, and fast! I've heard it's contagious…No wonder why there's so many of them."

— chidi mokeme (@chidimokeme) August 16, 2014
"The mark of the stupid,….. sitting under a tree during a thunderstorm."

— chidi mokeme (@chidimokeme) August 16, 2014
"Now I want y'all to line up alphabetically by height, take a few steps back, embrace your stupidity as you jump off the cliff."

— chidi mokeme (@chidimokeme) August 16, 2014
"I'll be back When I want to be reminded of the possible depths of stupidity."

— chidi mokeme (@chidimokeme) August 16, 2014