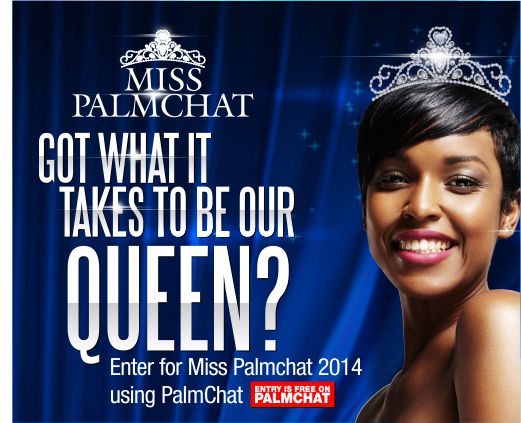 The race for the golden crown is fiercely on as some damsels are pulling in interesting figures in this year's on-going Miss Palmchat competition. The best of the best are slugging it out and the votes from admirers and fans alike are flooding in. Who will reign supreme in this beauty competition?
The creme of the crop are raking in figures on the competition's microsite.
So if you think you are pretty and you know people would think so too, then you can try out for the Palmchat contest.
Tiaras are all it takes
You may be late to the party but the good thing is the party is not over yet. However, there is a lot of catching up to do.
Some tiaras are already in the pockets of the leading beauty contestants but that shouldn't scare you. To participate and win a tiara for yourself, simply follow these steps;
• Sign up on Palmchat and search for Miss Palmchat
• Click the 'Join Miss Palmchat' button
• Complete your profile with real personal data
• Get an instant ranking and share your profile on Facebook
• Invite friends on Palmchat to send virtual online gifts (like a heart…maybe) to your Palmchat ID
For each free virtual gift you get from a friend, admirer or a fan through your Palmchat's social platform, your tiara ranking leaps a digit higher and your chances of winning the contest, one step closer.
Monah chasing the crown with 565, 700 more tiaras
Having said that your tiara count is a reflection of the number of virtual free gifts that friends, well-wishers and even admirers have sent to your Palmchat ID, you just have to get these fans to send in those gifts contentiously until that crown is yours.
If one beauty is getting this right, that will be Monah Chime, the leading contestant of Miss Palchat 2014 competition. Monah has got more virtual roses (Free, mobile phone emoticon-rose flowers) than a professional florist. Monah leads the second contestant, Diamond Okoh- Obianu (Tiara Count: 545,100) by a staggering 565, 700 tiaras. Visit www.palmchatnow.com or www. facebook.com/palmchatNow to see more.
It's never too late to rule
The Miss Palmchat 2014 competition for the prettiest and hottest divas on Palmchat is a totally free competition hosted on the mobile social platform at no cost whatsoever…and it is still running! So join the train of divas-to-bes making the buzz. The first ten contestants in Miss Palmchat 014, gets automatic entry into a much bigger professional pageantry competition in hosting in Nigeria this year.
Sign up today, share your selfie-stories, invite friends and gather some tiaras. Good Luck!
_______________________________________________________
Advertorial – Sponsored Content