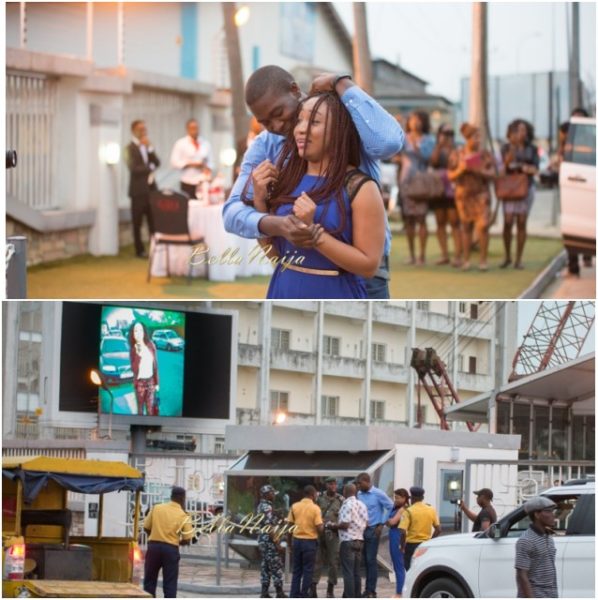 We predicted out of the box proposals this year but this one blew our imaginations away! Austin proposed to Charming after arranging a stop and search on the road.
As she looked downcast, he urged her to look up where a billboard was showing her photos, her family and friends from Lagos emerged, a table was set up outside where he dropped down on one knee, a 5 man orchestra appeared … the rest – history!
The moments were beautifully captured by 7th April Photography.
Enjoy & be inspired!
***
How We Met
from the bride to be, Charming
It all started at the beginning of the year 2014. A mutual friend of Austin and I gave my number to him. He tried calling but I never picked up because the number was strange, my line was new, only known to my close friends. So I wasn't expecting any anonymous number. Our friend called to inform me that Austin has been calling. I decided to pick this 'strange number' … and he introduced himself and how he got my number and all. We had a friendly short chat on that day which lasted about two minutes. He went further to ask for my BB pin and if I was on What's App, I said I would send him that once I ended the call but there was a little silence from my part for some days after he added me up on BBM (I didn't want to ping first… and I wasn't interested at all).
We soon started chatting little by little and he made it clear that he was a busy person and doesn't really do the BBM and What's App chatting but he would try to keep in touch via phone calls… at this point I was indifferent. So we communicated via phone calls (he did all the calling). He was very friendly on the phone.
Fast forward some weeks, Austin informed me that he was going to be in Lagos for some business trip (he is based in PHC) and that he would love to see me. I said to him "till then, if I'm chanced I'll see you" (normal girls fronting). So he came to Lag and I decided to see him (this time I actually wanted to see the person I had been talking to and chatting with for some weeks).
I can remember everything that happened on that day…
Our first meeting was a bit awkward. Some day in February …so we planned to see at 3pm after his day's schedule at the hotel he was lodging and at 3pm I was still at home. This man didn't even bother to call to ask why I was running late or if I was still coming. To me, I was like what kinda man is this, very nonchalant and uncaring. I had to call him to notify him that I was on my way and he was like: "Ok fine, see you soon, call me when you get here". I was already pissed and felt like going back home …I got there and he kept me waiting in the lobby for a while, instead of him to be awaiting my arrival, he was busy giving me directions on how to locate him. After roaming to and fro the lobby , he finally appeared. At this time I thought 'What a man! What a date!' We were together and Austin was forming all busy with his laptop and I was glued to my phone, chatting (I cared less, as he didn't have my time).
Austin finally noticed me. We got talking and we had lunch together and he even did a drawing of me while I was sitting (my boo is a very good artist – FIRST thing I love about him). We spent some time together and it was time to go home.
At this point I was indifferent about him. The next day he asked to see me and I was reluctant, due to the previous day's meeting, my sister, Vanessa, persuaded me to go and I finally did (I'm glad I did..). When he got back to PH after his Lagos business trip, Austin became resilient and persistent. "All time busy Austin" wasn't busy anymore. This time he became so busy pursuing fine girl ..lool. Austin would call morning,afternoon , night, midnight…every time. He finally made his intentions known and according to him, he said he fell in love with me on our second meeting. As we got talking, I grew to know him better, grew fond of him and grew to like him and I decided to give him a try … and the rest they say is history. But Austin is a lucky guy oo..He didn't even stress much and I just fell for him like that. I didn't mention that he has a "magic tongue" that makes every phone call feel like you just spoke to Denzel Washington...lol!!! He just came in to my heart and chanced all the other guys on the queue before him..lol
The Proposal
From the groom to be, Austin
It started with a joint planning session with 4 friends (Ifeanyi, Tosin, Dominic & Mega) with everyone bringing in their beautiful ideas, some were on point and some were far from it. But all I needed was an idea that was out of this world. The first thing that came to my mind was a "Road Show", but Charming being a shy person, I wondered, how will this work?
So back to the drawing board with team members having one mindset, the planning started. That same day, I received delivery of her engagement ring I ordered from 'Blue Nile'. Everyone seeing the engagement ring got gingered and decided to help. A team of 5 grew to 36 people interested and dishing out evil and cool ideas all to make Charming tensed and surprised respectively.
First, someone thought of an advert screen, another thought of fireworks, NDLEA, TIMA-RIV, Mobile police …the ideas kept on coming. Someone in the team even mentioned that we could use a Helicopter.
Lol!!! I told them that we are going to bring all this crazy ideas together and put them in sequence.
I still love the traditional way of proposing to a lady in the restaurant, so what we had to do was to bring the restaurant setting outdoor on a major road in PHC.
From the way things were going, we decided to involve her colleagues at work and her family members with a notion that no one will let her know. That task was delegated to Ifeanyi who was dedicated in doing all flight bookings from Lagos to PHC, airport pick-ups and hotel accommodations.
My surprise for everyone was the Orchestra, I believe that having a 5 man band play a love tune to the lady I love at the point when I would say those beautiful words to her, would make the words sink in forever.
Dominic was in charge of the venue (Aztech Arcum), photography (7th April photography.) and video coverage. Tosin was in charge of the TIMA-RIV, NDLEA and Mobile Police men. Mega was in charge of the audio-visual, Seyi was in charge of logistics and arranging the dinner (Sparklyn Hotels). We rehearsed the sequence with every team member a couple of times before Saturday all to make sure that it goes as planned. The plan was to have the surprises come one after the other until she is completely swept off her feet.
In all, my fear was that Charming may have clue, being that several people were involved from her end and mine. At the end, she was totally clueless and astonished.
We had a party at my GRA residence to say thank you to everyone that was a part of the Set-up. That same night, my friends put together an after party at the Sky Bar. Why they were dancing and dining, I was only thanking God for a successful proposal and the beautiful lady he brought into my life.
~ Photography: 7th April Photography
The Stop & Search…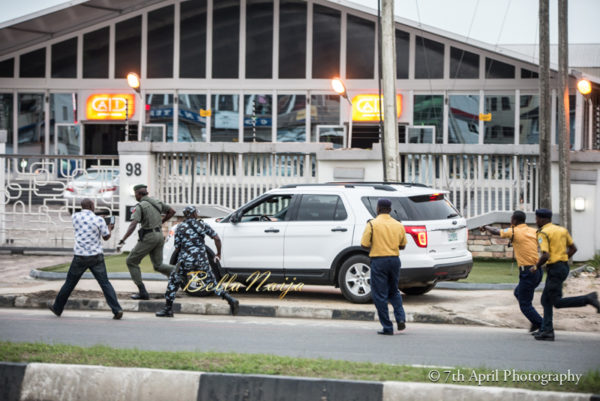 Charming Getting Frustrated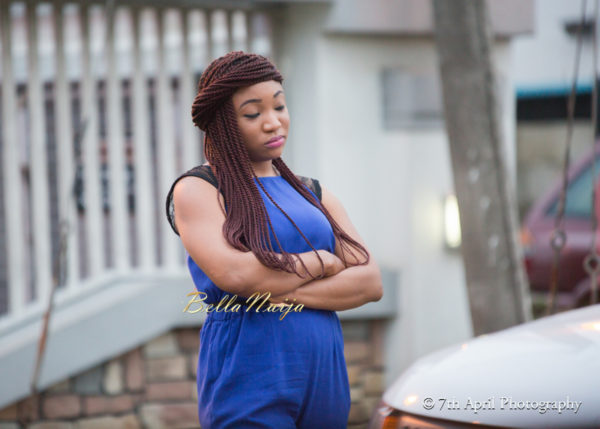 The Billboard of Pictures…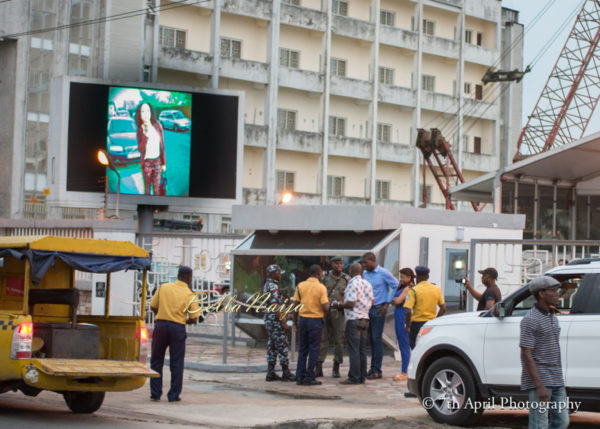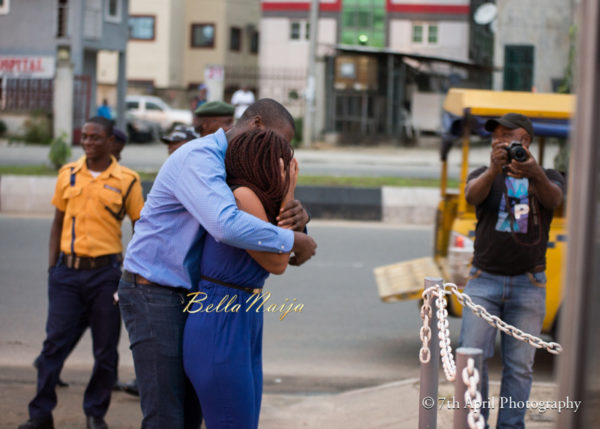 The Shock!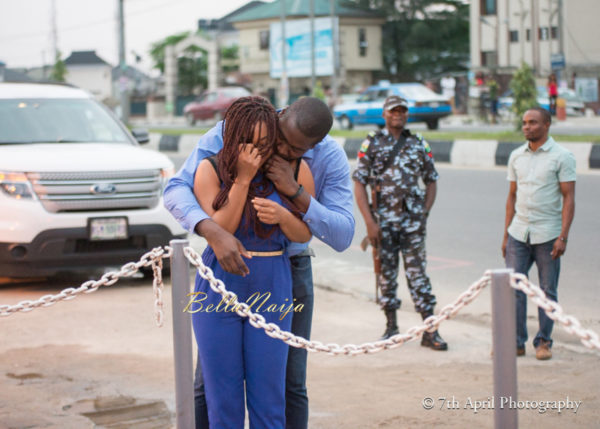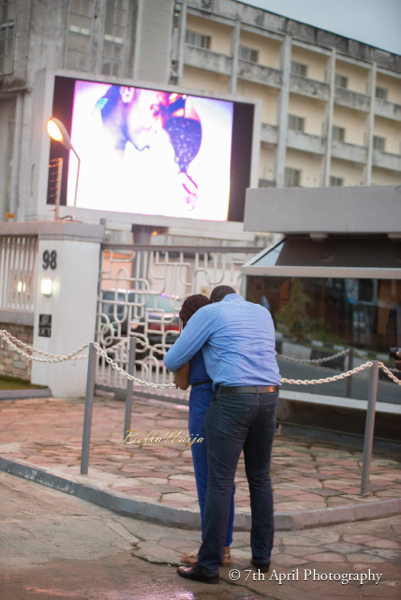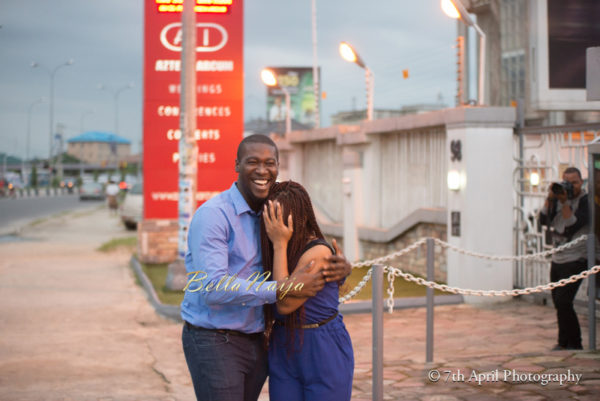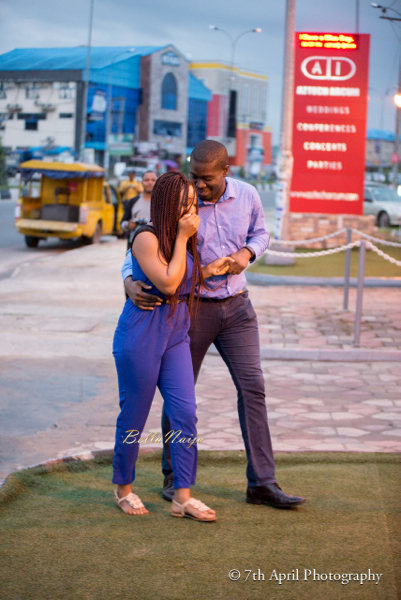 The Orchestra
Surprised to see her family and friends!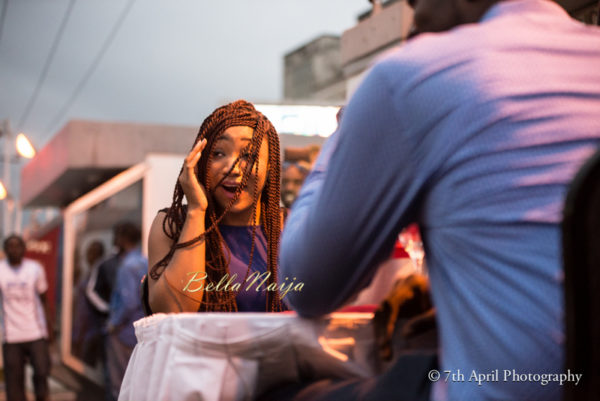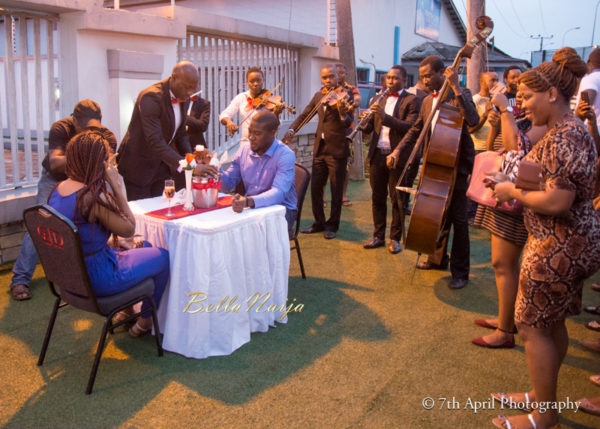 The Speech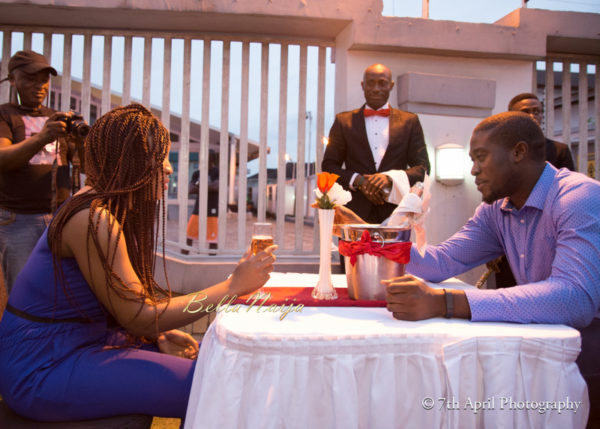 The Moment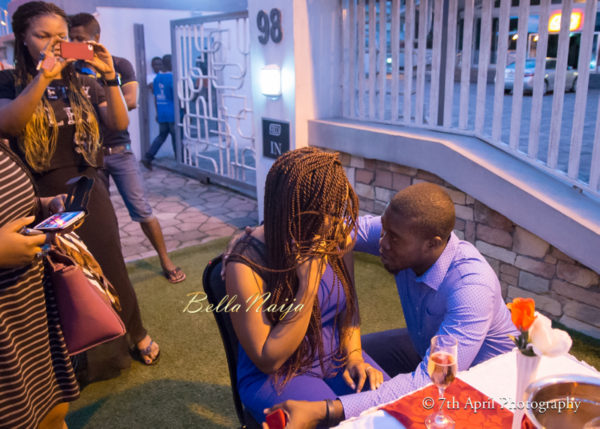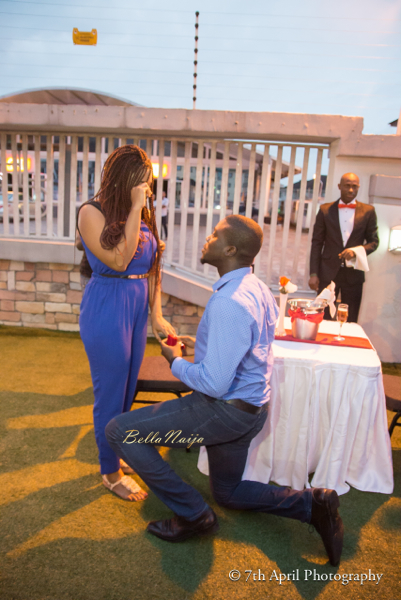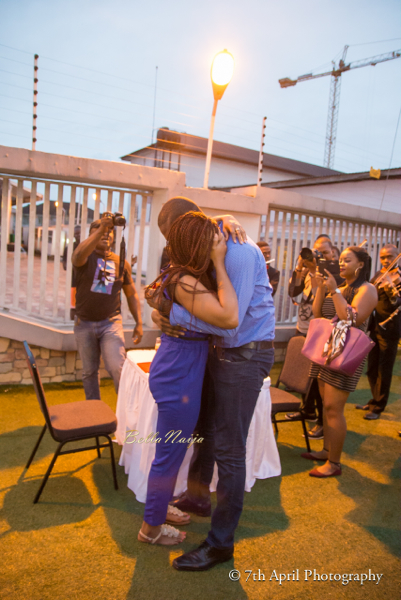 The #BNbling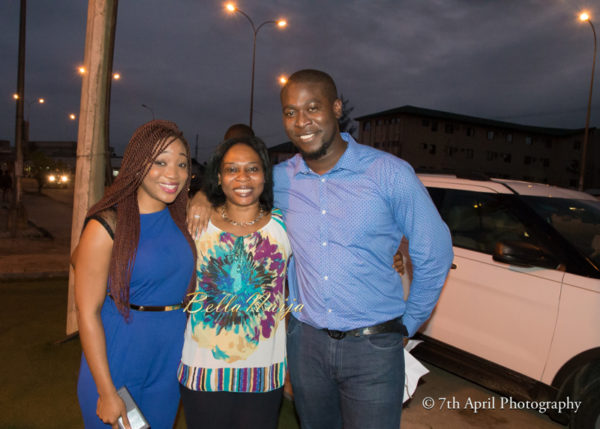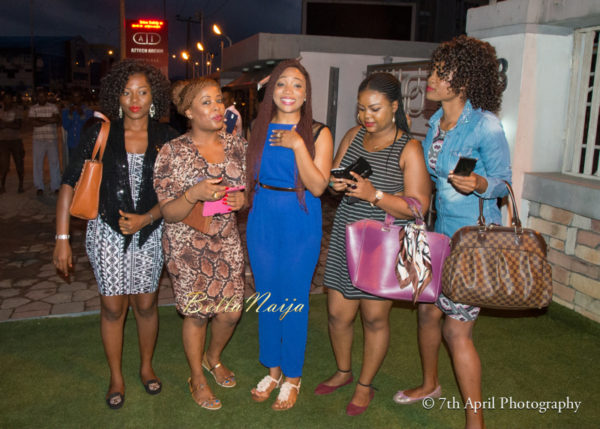 Happy Couple!

Photography: 7th April Photography | instagram.com/7thaprilphotography,
07032110022 | www.7thapril.com
Location: Aztech Arcum Port Harcourt | instagram.com/theaztecharcum