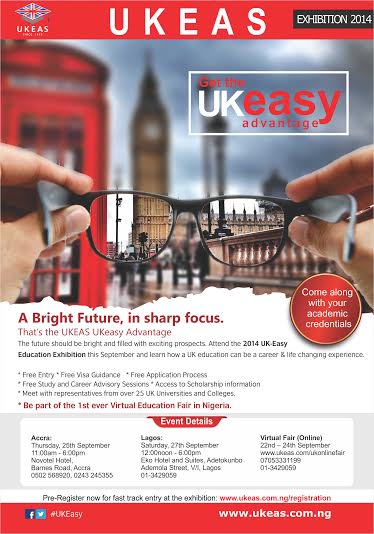 This September, UKEAS will bring over 25 UK institutions to Nigeria and Ghana for its 7th #UKEasy UK Education Fair.
You will get to meet face-to-face with the representatives from over 25 of the best UK universities and colleges right here in Lagos and in Accra, Ghana. You can also be part of their 1st Virtual (online) Education Fair organised by UKEAS and discover how a UK education can be a career and life changing experience.
If you missed the September 2014 entry, you can start in the UK by January 201 with this great opportunity.
There will be free participation, free application processing and free visa guidance. They are also offering free stufy and career advice and access to scholarship information.
These events afford all interested participants the opportunity to discuss their Career and Study plans with the UK University representatives in one-on-one discussions and even the possibility of getting on-the-spot admission offers from these international institutions if all your academic qualifications are adequate.
UKEAS in Nigeria has assisted thousands of students in getting access to quality international education in UK Universities. You can be next.
See the schedule below
Virtual Online Fair
Date: Monday 22nd – Wednesday 24th September 2014
Time: All day Online
Venue: www.ukeas.com.ng/registration
Ghana
Date: Thursday 25th September 2014
Time: 11AM – 6PM
Venue: The Novotel Hotel, Barnes Road, Accra
Nigeria
Date: Friday 27th September 2014
Time: 12Noon – 6PM
Venue: The Eko Hotel & Suites, Victoria Island, Lagos
Don't miss this opportunity. Register now www.ukeas.com.ng/registration
_____________________________________________________________
Sponsored Content