BN Music lovers, we've teamed up with the duo at Should You Bump This, and we'll bring you a special album review of music from some of your favourite Nigerian musicians. Sho and Tunde are seasoned music heads and together, they give their insightful and witty take on the chosen album and artist.
***
Three years after his first album Superstar was released, Itunes finally decided to leak Wizkid's album because he was taking to long to drop it Ayo (Joy) is Wizkid's second album and it features guest appearances from Wale, Tyga, Femi Kuti, Seyi Shay, Yemi Sax, Akon, Phyno and his mentor Banky W.
Here is what we think of the album
1. Jaiye Jaiye feat. Femi Kuti
@Whoistunde: You already know! Jam! Nothing more to be said
@Showontstop: Yaaaga!
2. Show You The Money
T: Another hit song
S: Mehn, I wasn't a fan of this song when it first dropped….But one of those days when I was on super ginger and this jam dropped in the club, the end.
T: Why? Which girl you show your wallet?
S: I was showing them loyal house girls my mint 50 Naira
T: Two back to back hits.
S: Singles to singles
3. In my bed
S: Mehn….Uhuru on the beaaat
T: Mehn! This song be like the continuation of 'Show you the Money' from the 2:40 mark. Like he forgot to thank all those guys at the end of 'Show you the Money' and he remembered on this track
S: This song started off bright but took the wrongest turn like babe wey dey run from bad guy for horror film
T: Hahaha
S: How you gonna be calling old guys in a song about a girl being on your bed. Then if that wasn't enough…you started thanking God and talking to haters
T: Haters are everywhere
S: All these things while you want a girl in your bed? Mehn, na serious multi-tasking Wizzy dey do.
T: That girl special gan.
4. Mummy Mi
T: Wedding song on lock. The formula worked on the first album and it worked on this
S: "Now the groom will dance with his mother". That's pretty much it.
T: Yup.
5. Ojuelegba
S: If there ever was a song that made me instantly happy…it has gotta be this
T: Hands down the best song on the album. Song so good you'd think Ojuelegba was Banana Island.
S: Mehn, when them rep were you grew up at…it makes you feel some type of way. First Sid with Surulere now Wizzy with Ojuelegba…make one artist just rep Masha and Iam good for life
T: Mainland be getting all the love
S: Legendary Beatz with some mellow afro beat tune. They even threw in a west coast sample. This is Wizzy in his element.
T: Oshhay periodic table.
S: Behave!
6. Kind Love
S: This sounds like every typical Wizzy jam that you will love. And I love this jam.
T: Valid
S: You think it is easy to say the same line …38 times under 4 minutes. Add a couple babies…a bit of 'yagaa'…a dash of 'aaaaaahhhs' and two 'nanas' and make a hit? It is hard work yo. God bless Wizkid.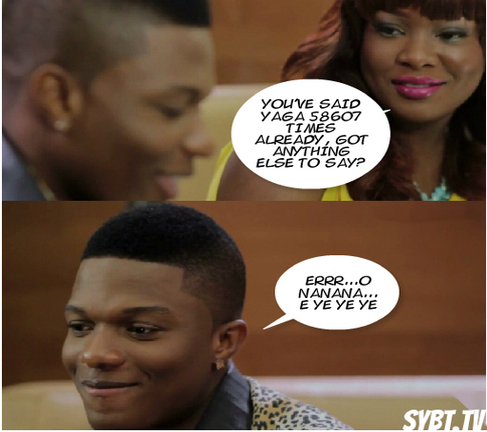 T: Haha! Wizzy just want to slap us with hits.
7. On Top Your Matter
T: You already know another hit
S: I don't know…was never thrilled about this
T: Song is a hit!
S: Shoutout to Del B though.
8. In love feat. Seyi Song
S: Why do I hate this song so much so much?
T: I can't be the only one that thinks Wizkid sounded like Akon right
S: I am always in a hurry to skip this track. Waste of a Seyi Shay feature to be honest.
T: Sounds like Akon featuring Tiwa Savage.
S: The Efya song should have made the album cut instead
T: Either way the song doesn't work for me
9. For You feat. Akon
S: Akon should just move to Naija, stay in Lekki so he can take Dbanj's place and work with Don Jazzy. Simple
T: Famm! Na my jam be this. Akon totally murdered it
S: As in….we staaaaaar boys!
10. Dutty Whyne feat. Banky W
S: Banky clearly is no longer the boss
T: What do you mean he ain't the HEAD of the label?
S: Loool. Behave! I am sure Banky was like…let's do a R&B ballad…you know something people can feel and vibe to and Wizzy just goes nah…lets sing about big booty babes
T: Love the beat! Them big booty girls song.
S: This song is noise
T: Not mad at the song,potential club banger if you ask me
S: None of the big booty babes in my life would vibe to this
T: Na those ones wey dey put pad for their ass you get na
S: There is a reason Sean Paul is doing Techno. Because these type of Dancehall songs are meh
T: I disagree
S: Your opinions are not valid here
11. Ki Lo Fe
S: Jam jam jam
T: What are you saying? Jam?!! If you're not talking about what they put on bread, you're deaf
S: Say what you will. This jam will be a problem in 3months
T: I'll see you in 3 months. The song is trash. End of
S: What more do you want from a jam? Figure 8 was mentioned. Waist was mentioned. Ferrari was mentioned
T: Wizzy's favourite words
S: Song kinda has a hint of Sean Tizzle 'Kilogbe'
12. Omalicha
S: I don't know how I feel about this….I think I am just tired of these songs.
T: Loool. Omalicha sef don tire. Good song though.
S: It's like I hear this song every time i put on the radio. A musician singing to a girl and telling her how much her love means to him.
T: The formula works I guess. Works for me
S: *yawn* If someone is always loving these girls then why girls still looking for love
13. Bombay feat. Phyno
T: Works for me! I wonder if Wizzy went on a tour in Bombay and was like 'heyy this place is so big'
S: It's kinda funny but….Lagos, Sydney and Tokyo are all bigger than Bombay
T: So the bum bum ain't big enough then
S: But we had to find something to rhyme with throooway. "Your bumbum bigger than tokyo","your bumbum make me choke yo" won't have made a better hook.
T: Sadly
S: Another one of those songs that i know is trash but somehow has worked its way into my life like a neighbourhood bingo
T: Liked it from the first time I heard it
S: You just keep liking bumbum songs…have you ported?
T: Never
14. One Question feat. Yemi Sax
T: Another good song
S: Well…this is just alright. I just like this song because of the stubborn horn player.
T: Lol
S: Wizzy was like "gimme the bass just the bass". The guy still blow e horn.
T: Maybe his trumpet looks like a bass?
S: Wizzy come talk "Gimme the drums just the drums". My guy still blow…No ounce of chill.
T: The guy clearly didn't wanna obey any of the instructions
15. Celebrate
S: Skip
T: And delete
16. Show You the Money remix feat. Tyga
T: Not necessary in any way
S: I feel like we got robbed. After all those Instagram pics with Breezy… We got the cheap tattoo'd yellow version.
T: I'm sure Tyga begged to be on it
S: Live! "Yo my young Nigerian prince, why don't you let me bless this track while CB is still in rehab?"
T: "My wife just left me I need the cheque for child support"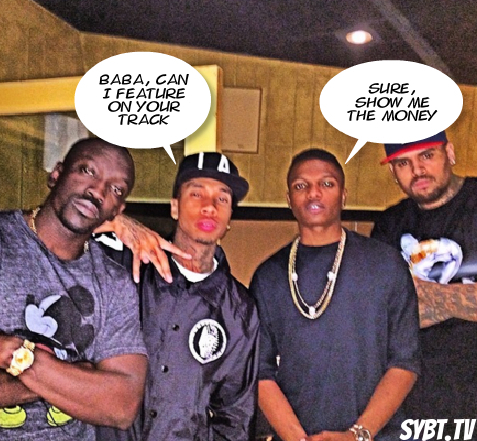 17. Murder feat. Wale
T: Famm… Make we no attack Wale before he come our office come find us. Another scam feature for me
S: Huh?!. This is my jam. A Wale verse with jollof always sounds sweet
T: This song and what LAWMA carries, no difference
S: Hahahah chai
18. Joy
T: Another mummy song, not mad at all
S: This is a really good song
T: Yup! Beautiful lyrics. I wonder why he placed it at at the end.
S: Like the guy wey born quadruplets and decided to do his wife again with no rubber and born quintuplets. BAD DECISIONS
T: Pull out fam
19. Caro feat. LAX
T: Well…If you've not heard Caro by now, I wonder where you've been
S: Probably looking for the actual Caro
T: Hit..Nuff said
VERDICT
S: Wizzy is Naija's music biggest star and probably the most talented. So it kinda sucks that this long awaited sophomore is a sack of undiluted disappointment. This album is gonna leave you with the "That's it???" face.
T: This album started on a bright note for me but fizzled out towards the end, with the exception of a few well written songs and the hits we've heard from him in the past, the album lacked direction and was all over the place
wRaps : 2.9
Peace, Love and Yaaga!